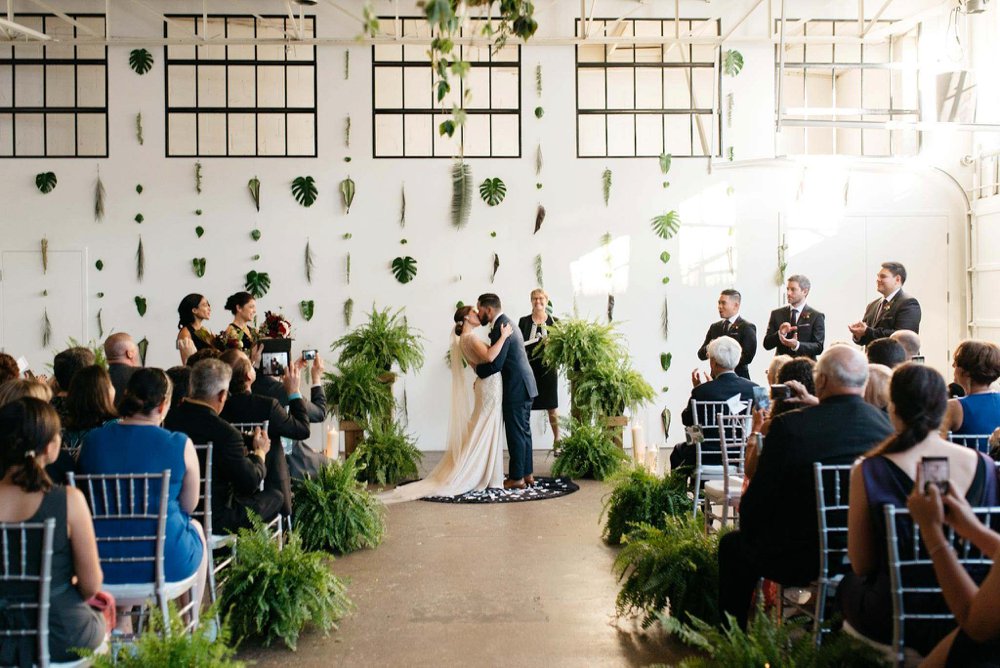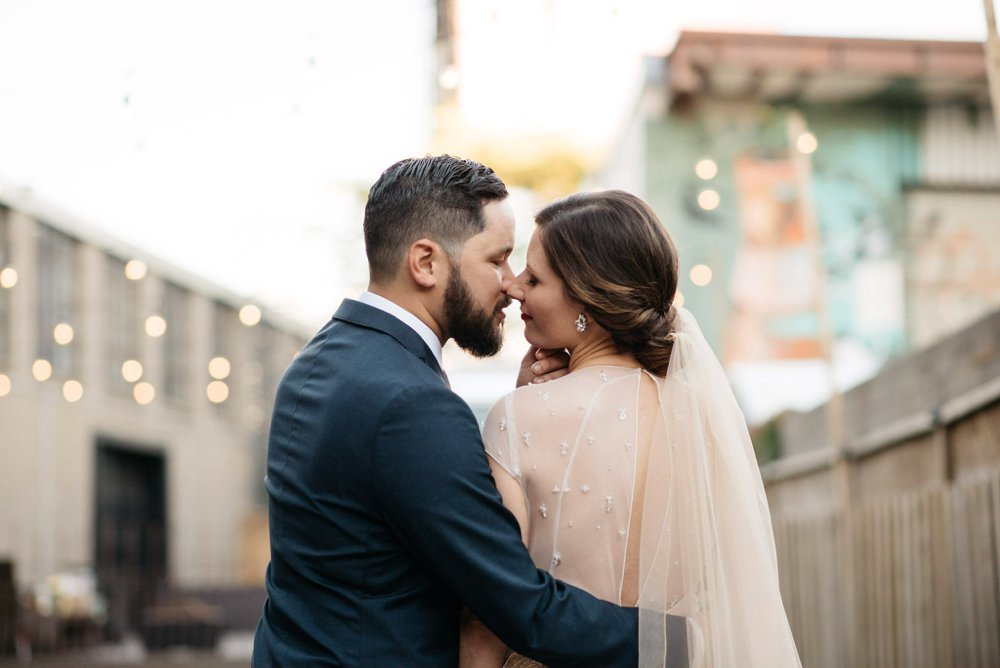 Amanda and Markus' downtown Toronto wedding day at Distillery District's Airship37 was first and foremost a day of love – both between the two of them, and amongst everyone who was there.
They had so many relatives who visited them from around the world who, along with everyone else in attendance, had such affection and adoration for this sweet couple. It's no wonder, they are two of the kindest, most thoughtful people you will ever meet.
Their wedding was also a wonderful reflection who who they are and what means most to them, with tonnes of personal touches. They put so much of themselves into this wedding. For example, Amanda made the candle wedding favours (she runs an exceptional all-natural soy candle company called Woodsmoke & Olive), her and her bridesmaids & family made the pies, cake and treats on their dessert table, her mother did all their bouquets and centrepieces, her maid of honour did all the calligraphy, a friend made the invites and they infused their own personalty and aesthetic throughout all aspects of the day.
It was really amazing to see how people came together to help make this day as personal as it was.
It was very clear that they wanted to have a meaningful celebration with their nearest and dearest infused with their awesome style, which is my kind of wedding! I spoke with them a few times as they got closer to their wedding and learned that their home was sprawling with DIY projects, and I was super excited to see the fruits of their labour. It was just what I expected: cool, relaxed modern vibe infused with timeless elements, and a few quirky details that highlighted their personality. (e.g. A tie clip saying, 'You're the Obi Wan for me' that Amanda gifted to Markus, and a cute cutout of their dog Olive's face since she couldn't attend. Though she did make an appearance for their first look!)
Here are a few peeks at their Airship37/downtown Toronto wedding — And check out the bottom of the post for words from the couple themselves!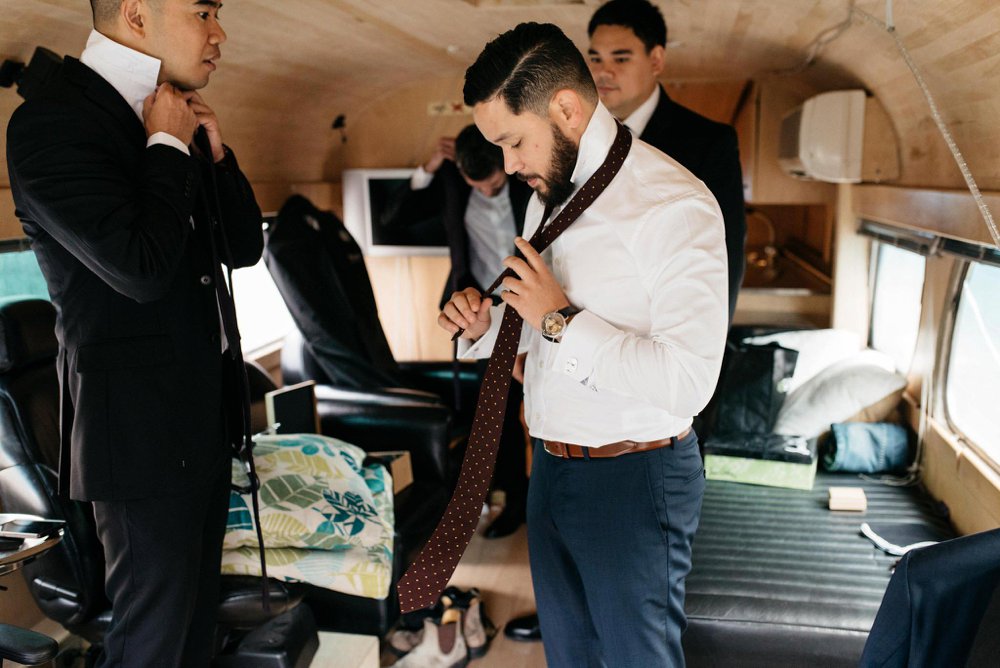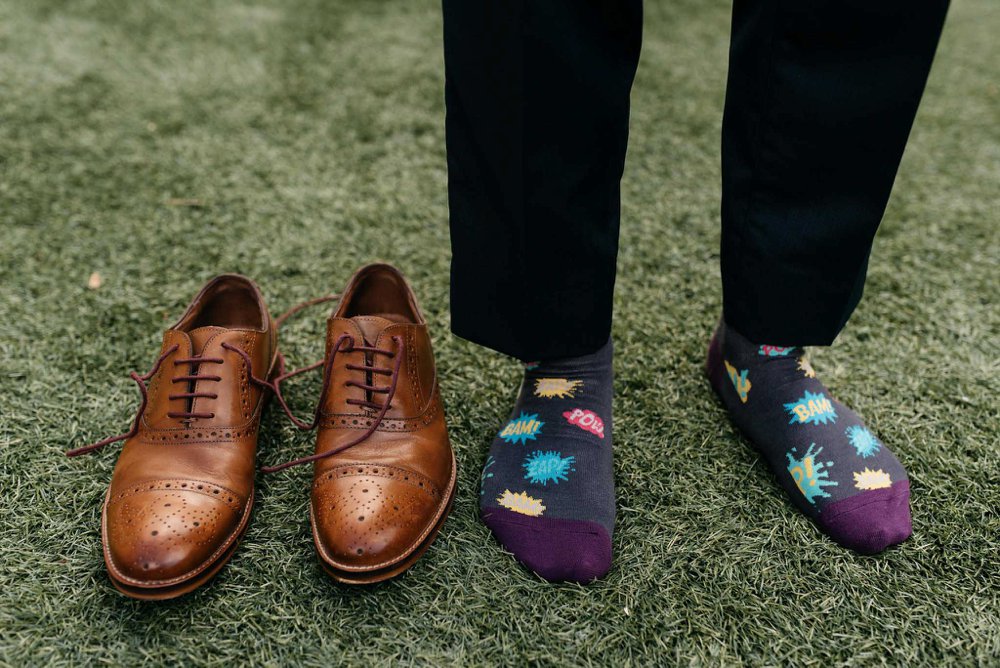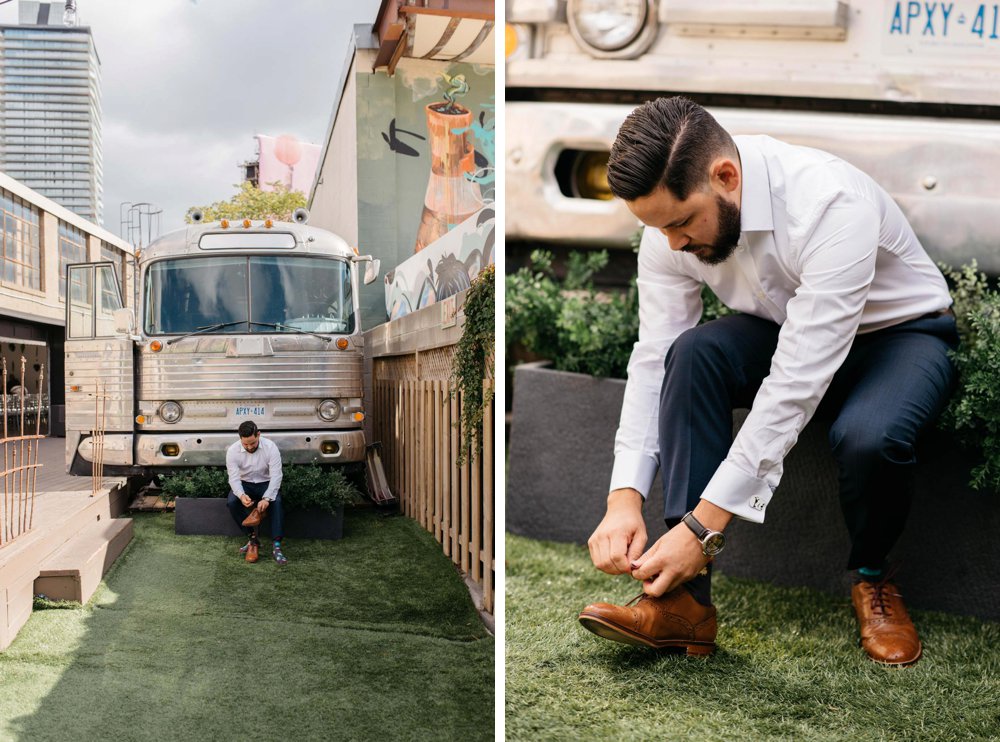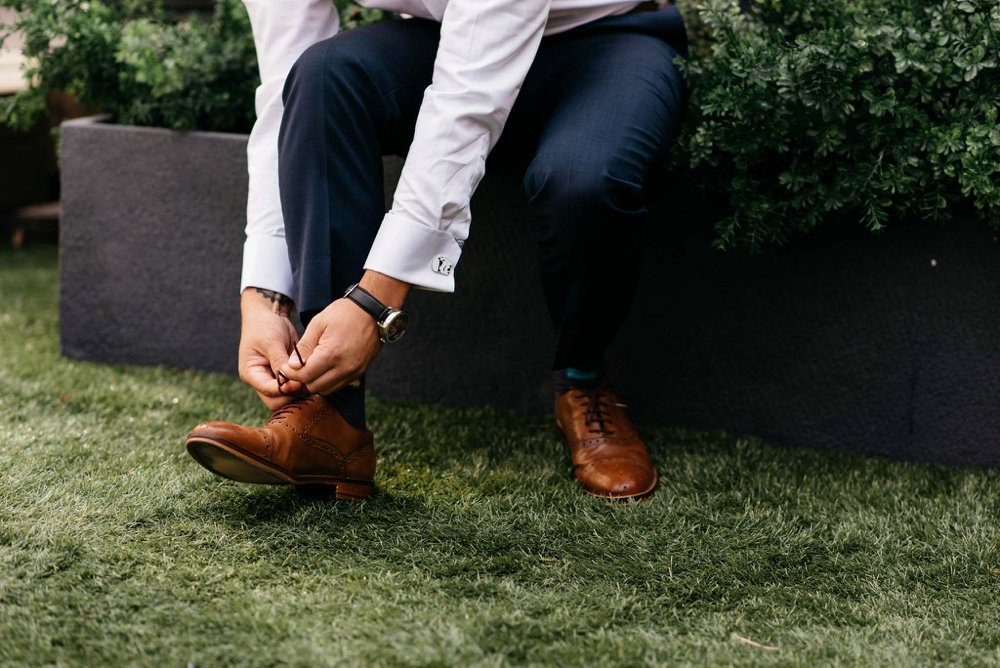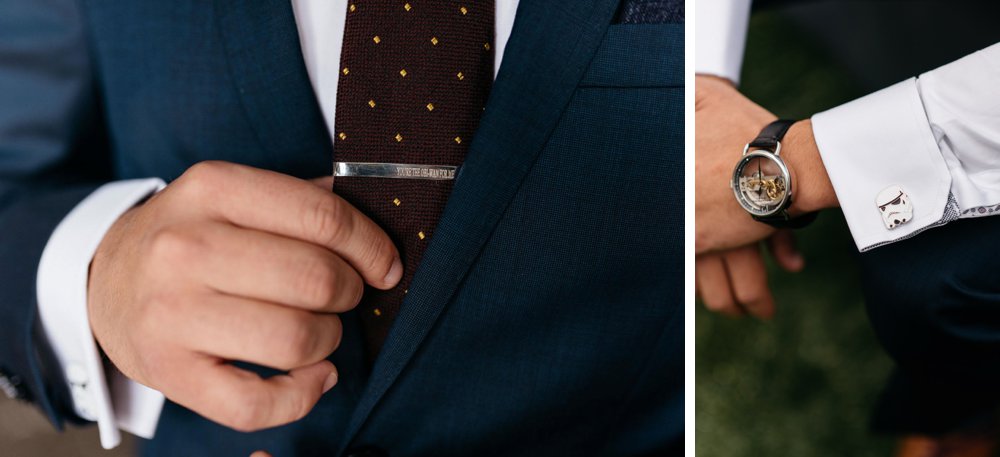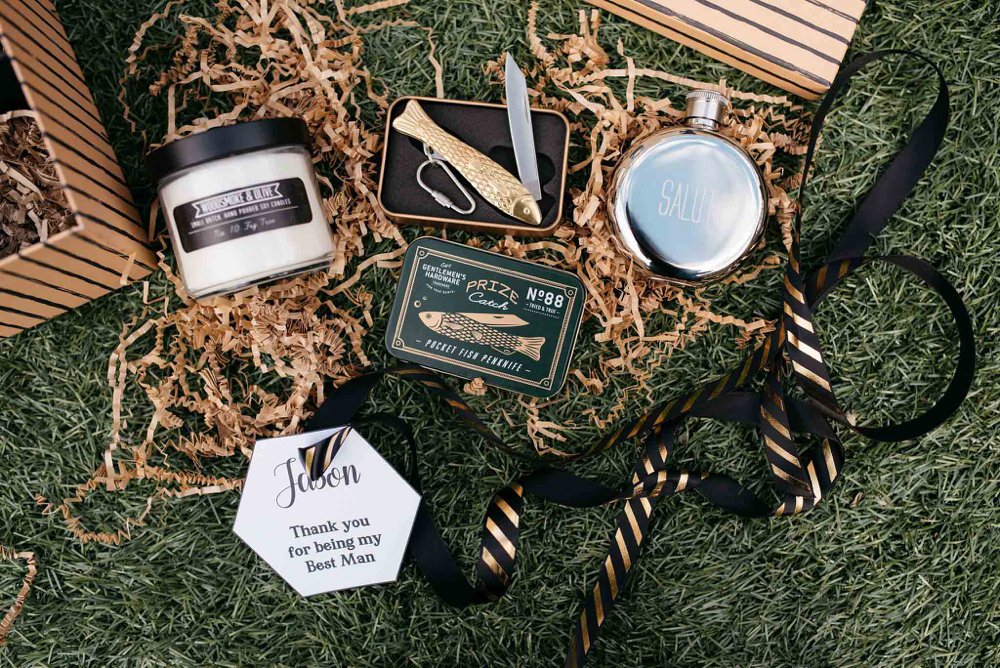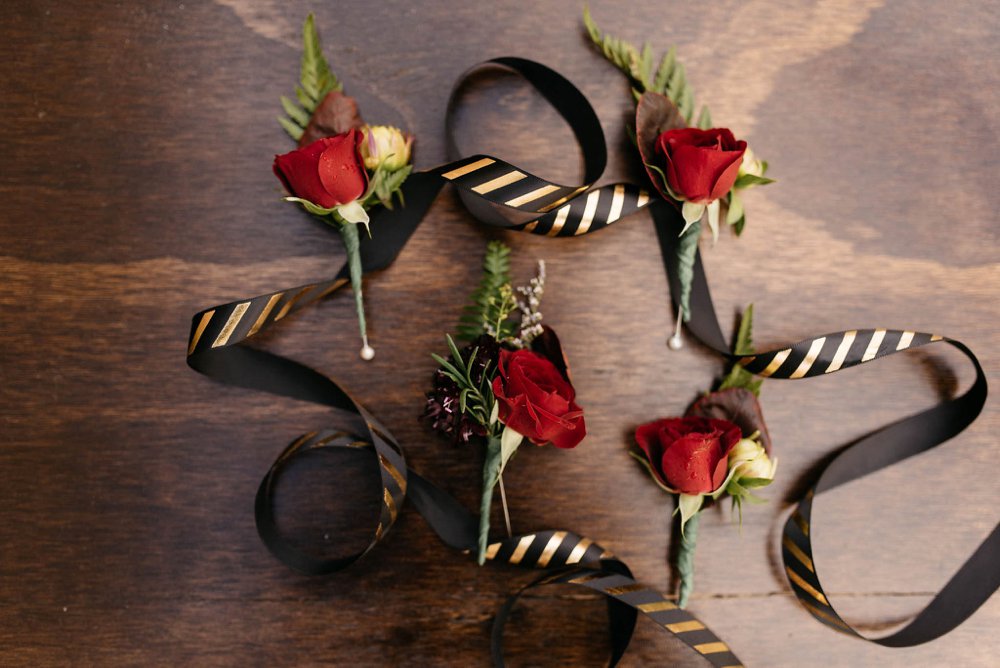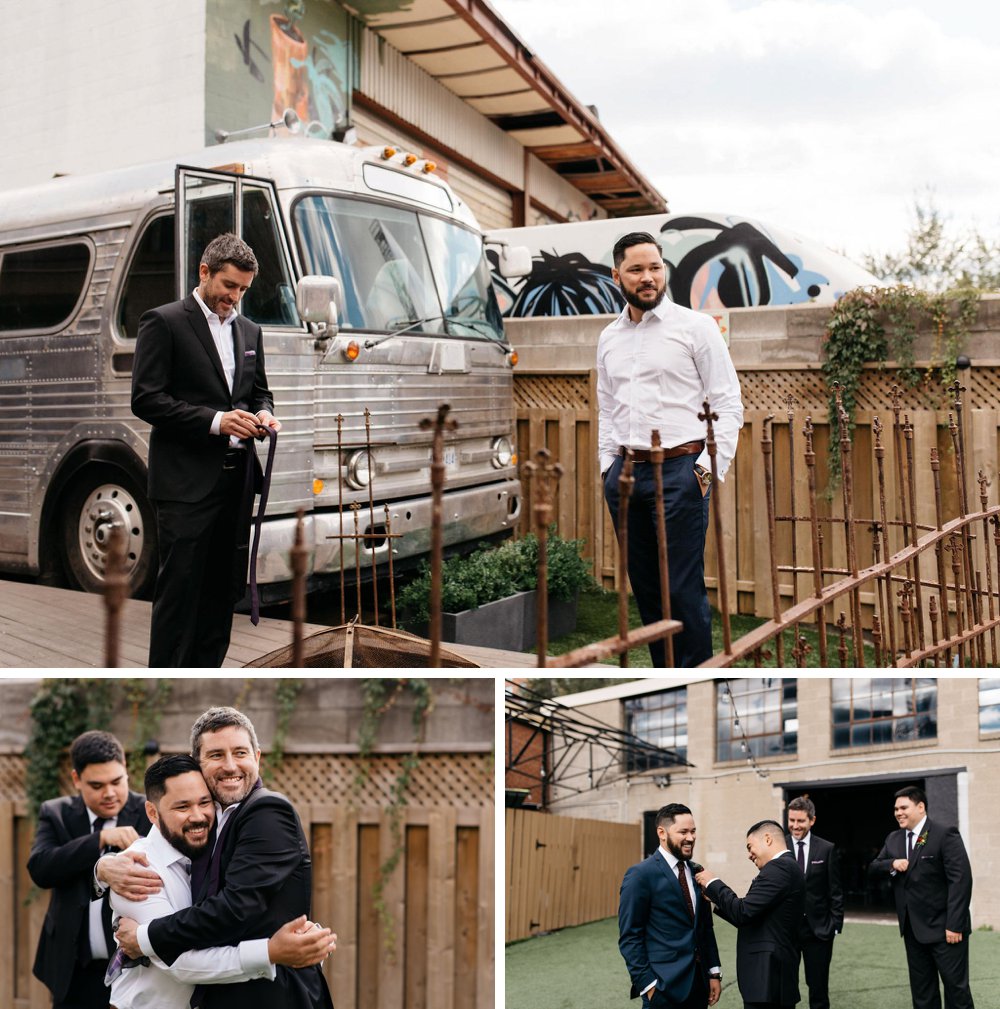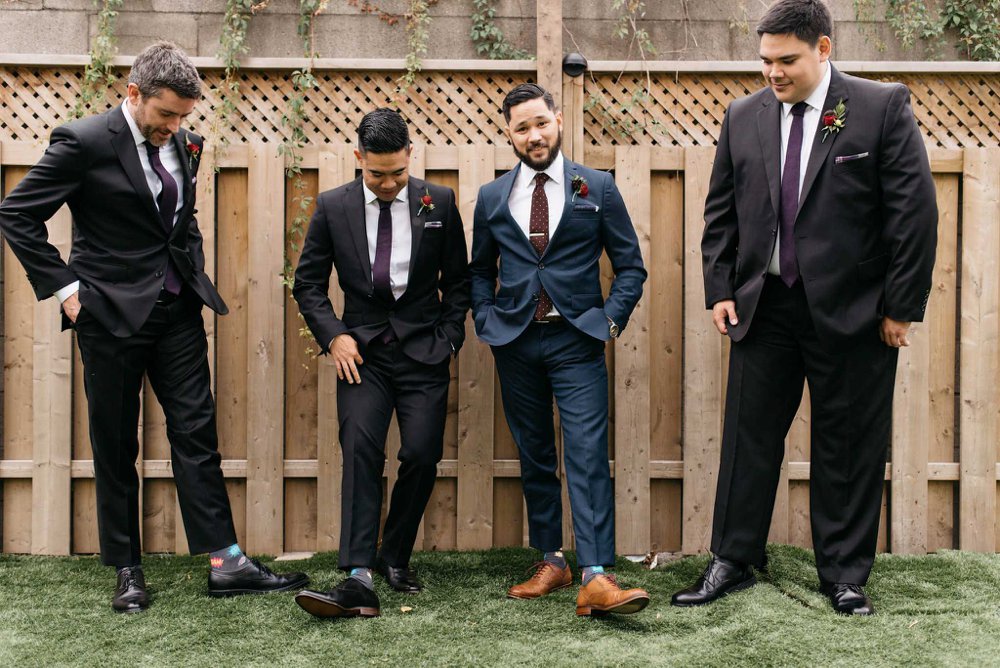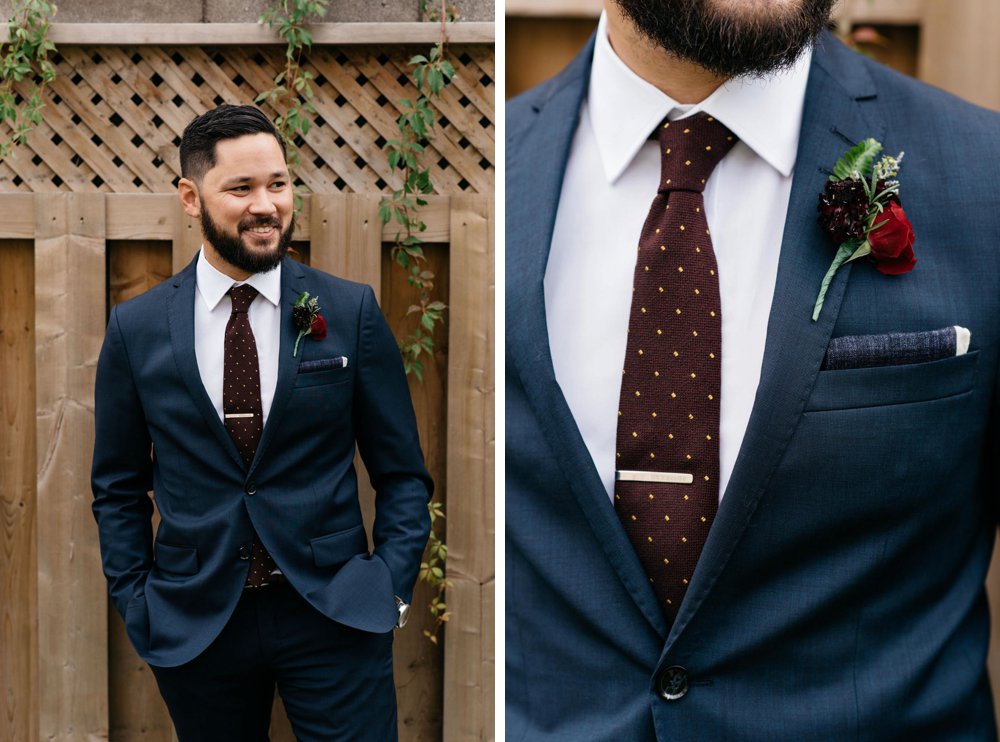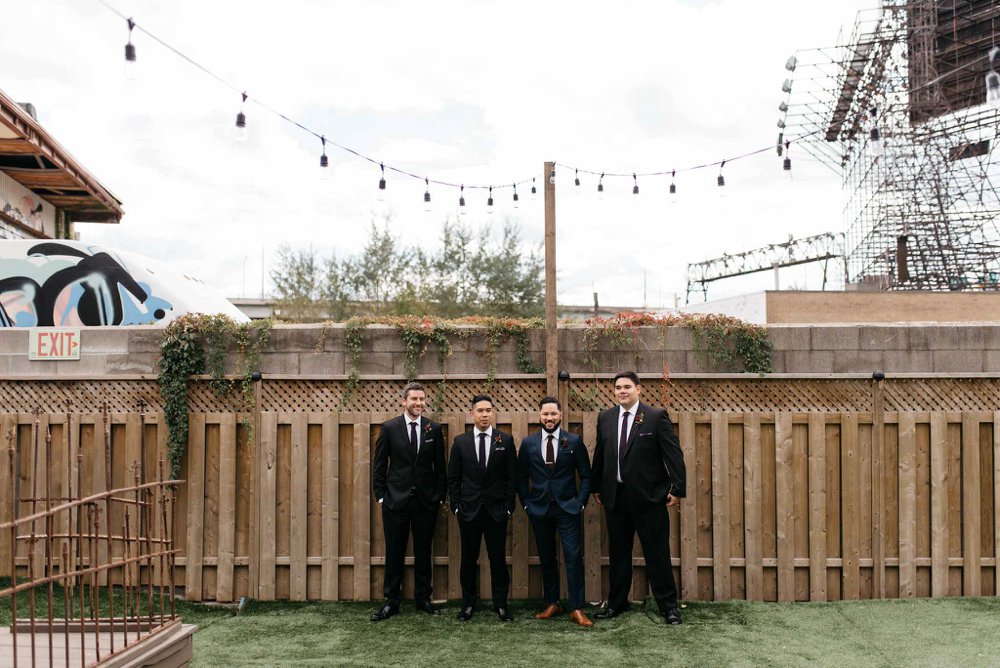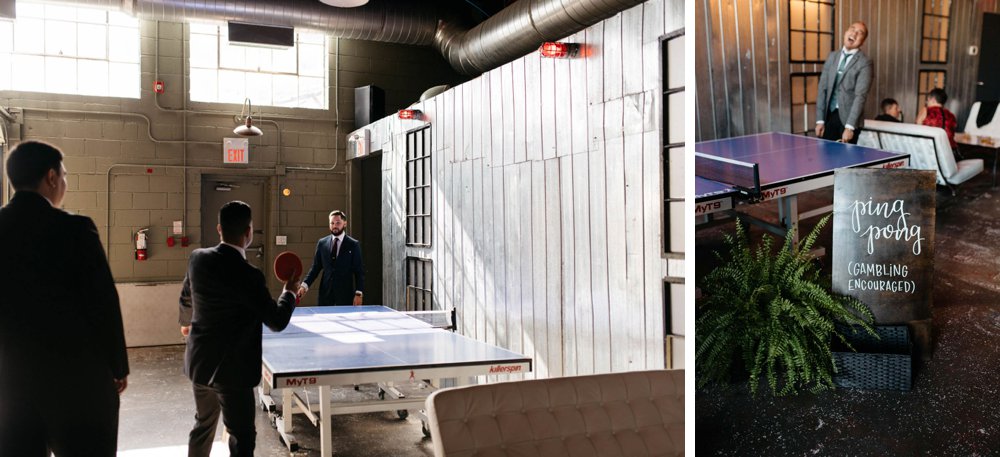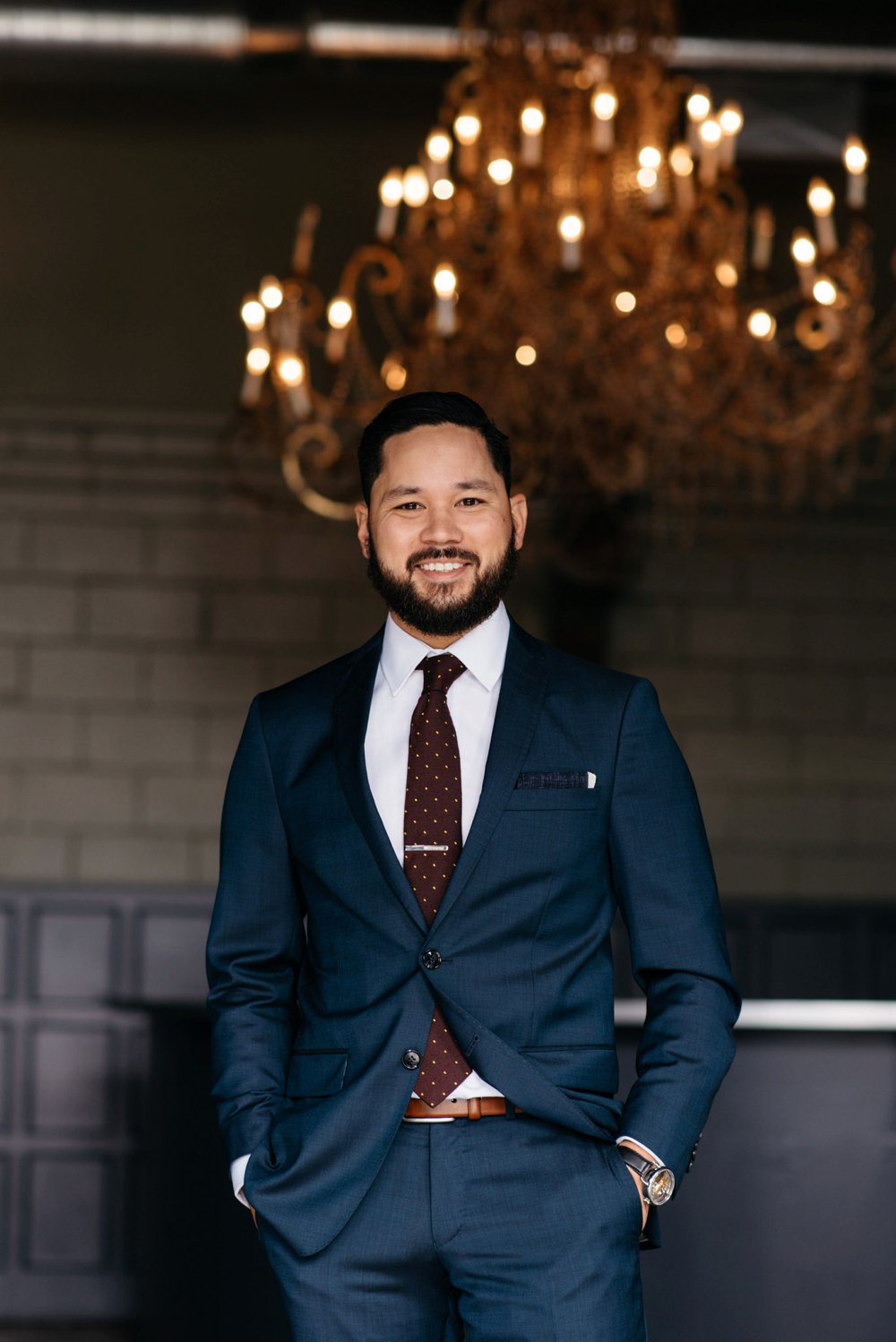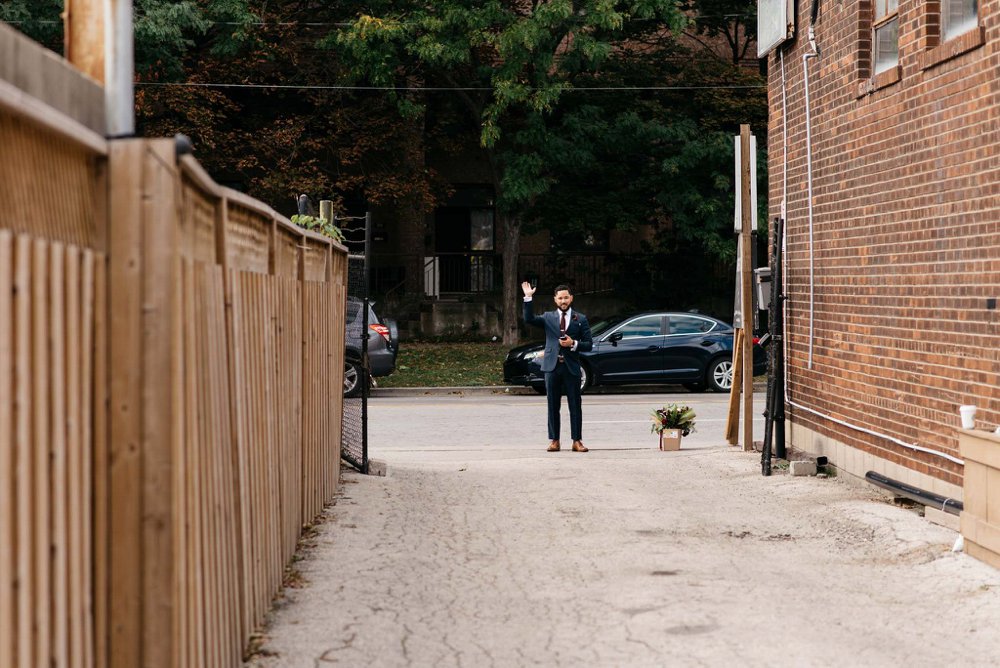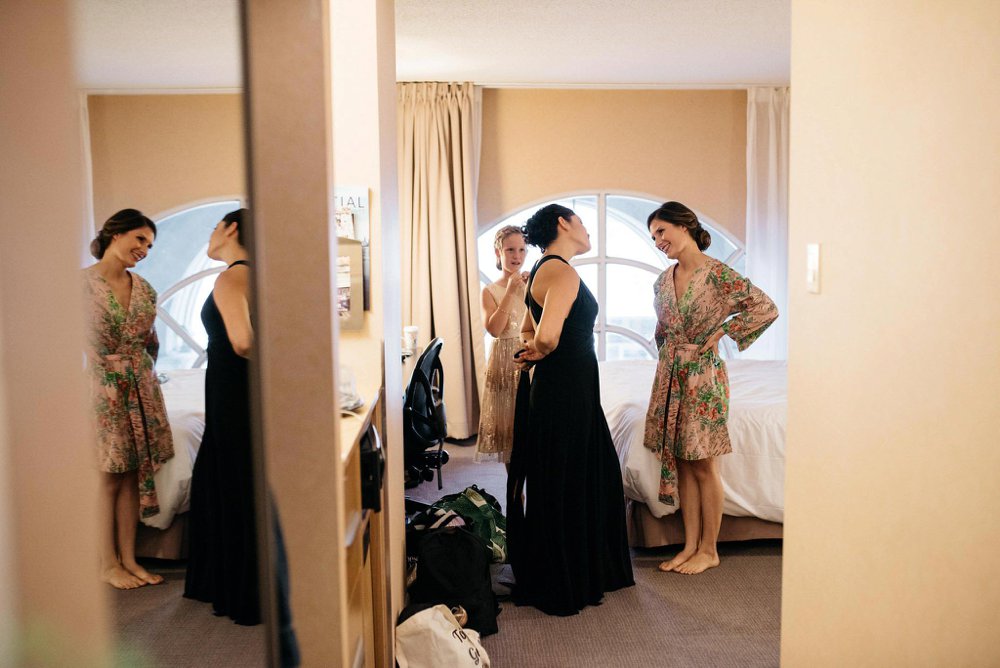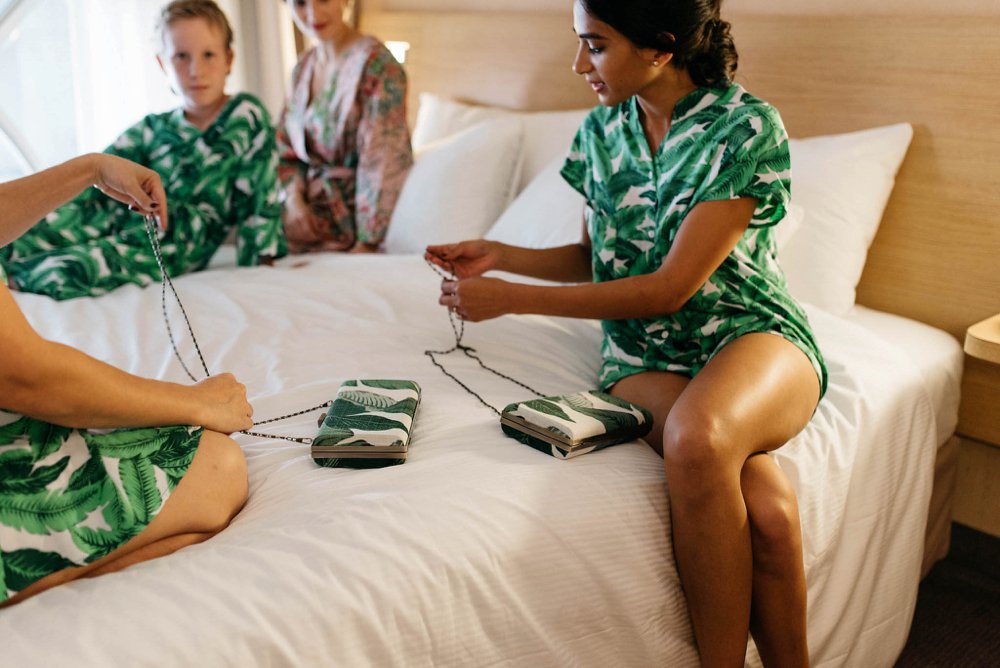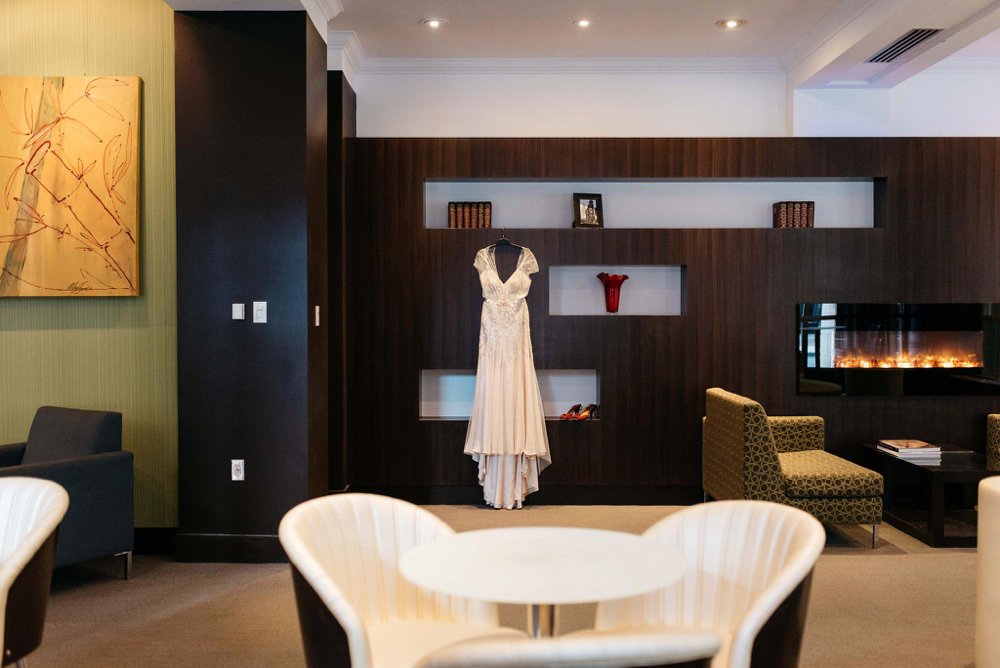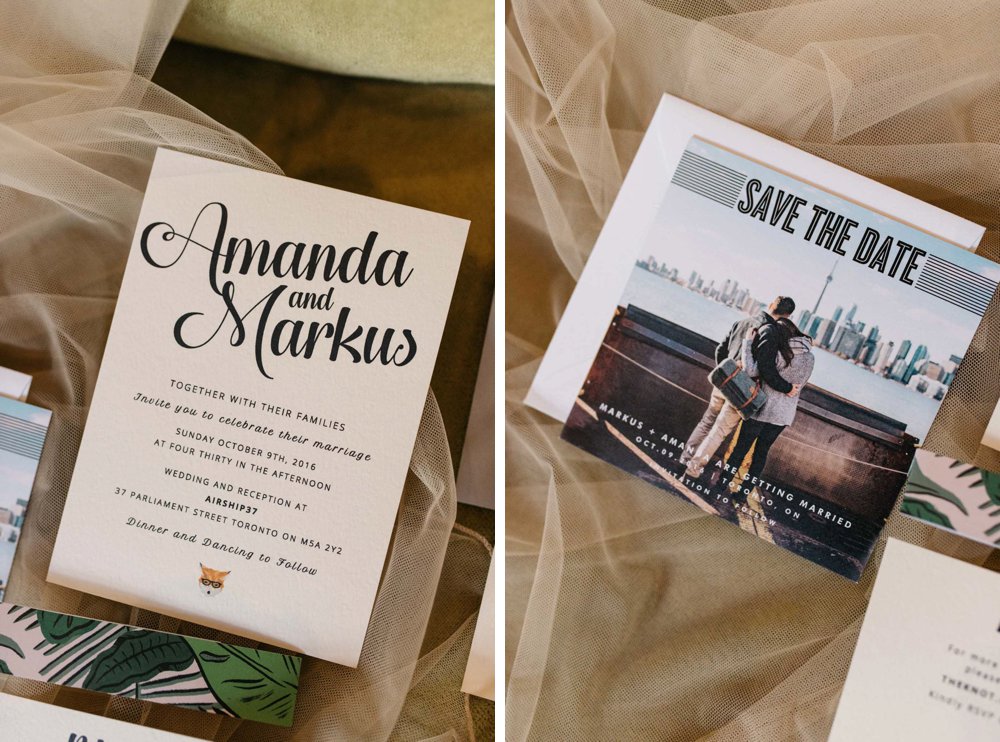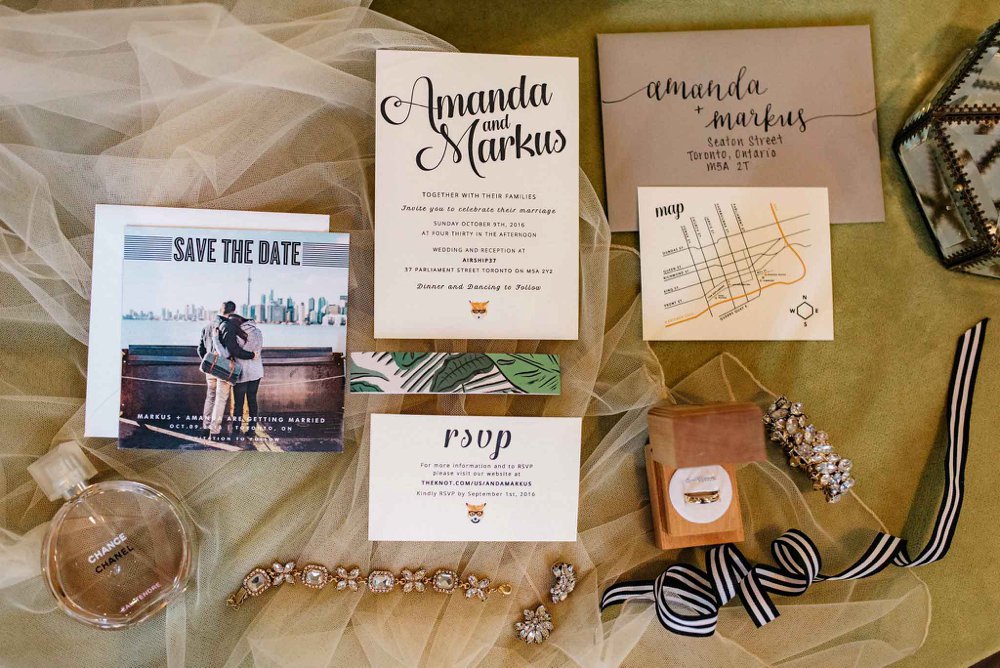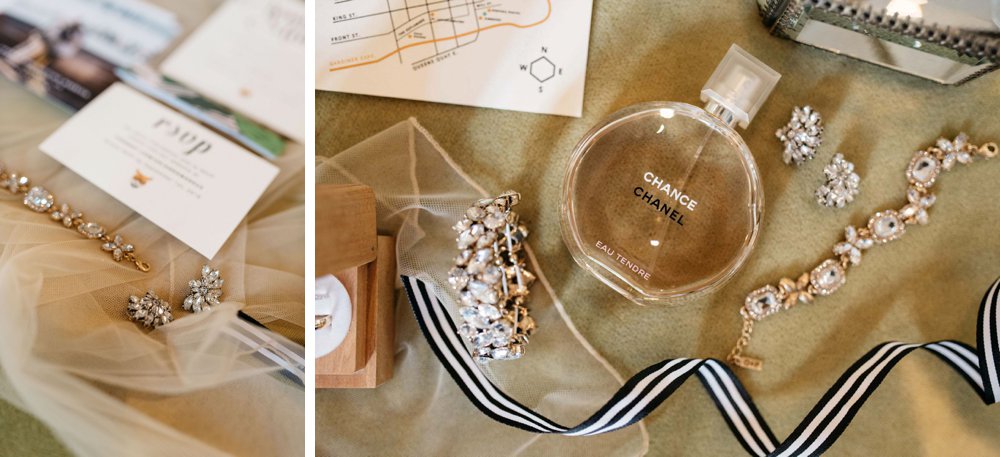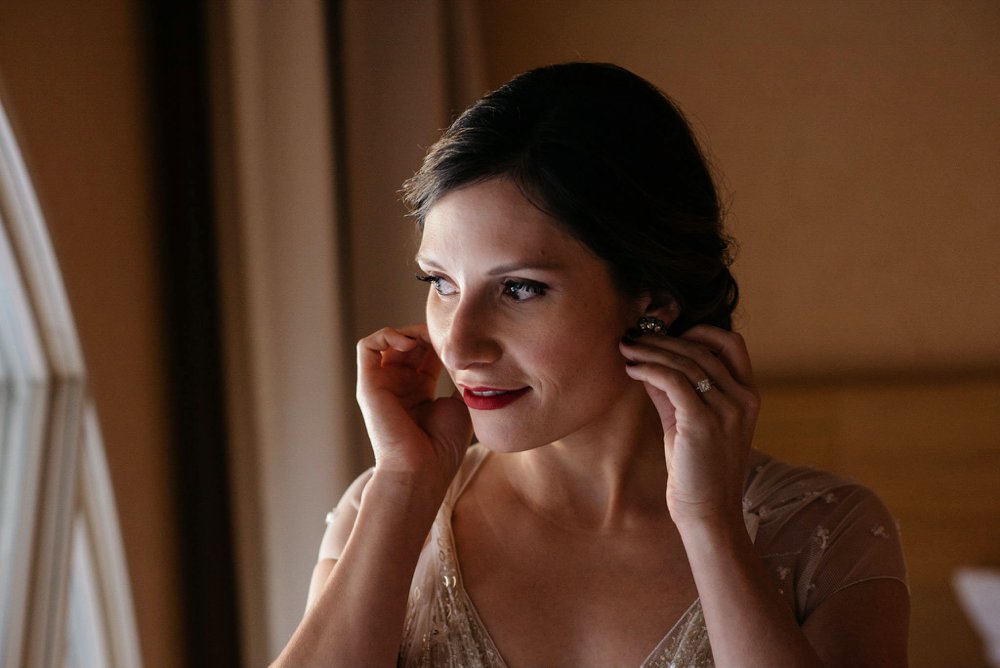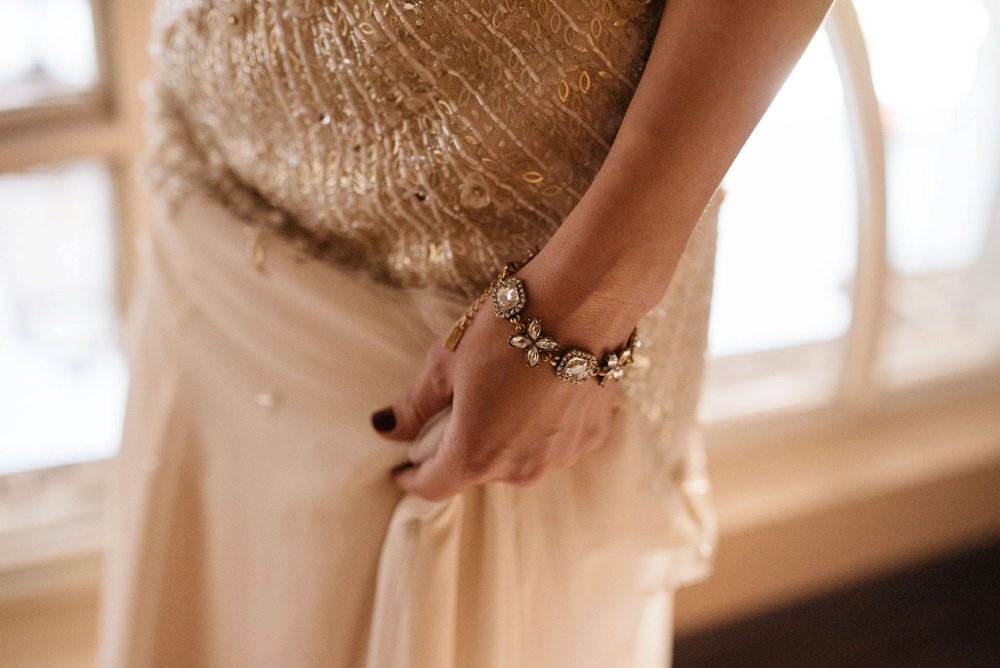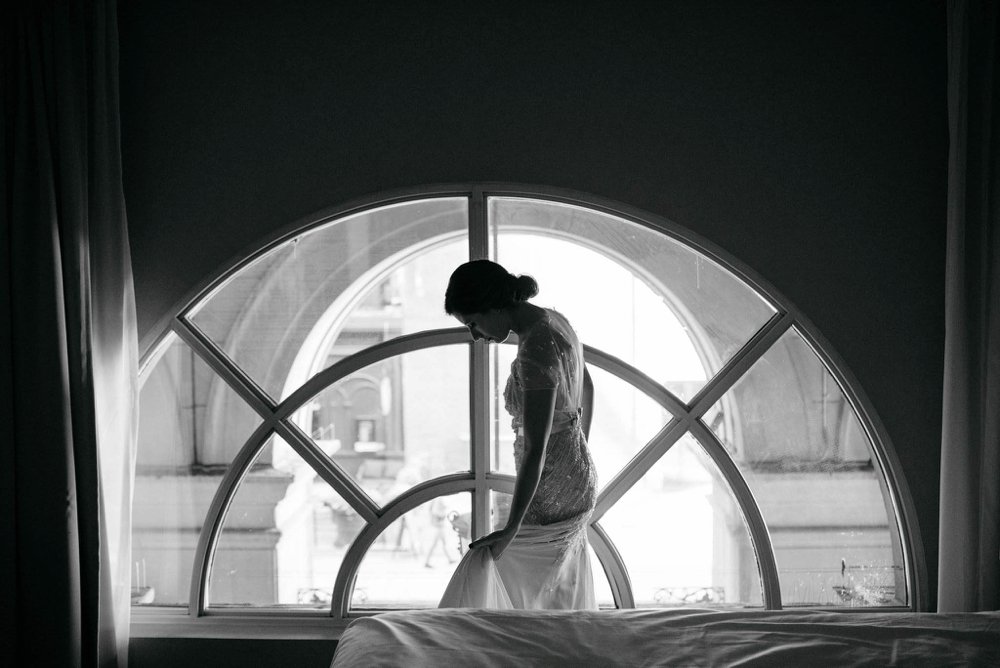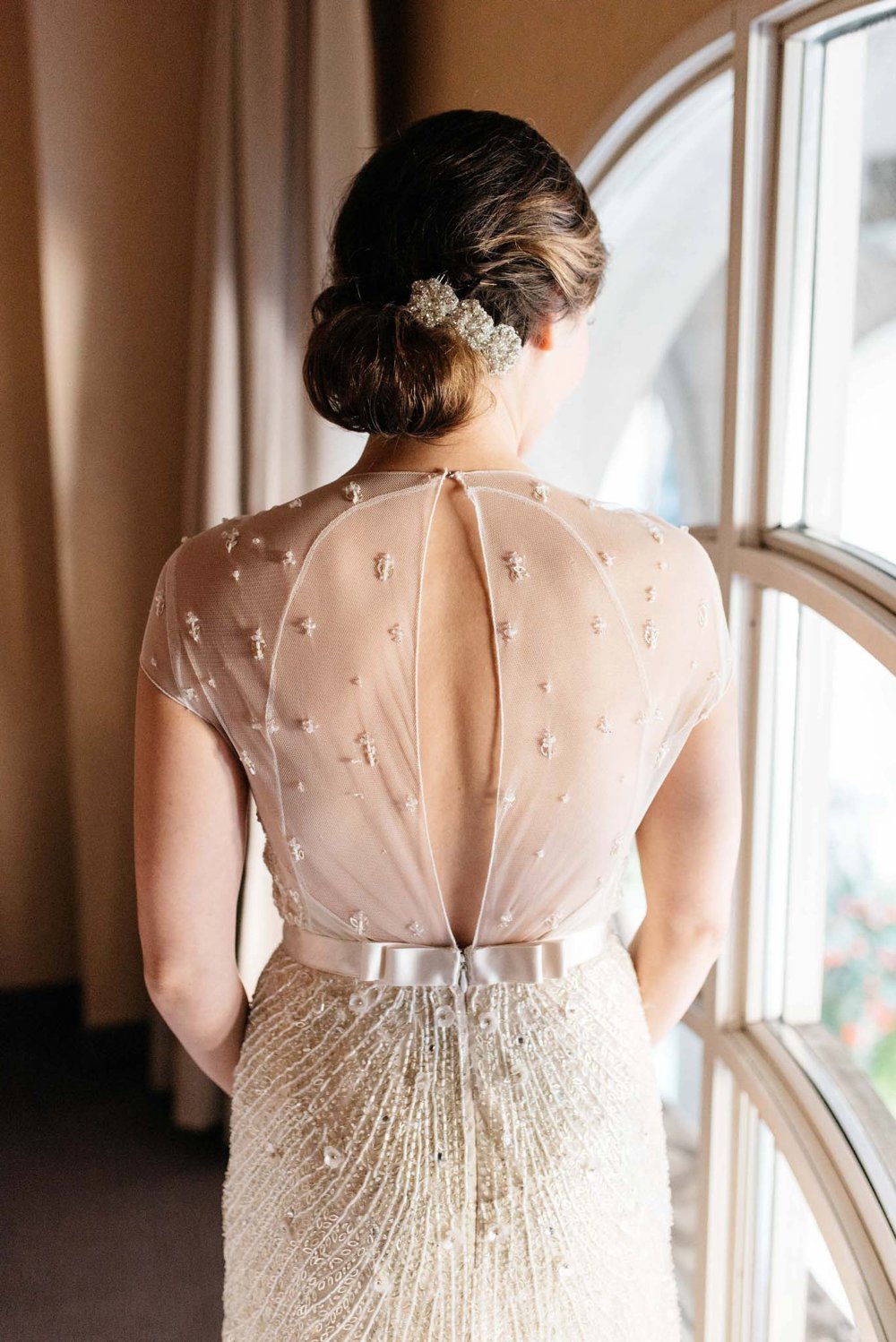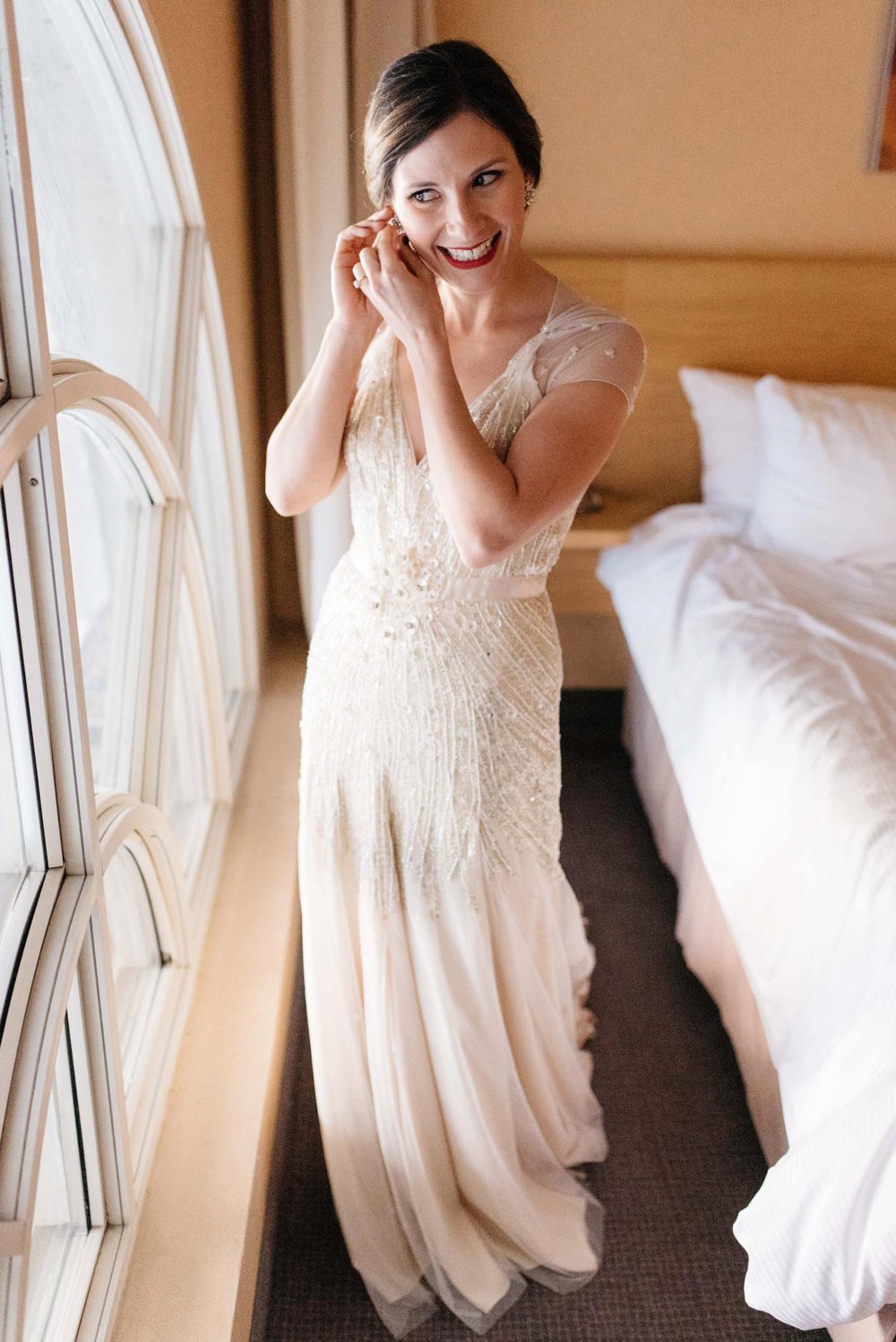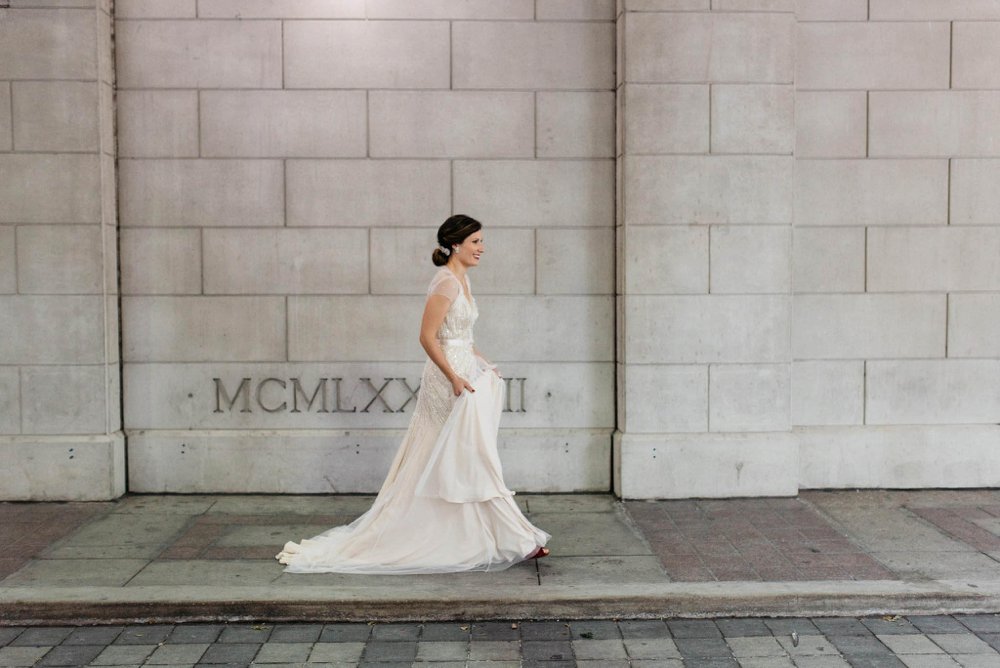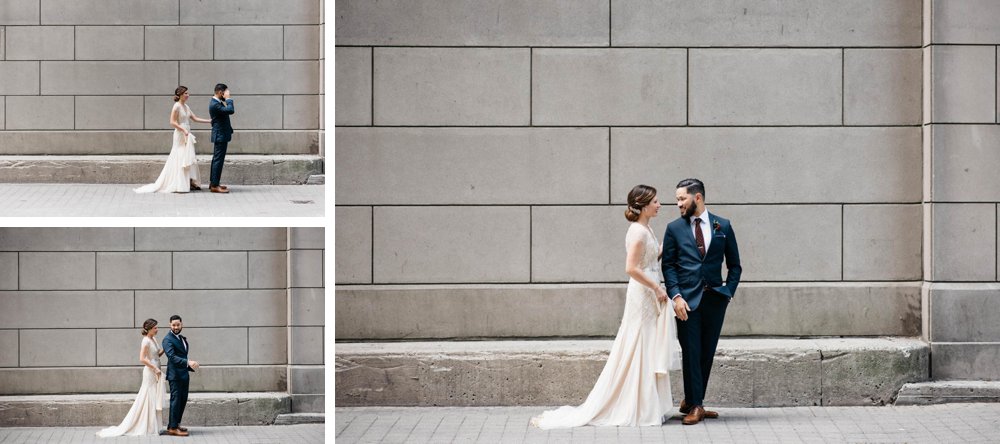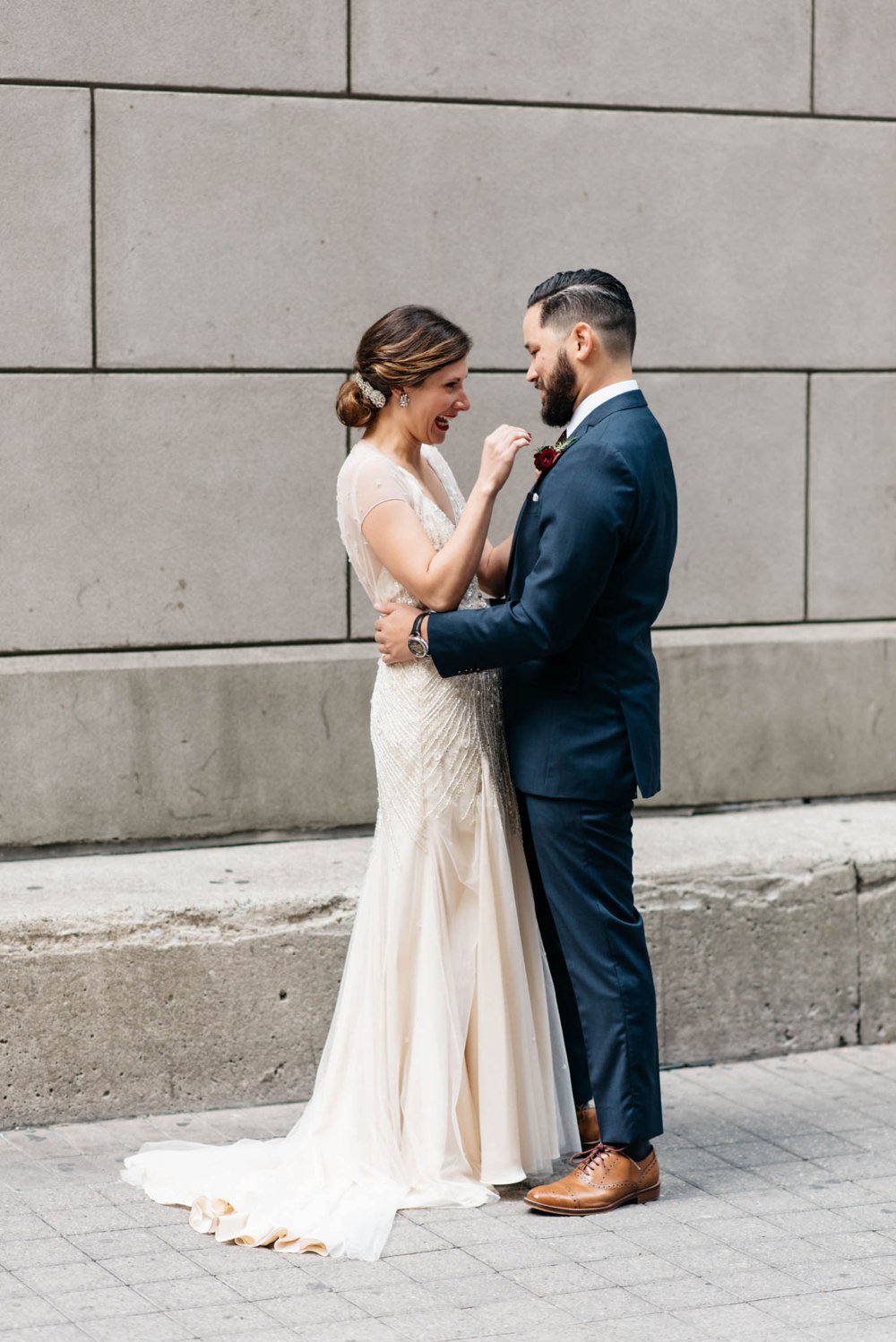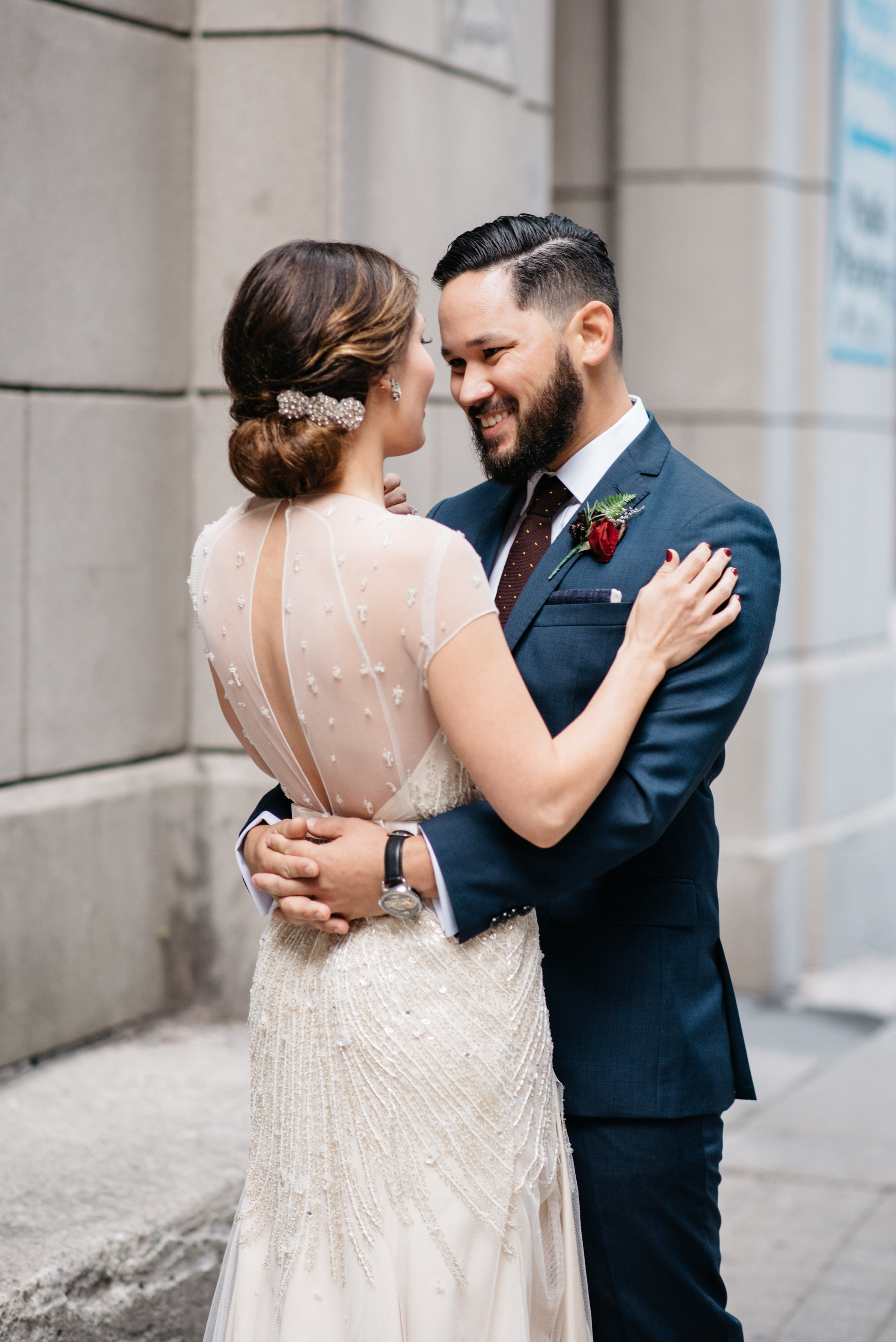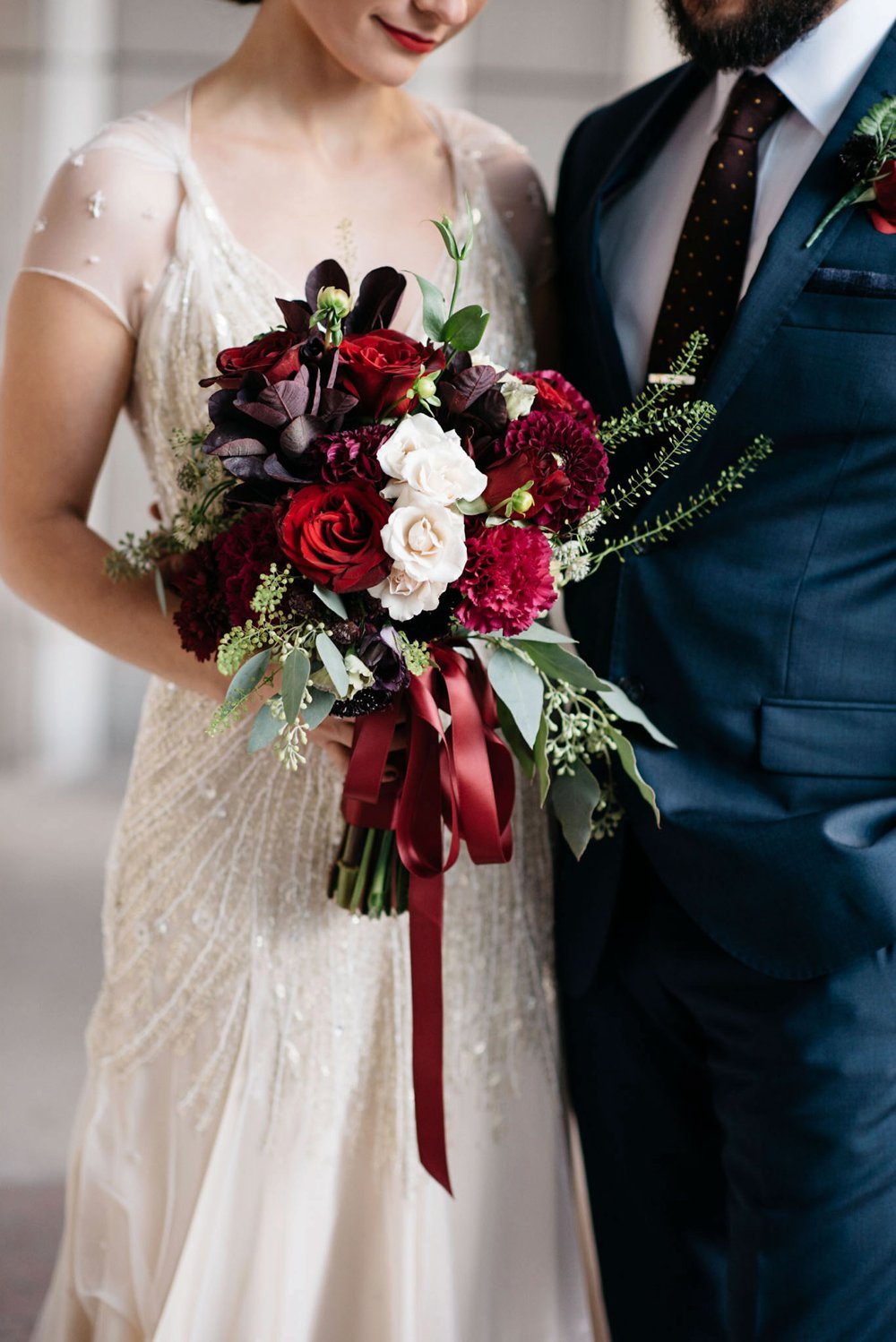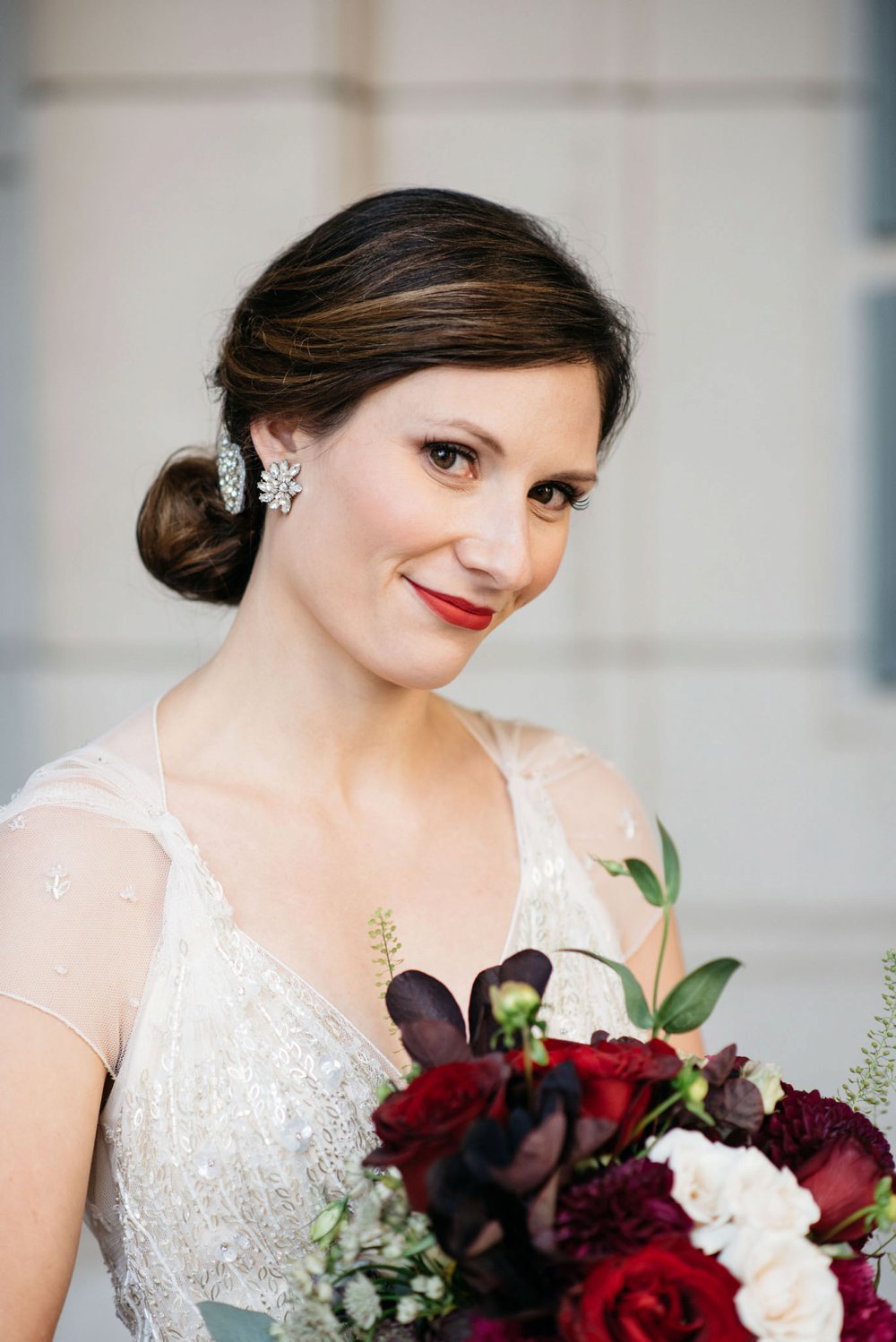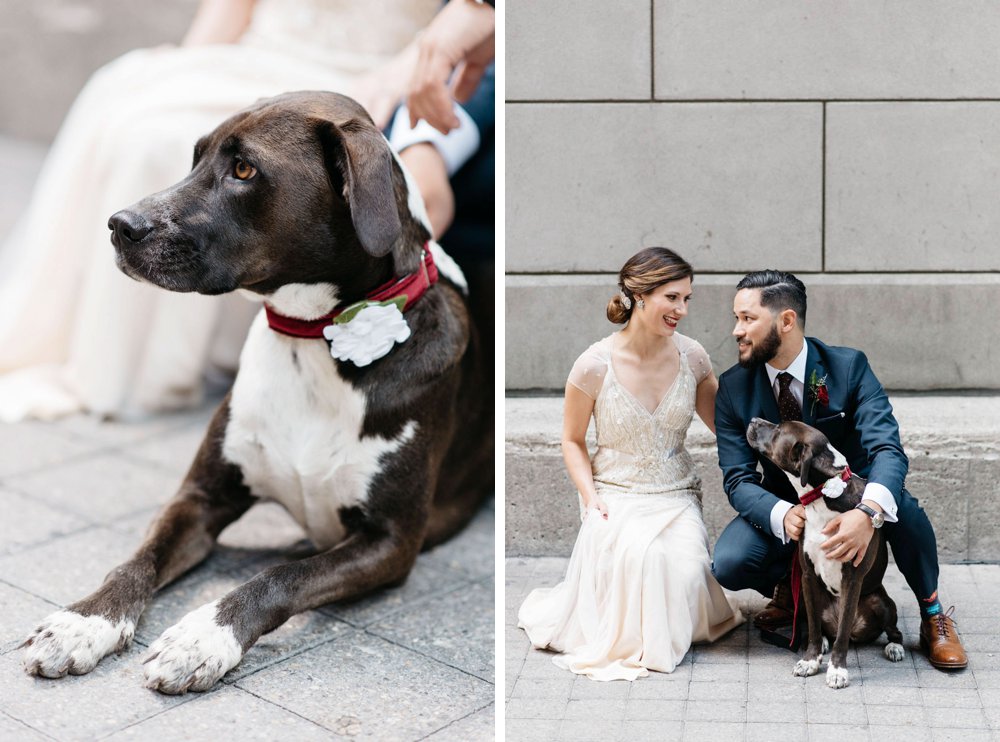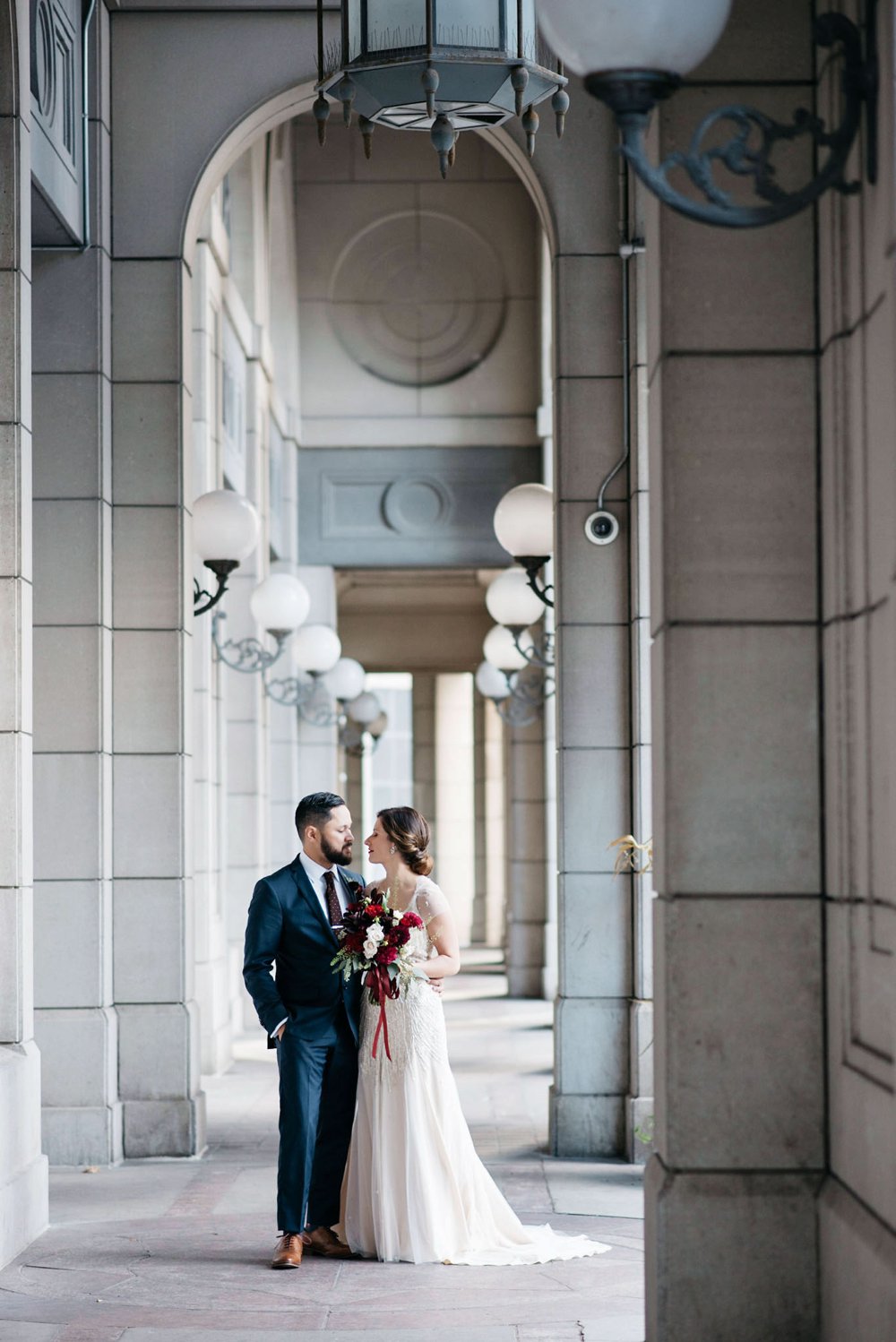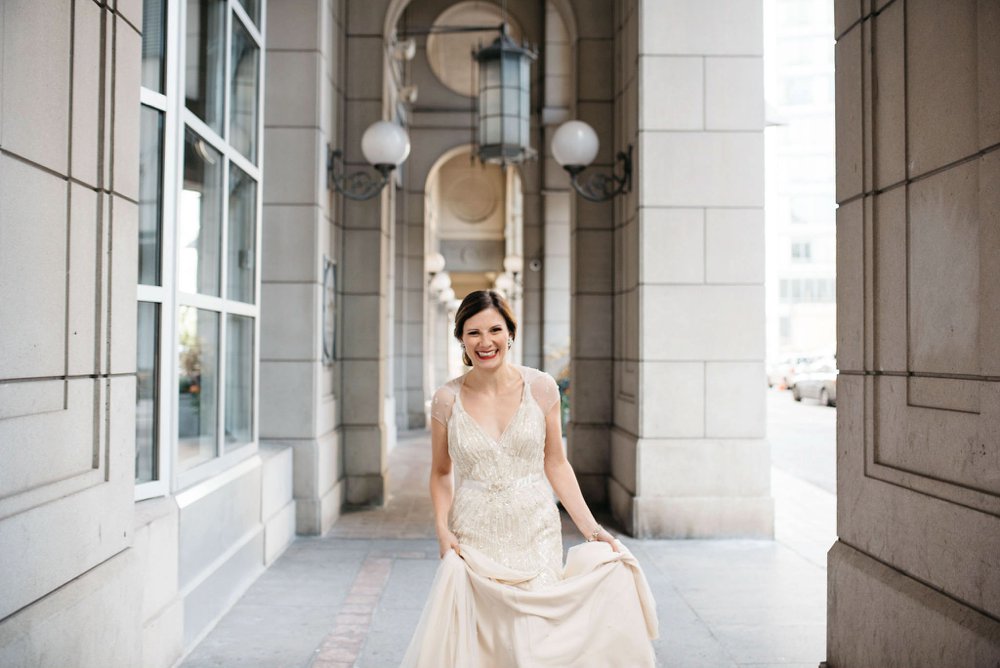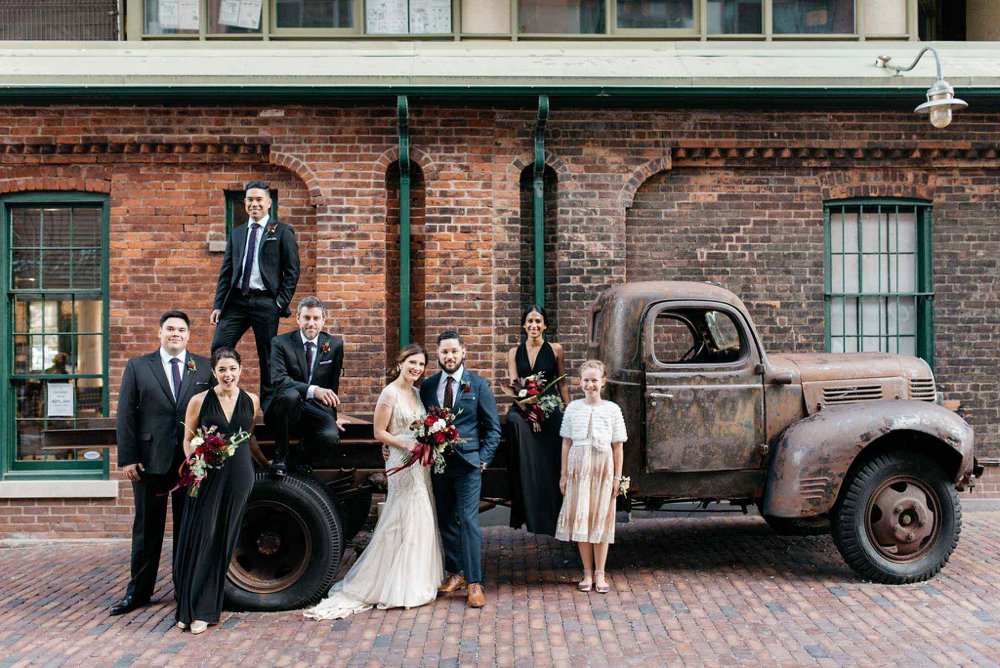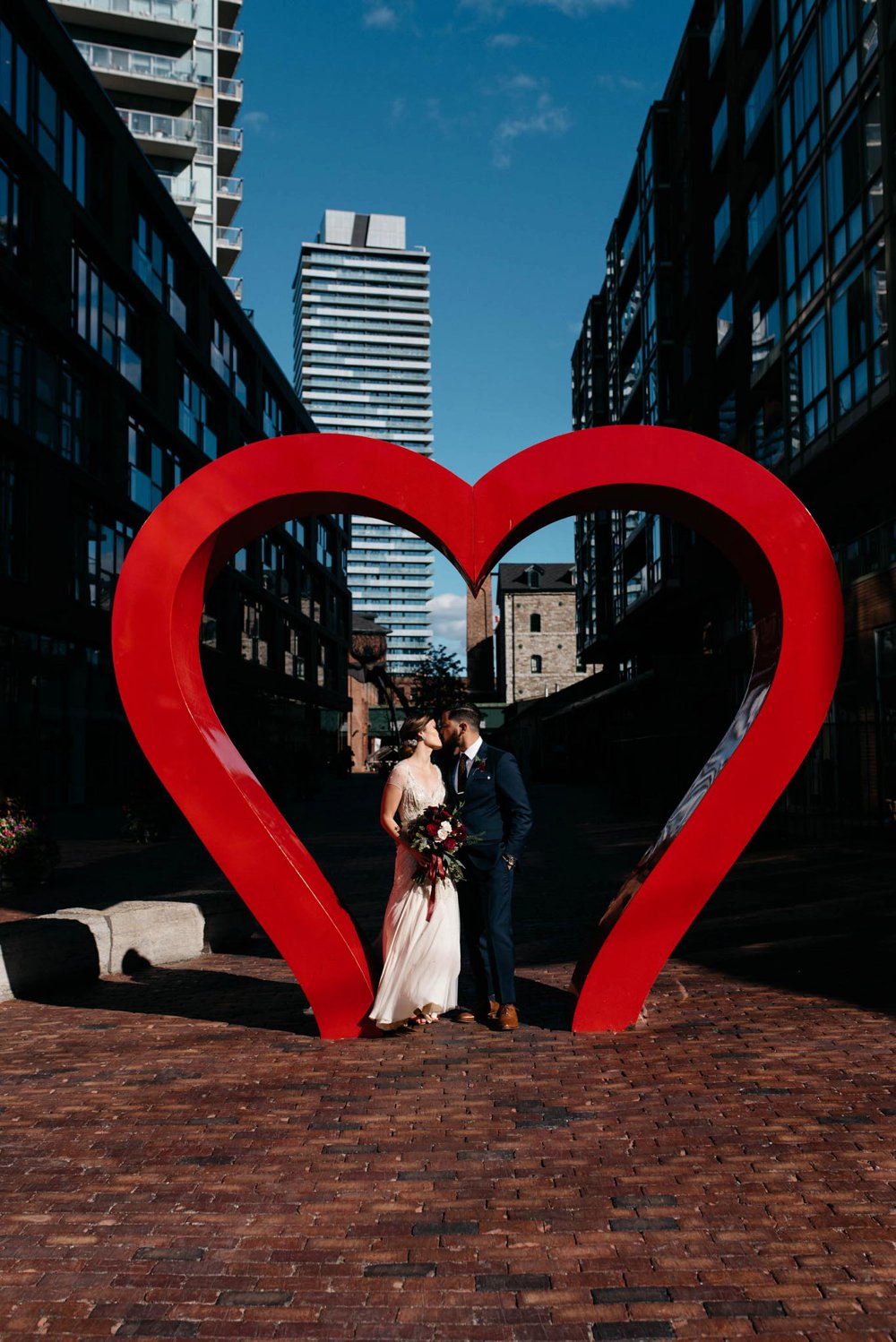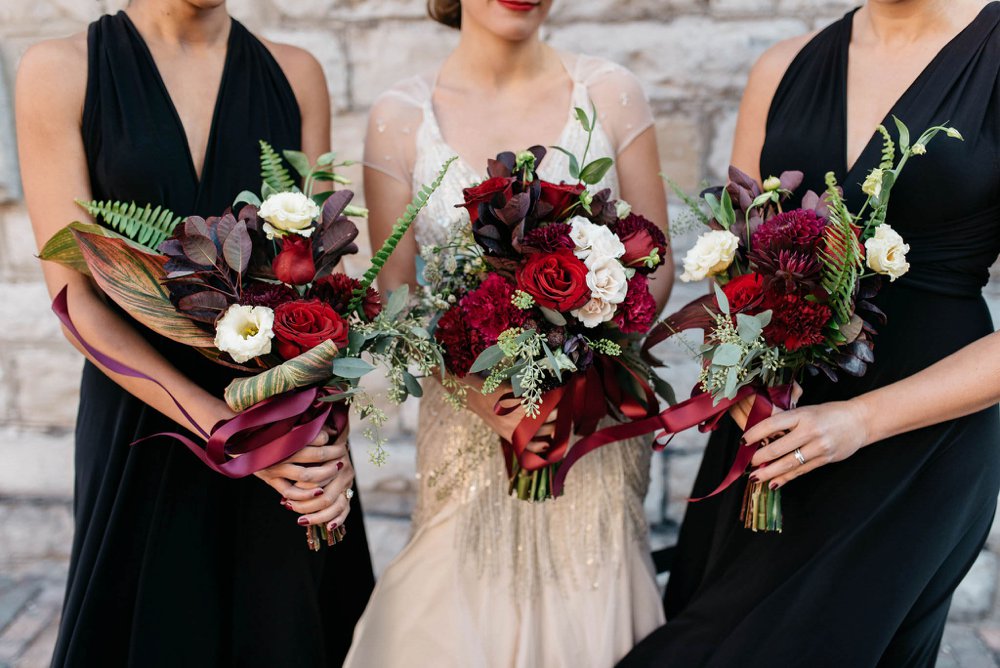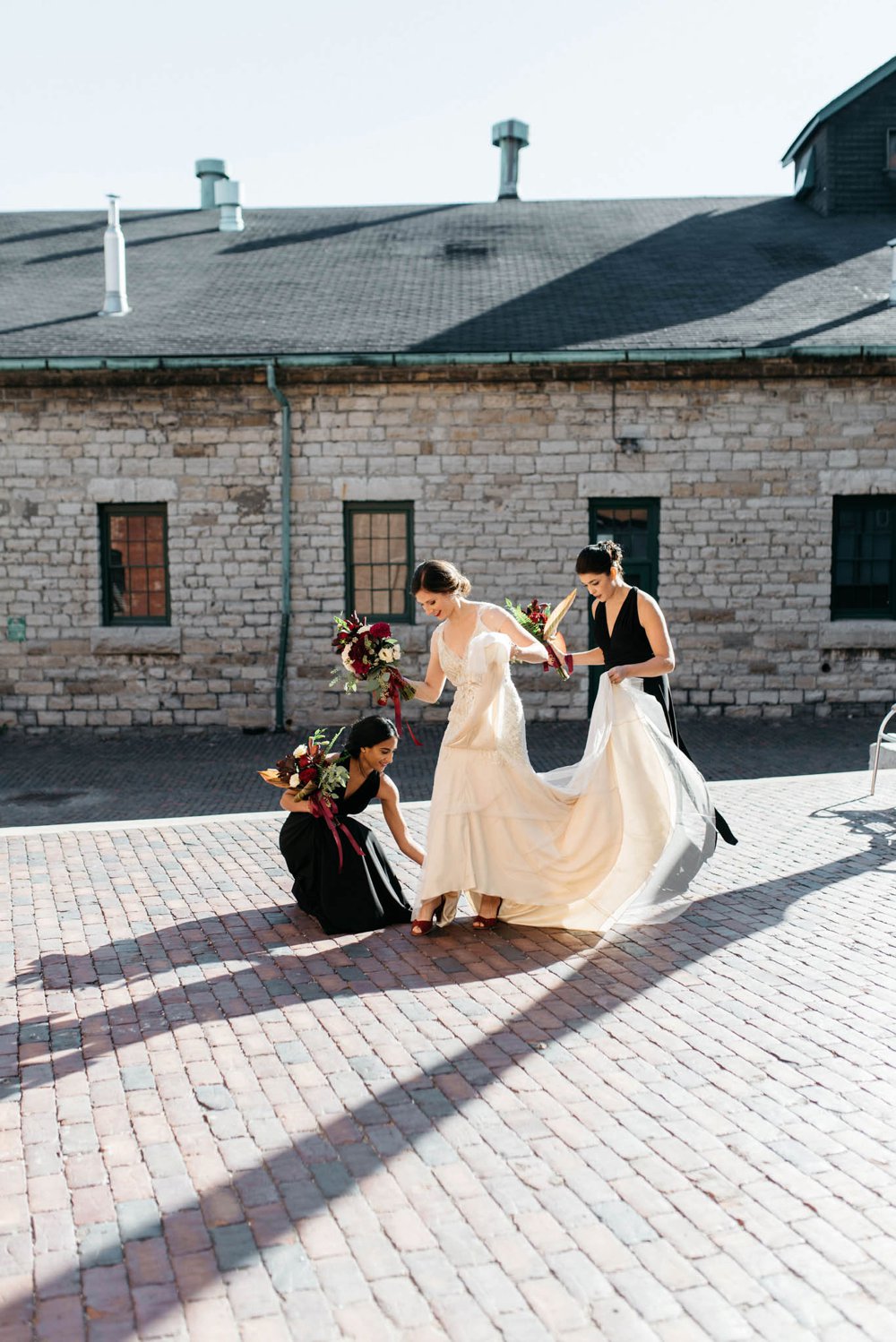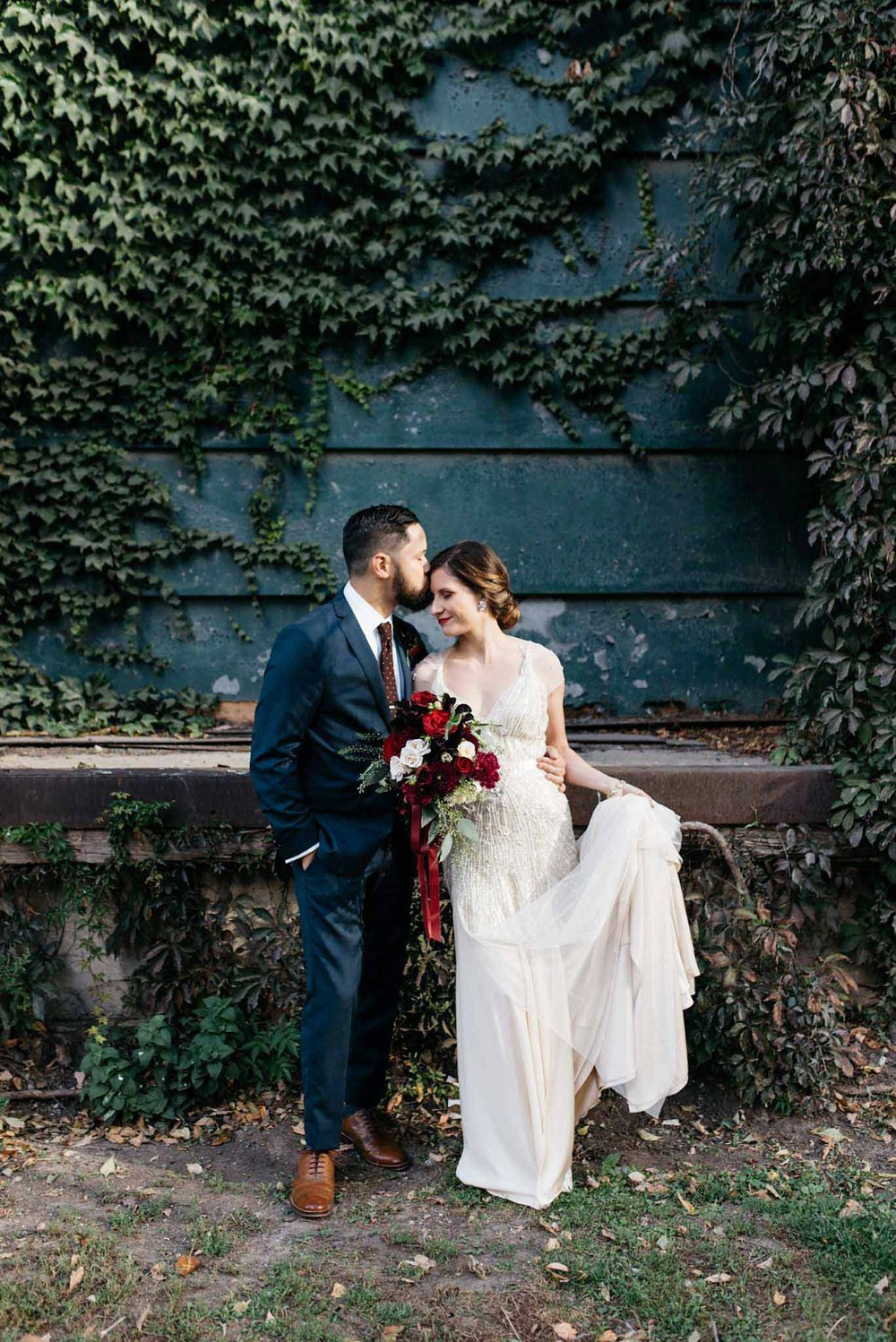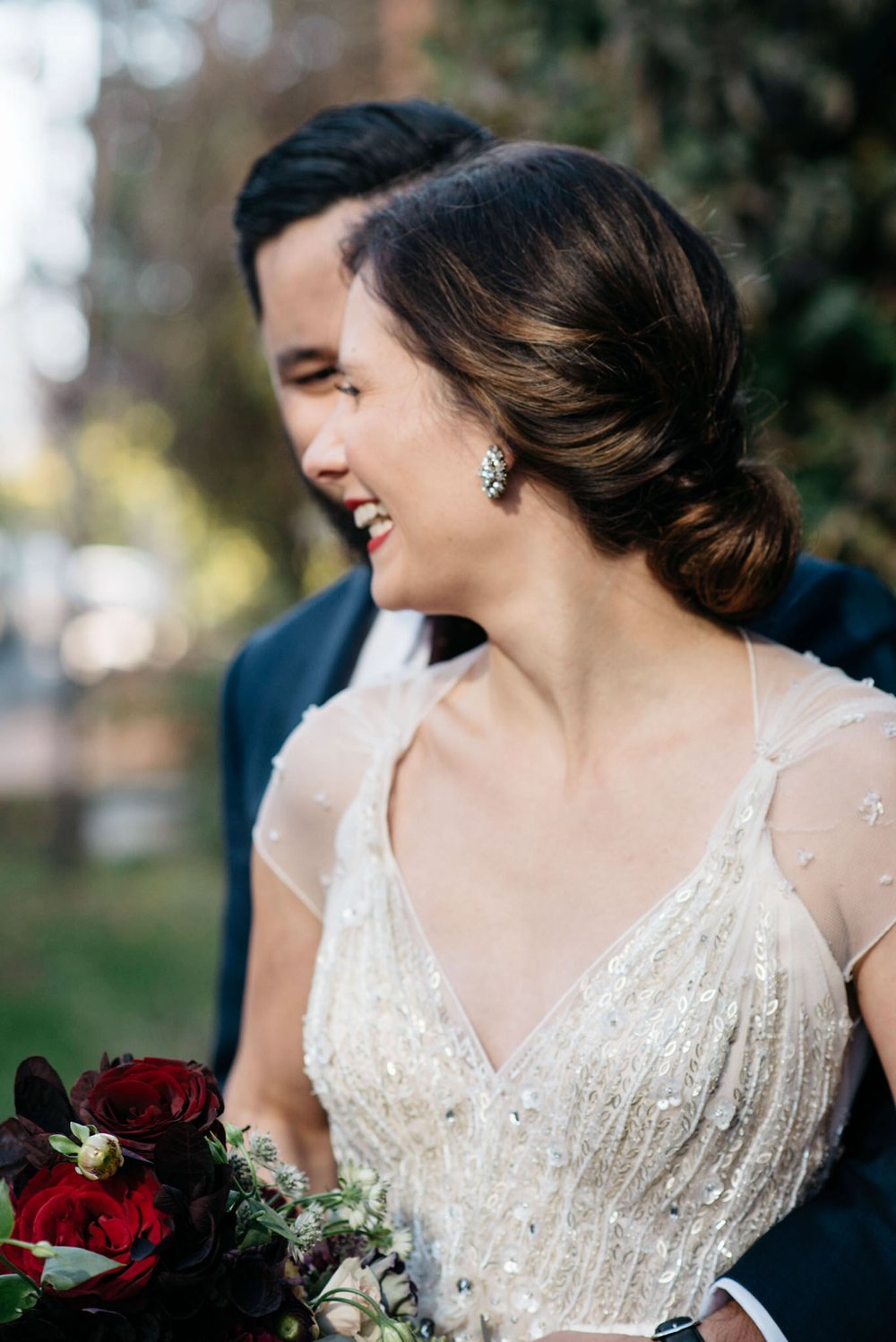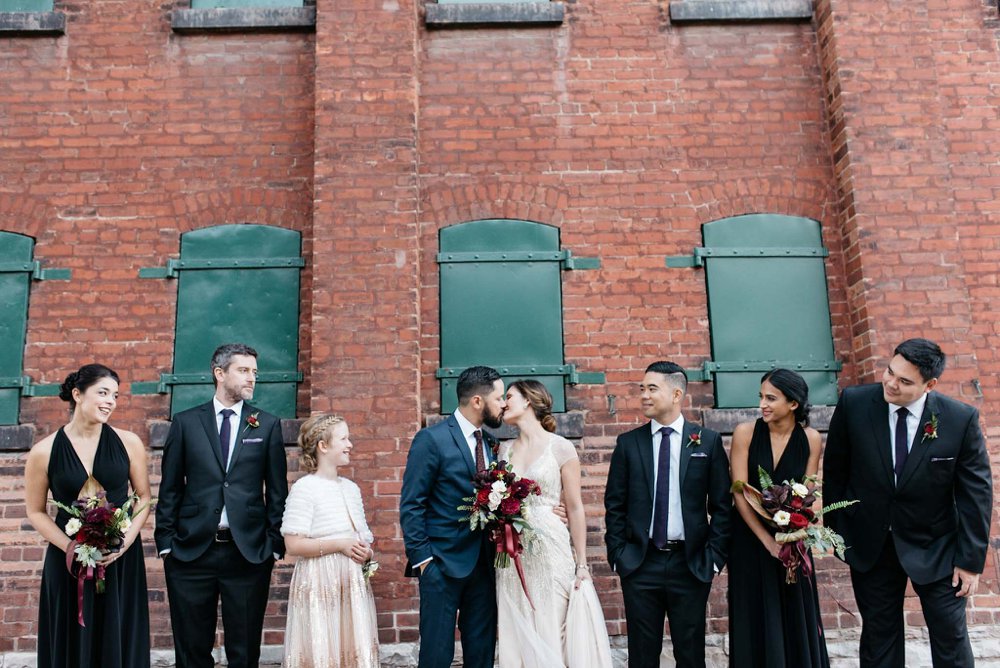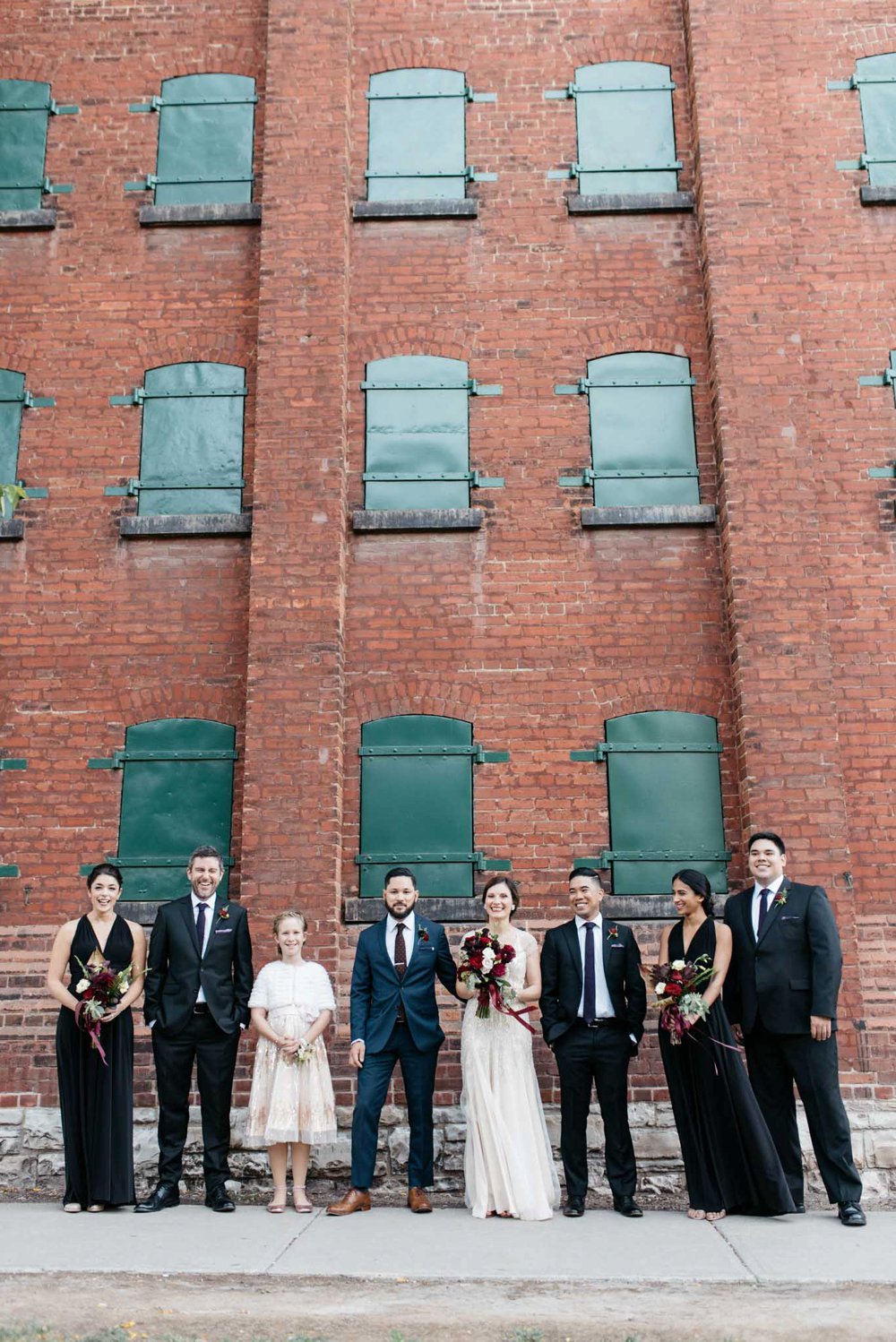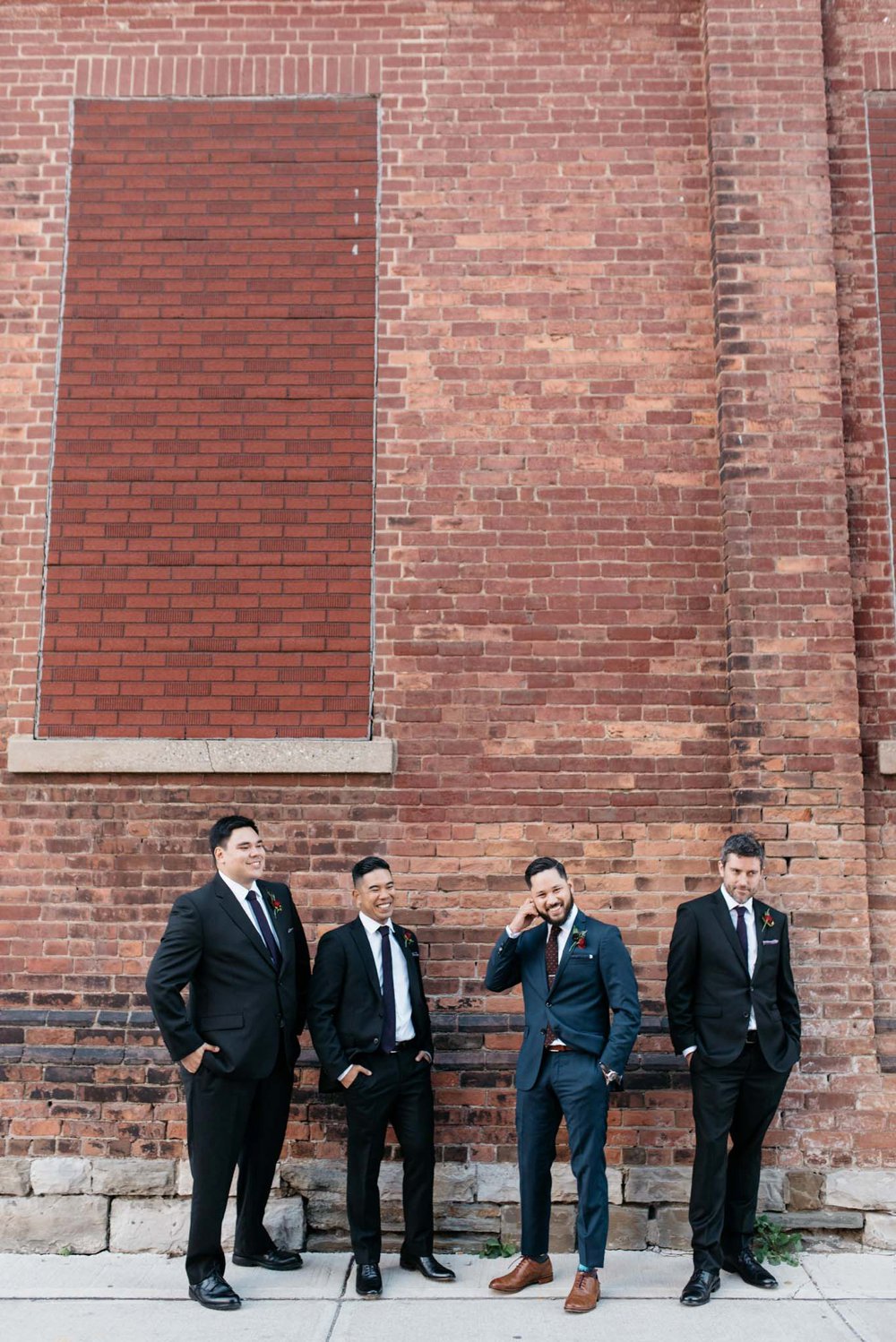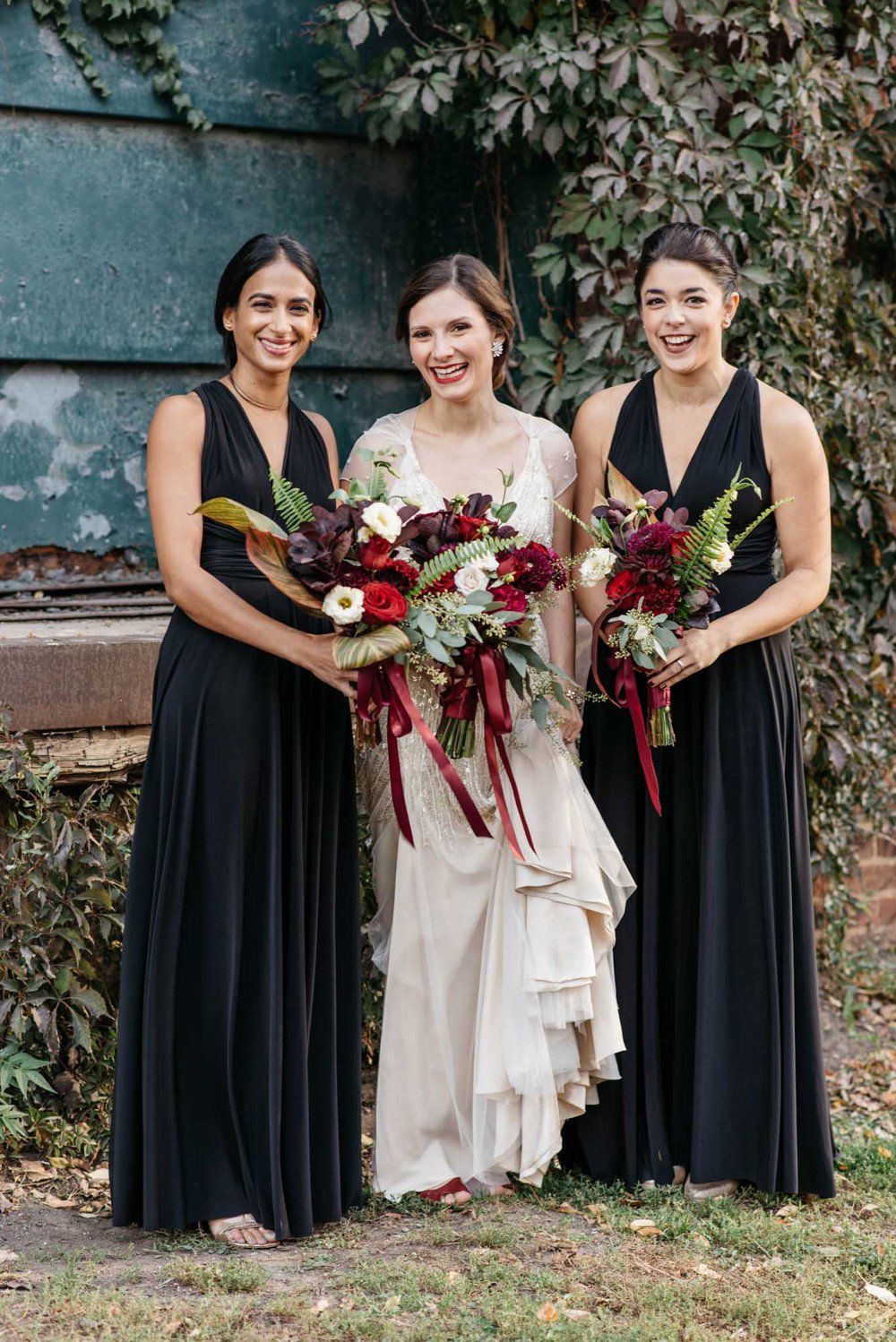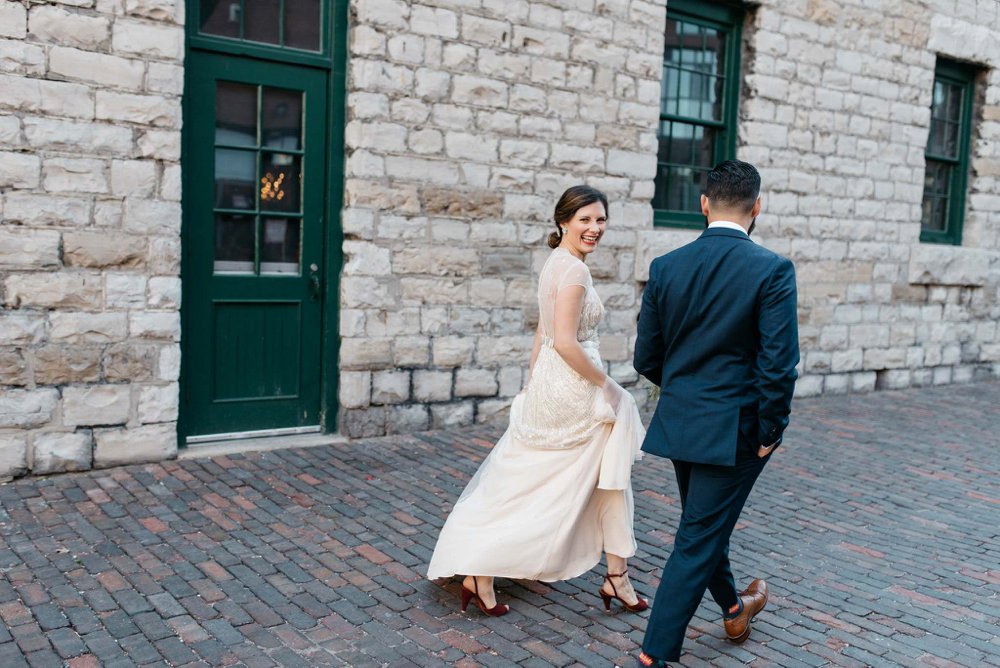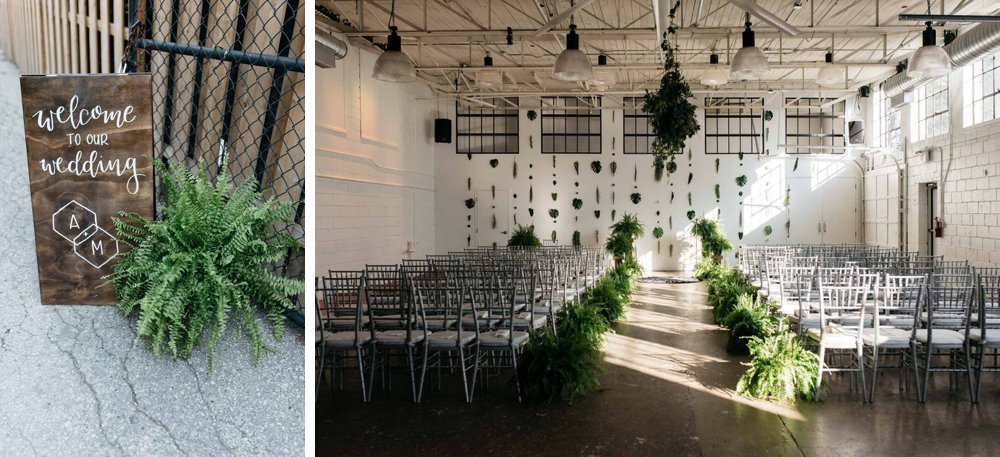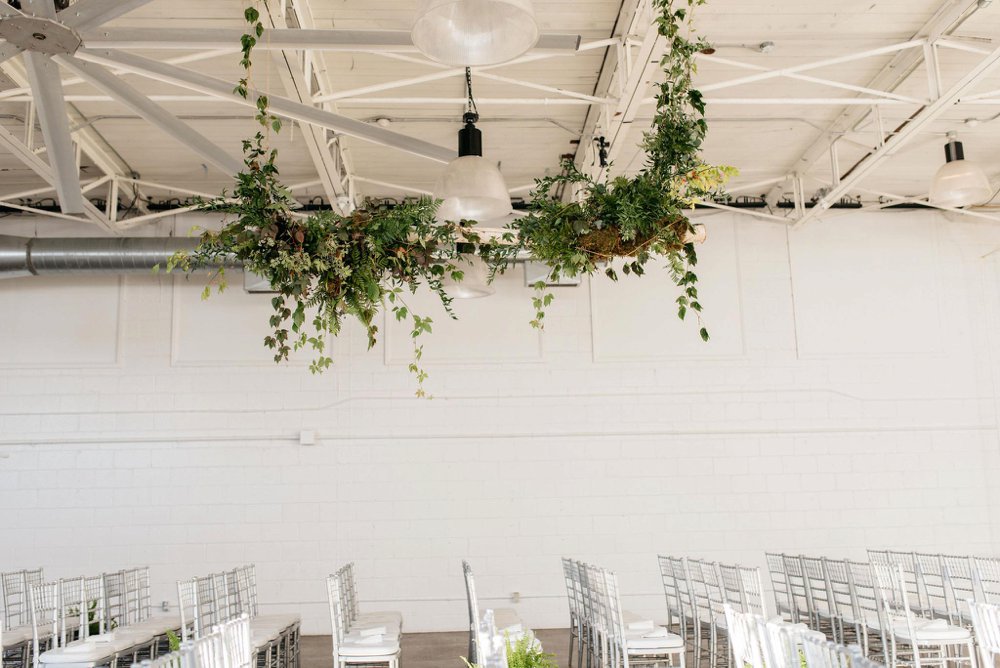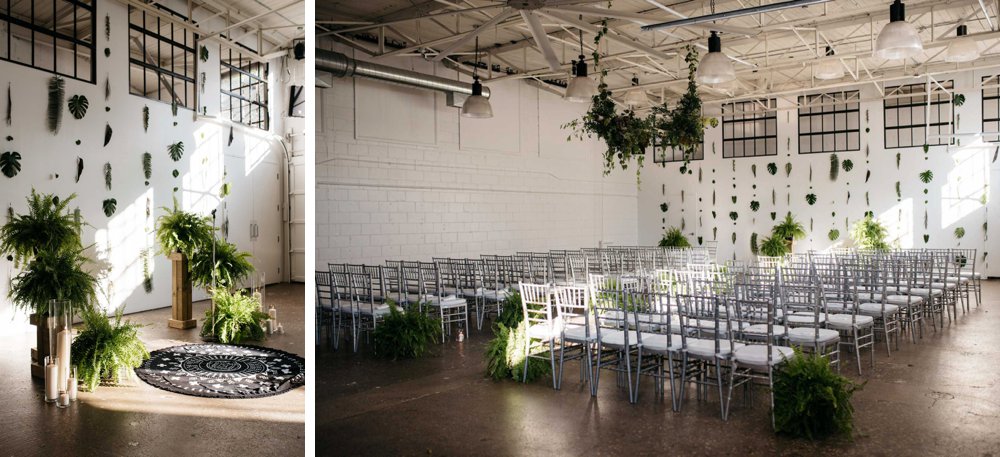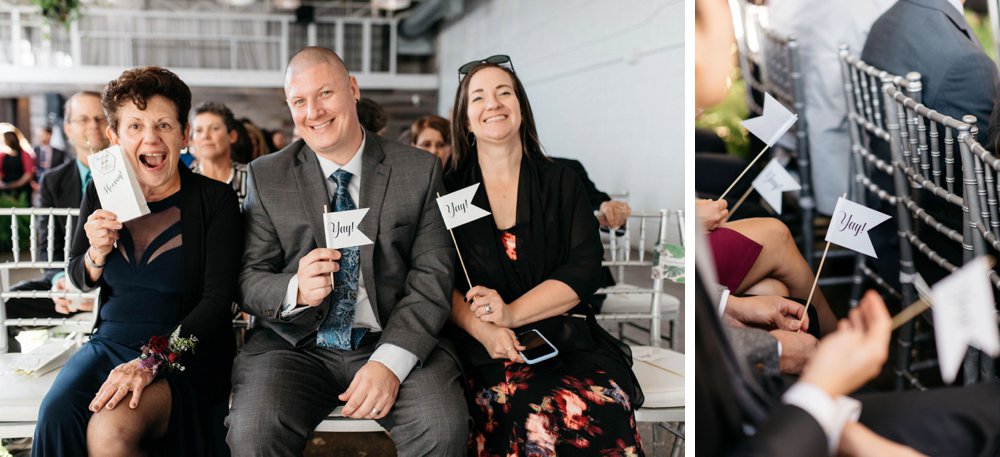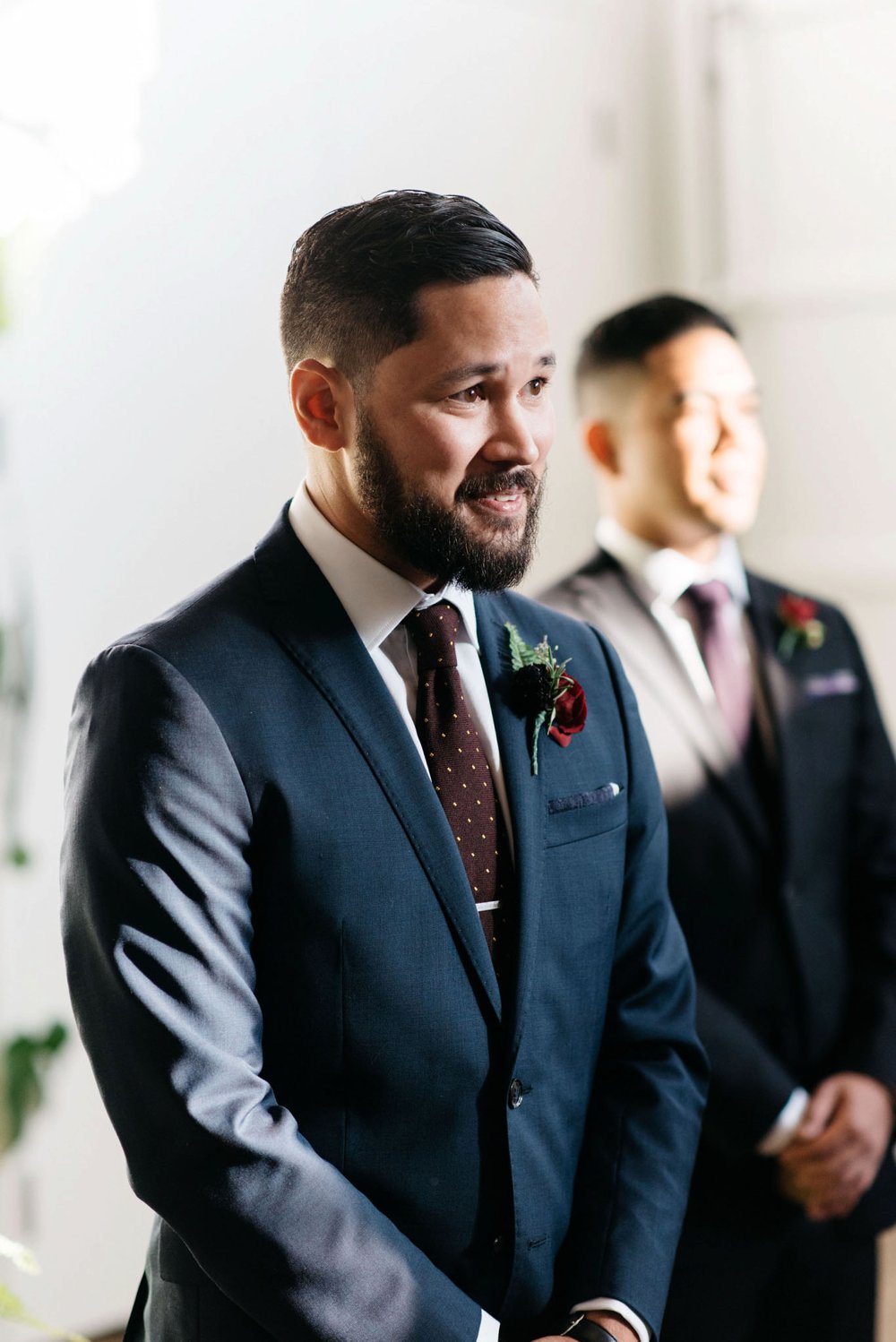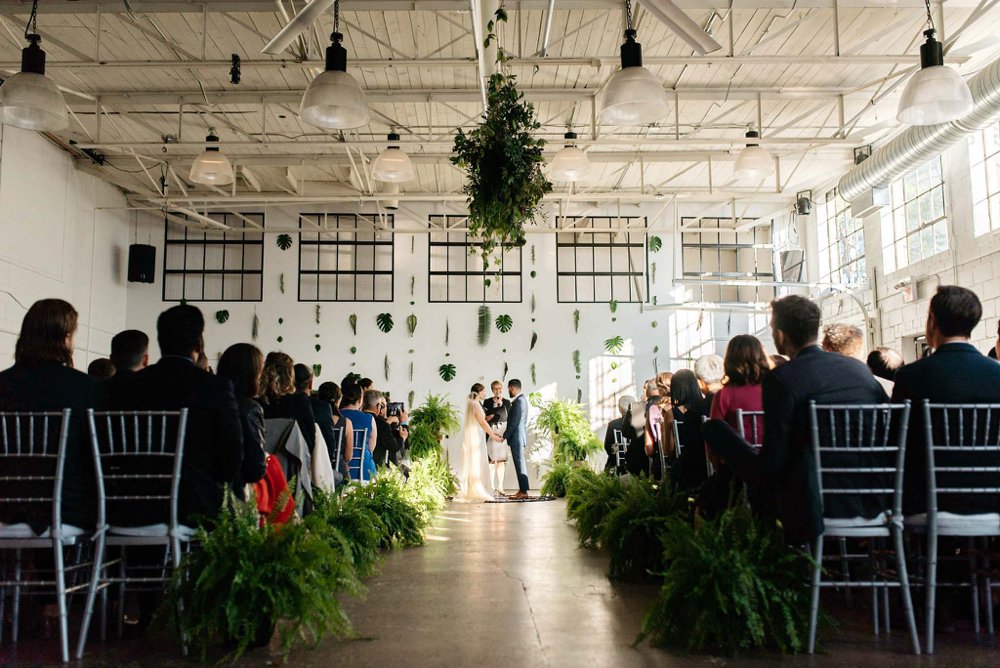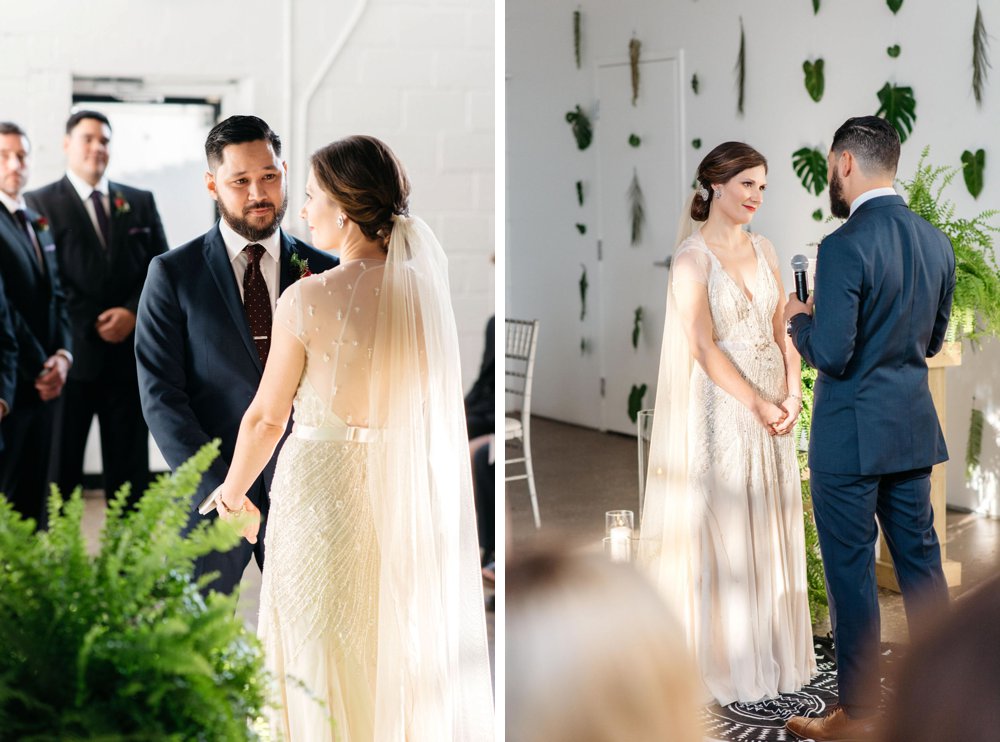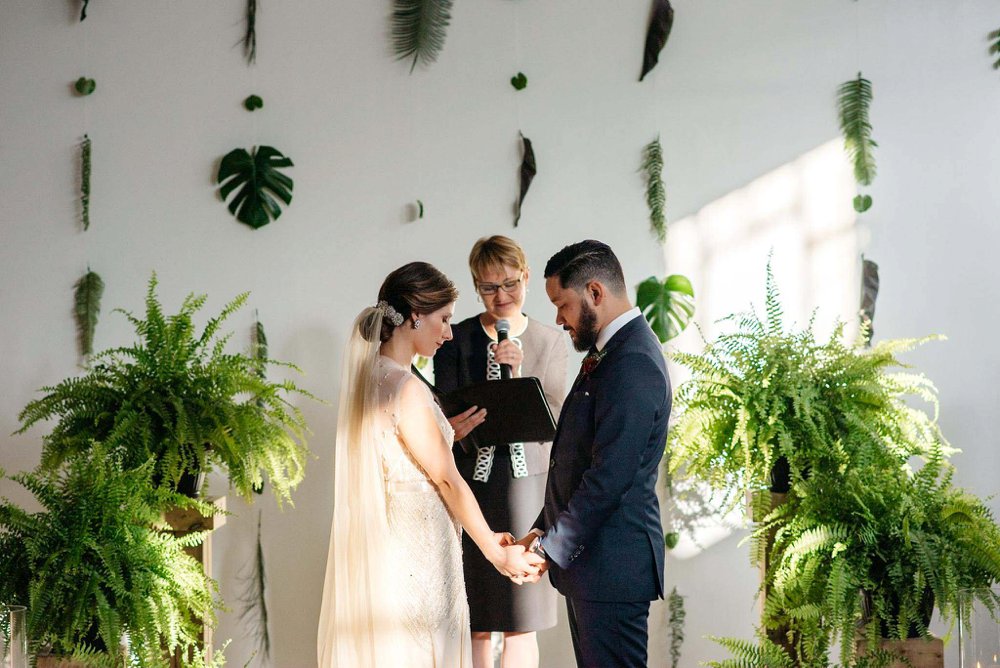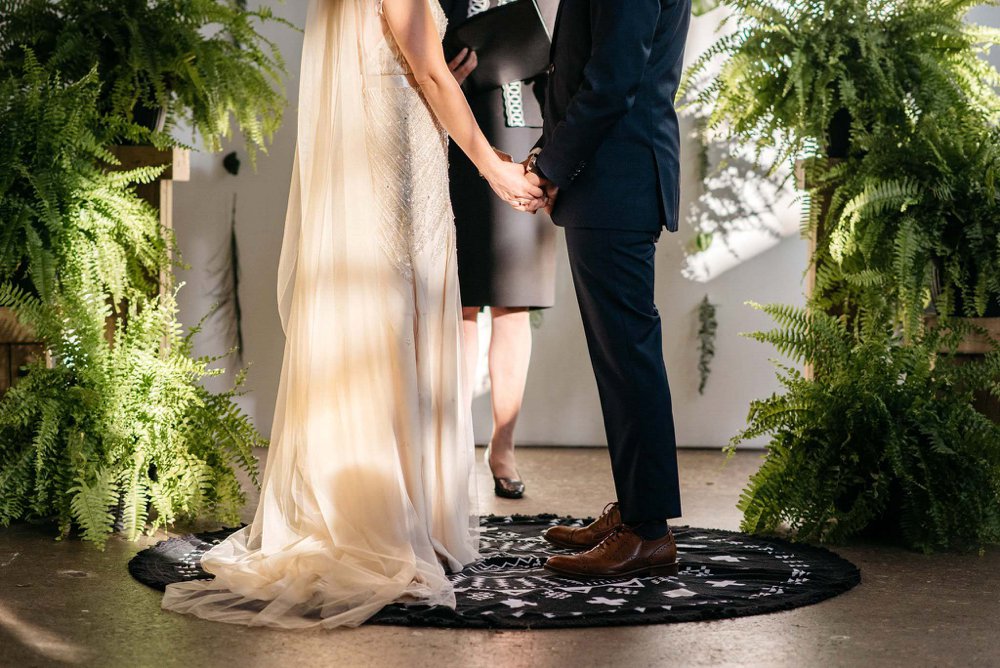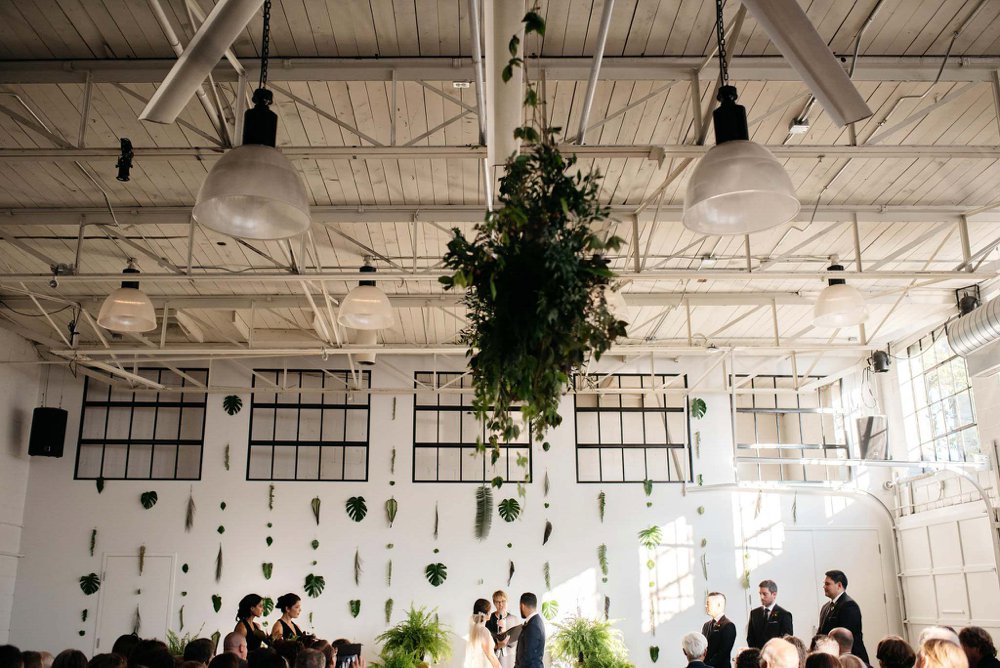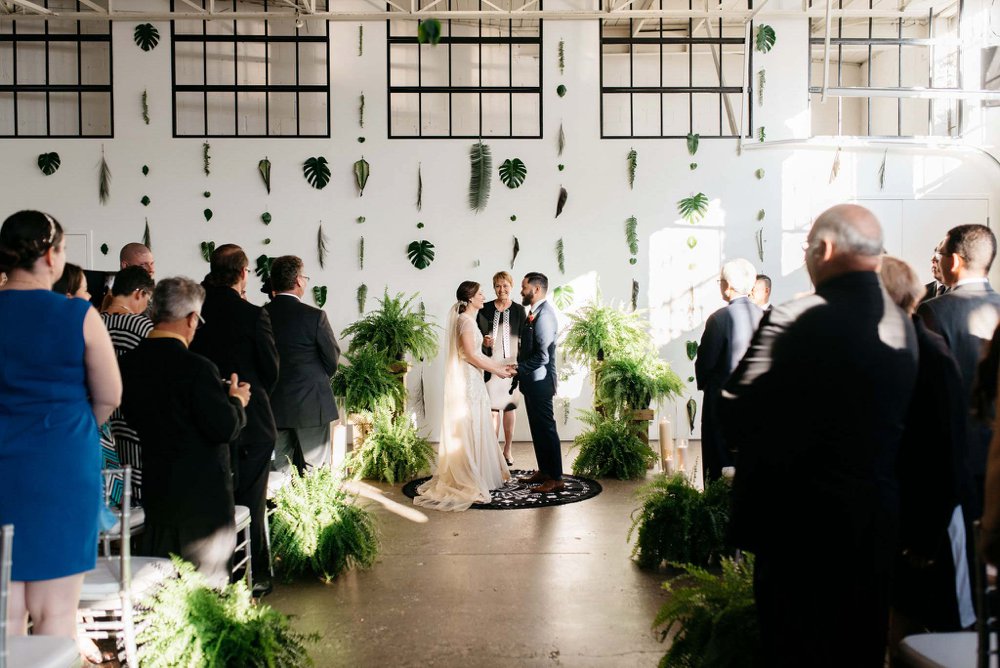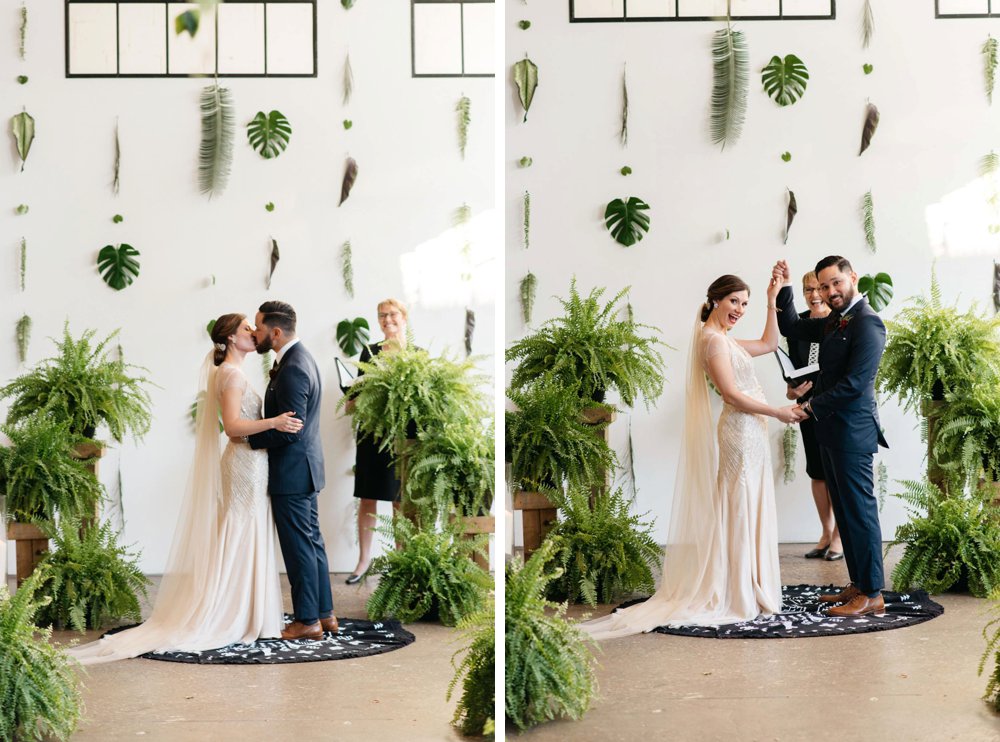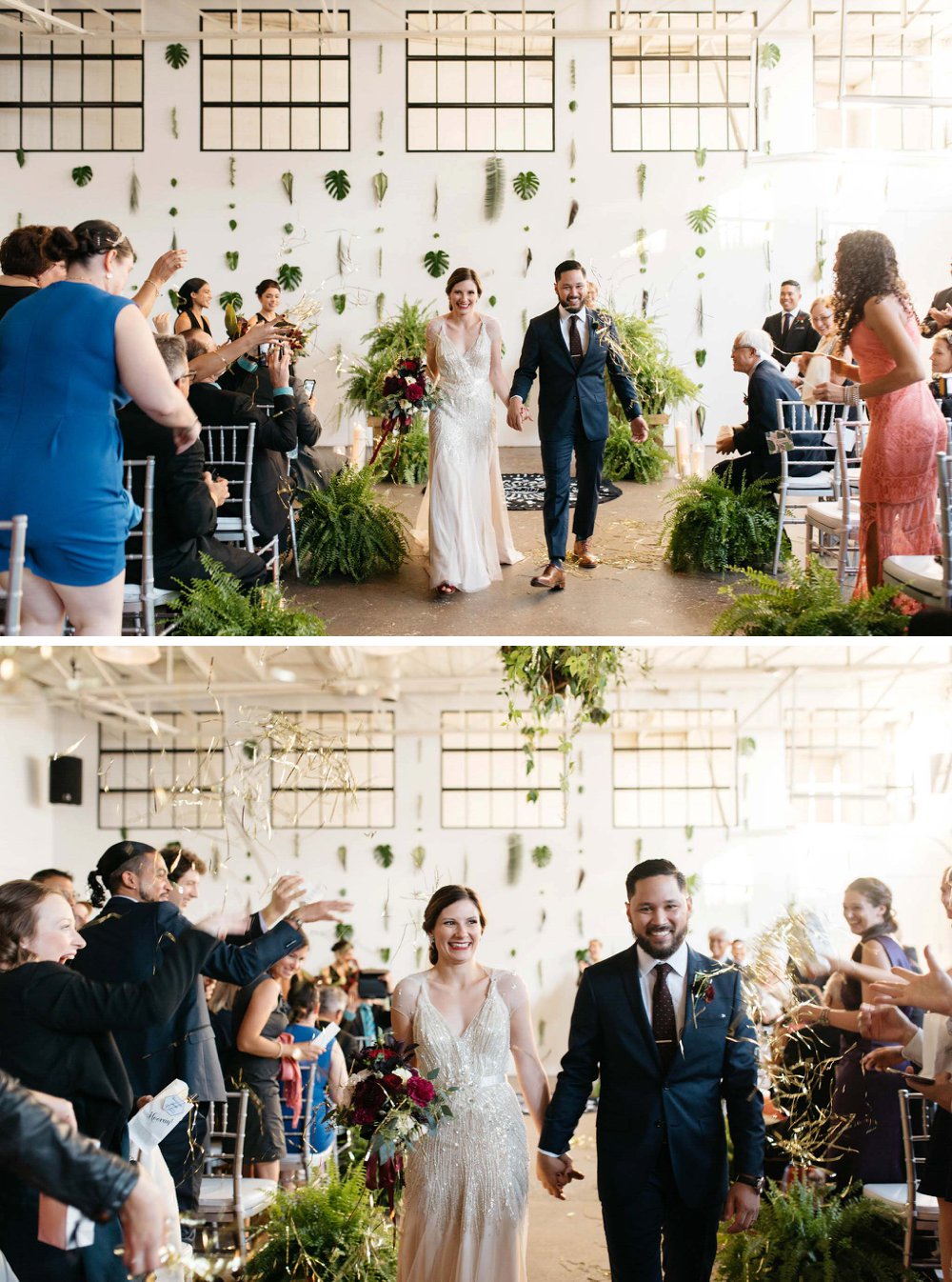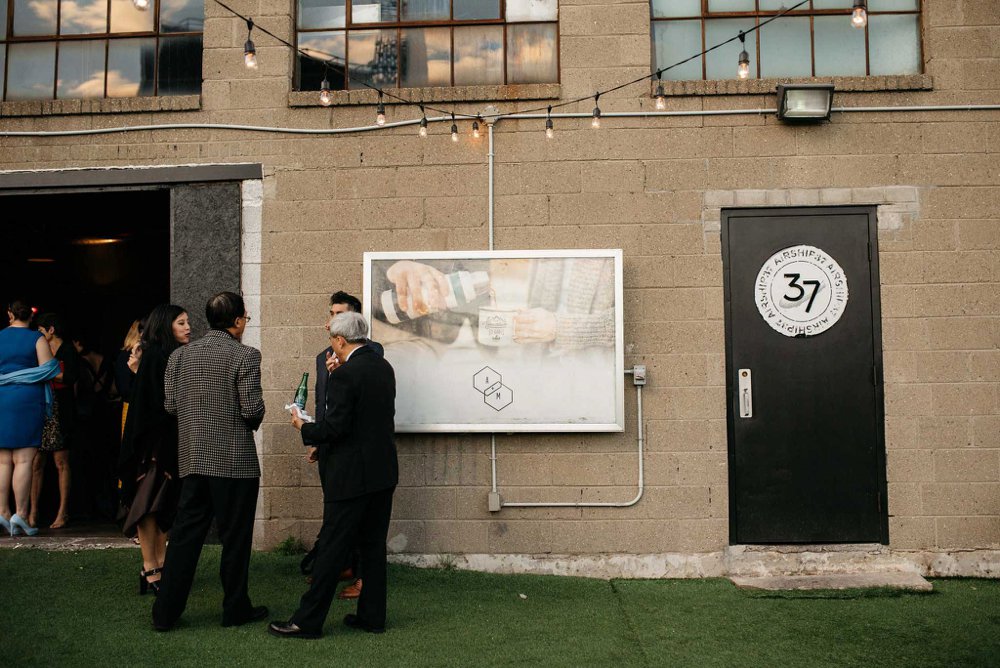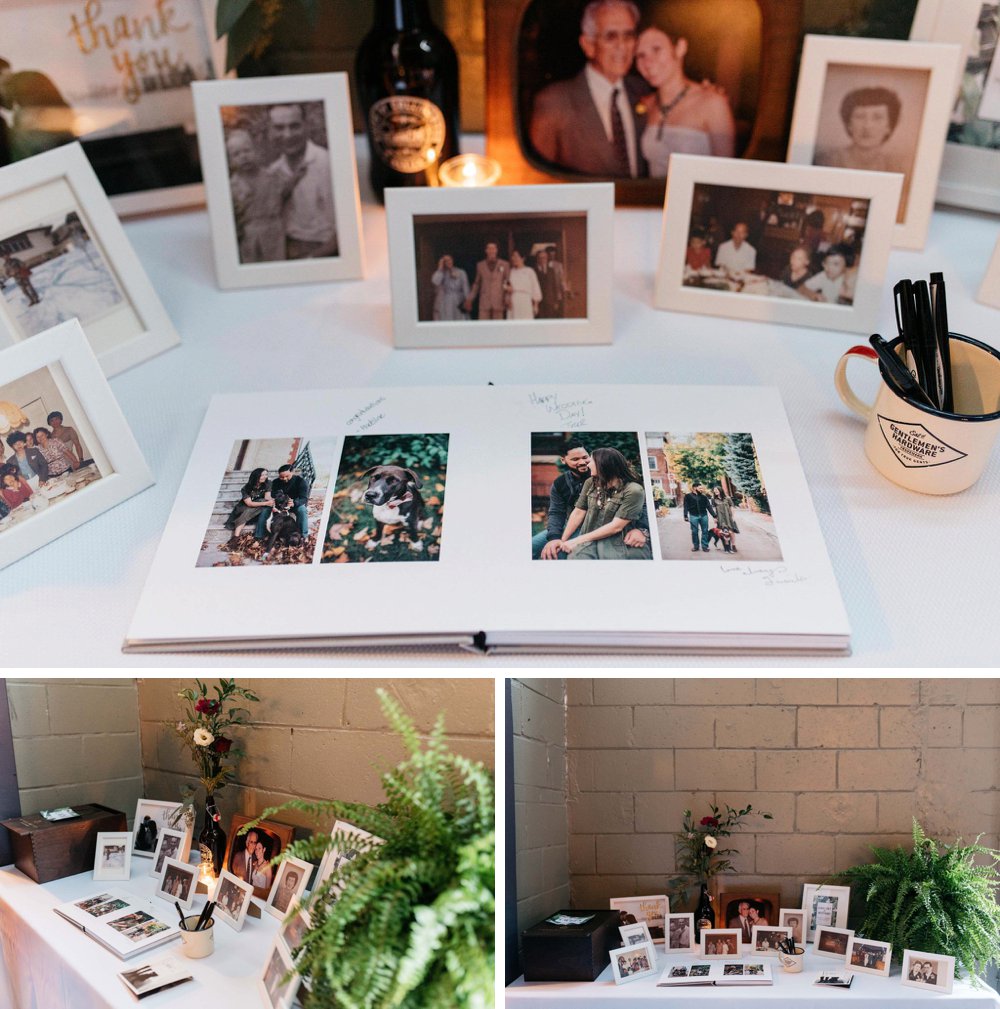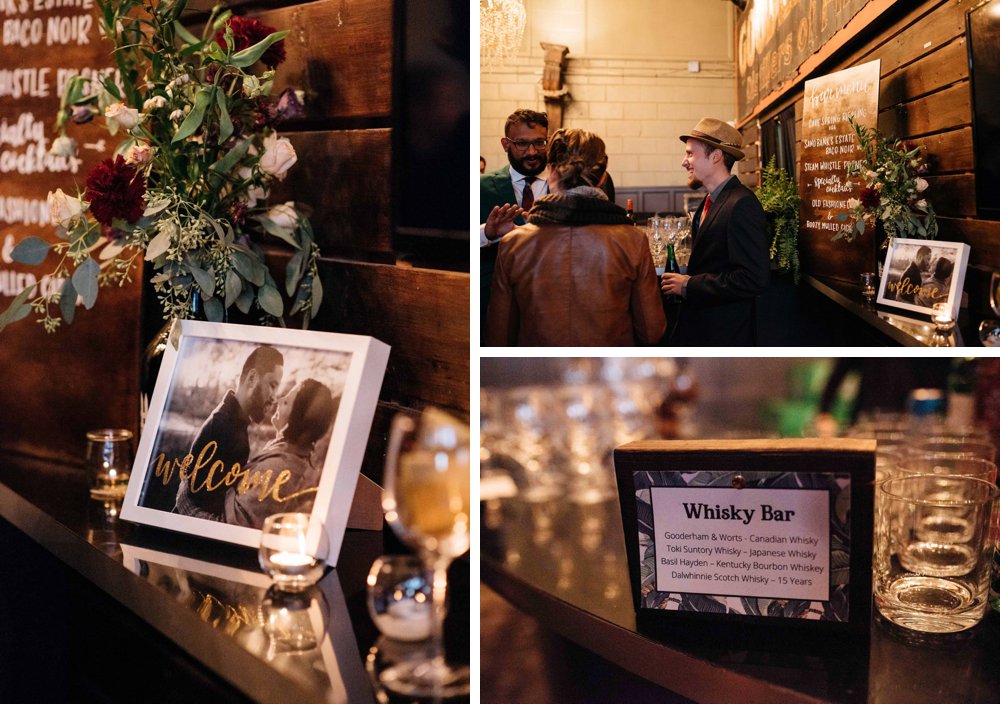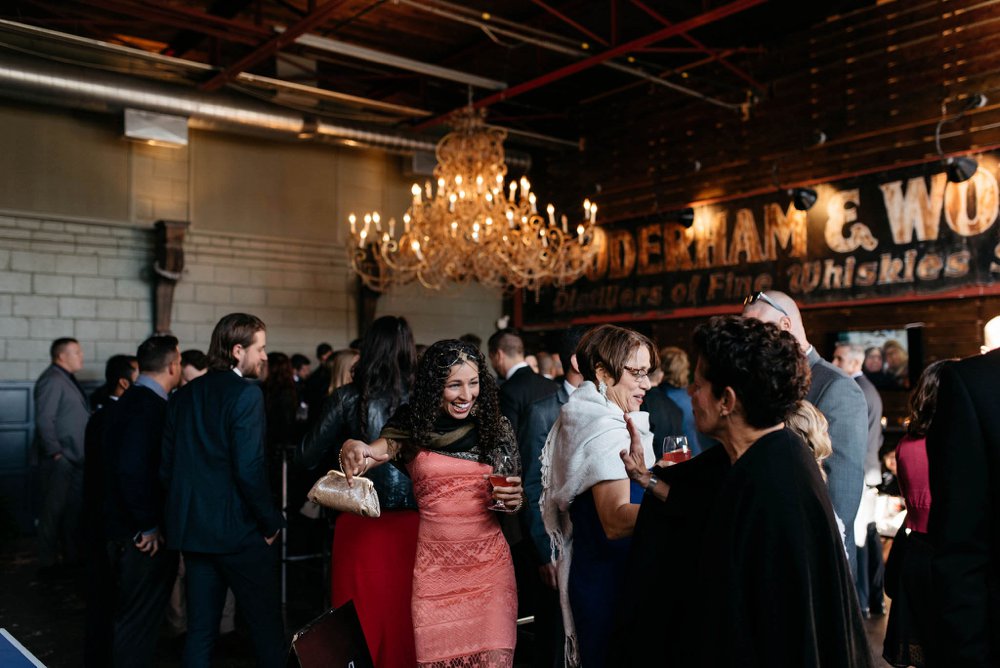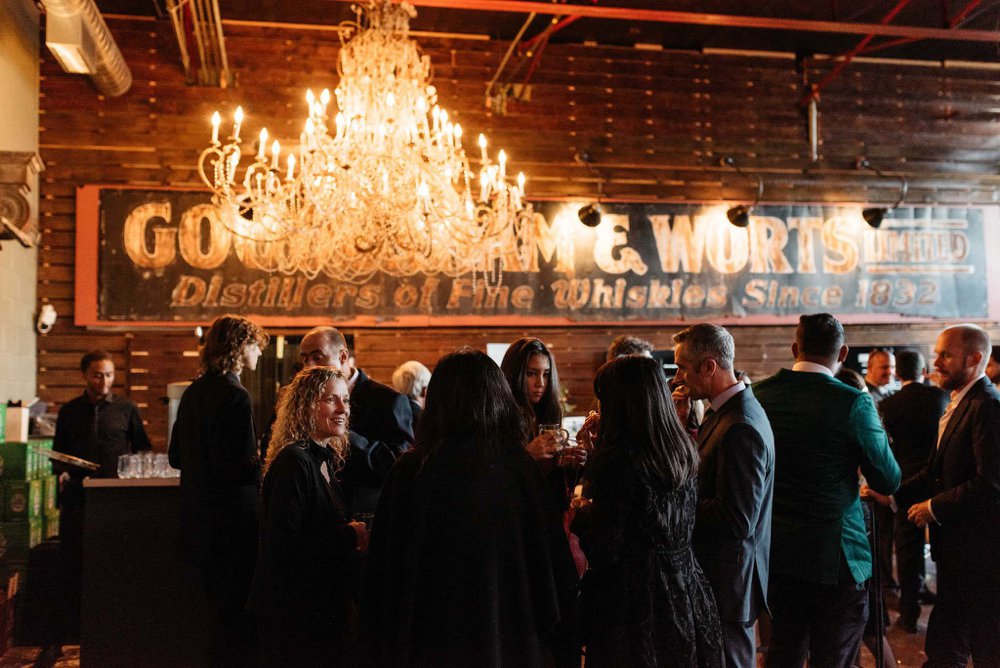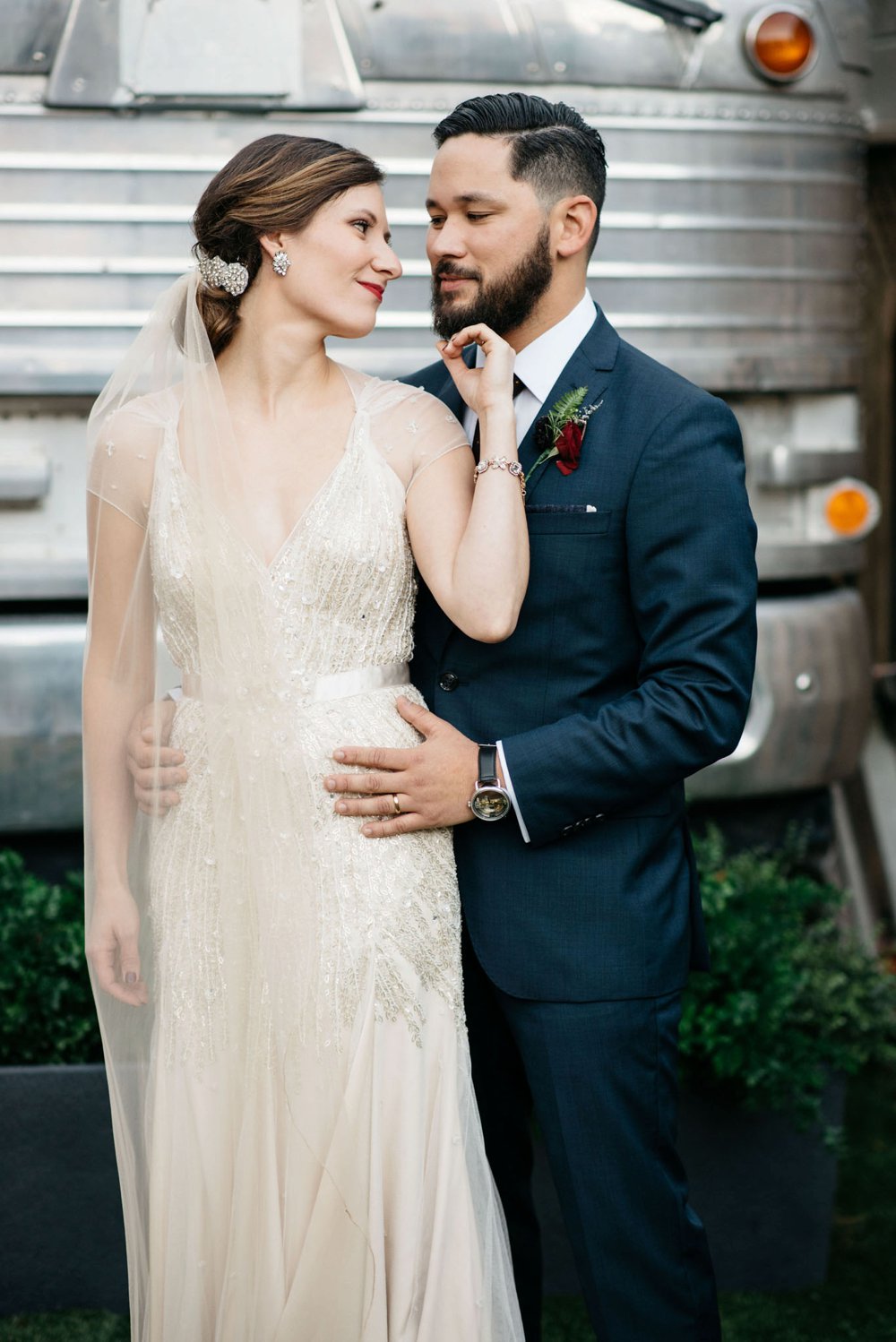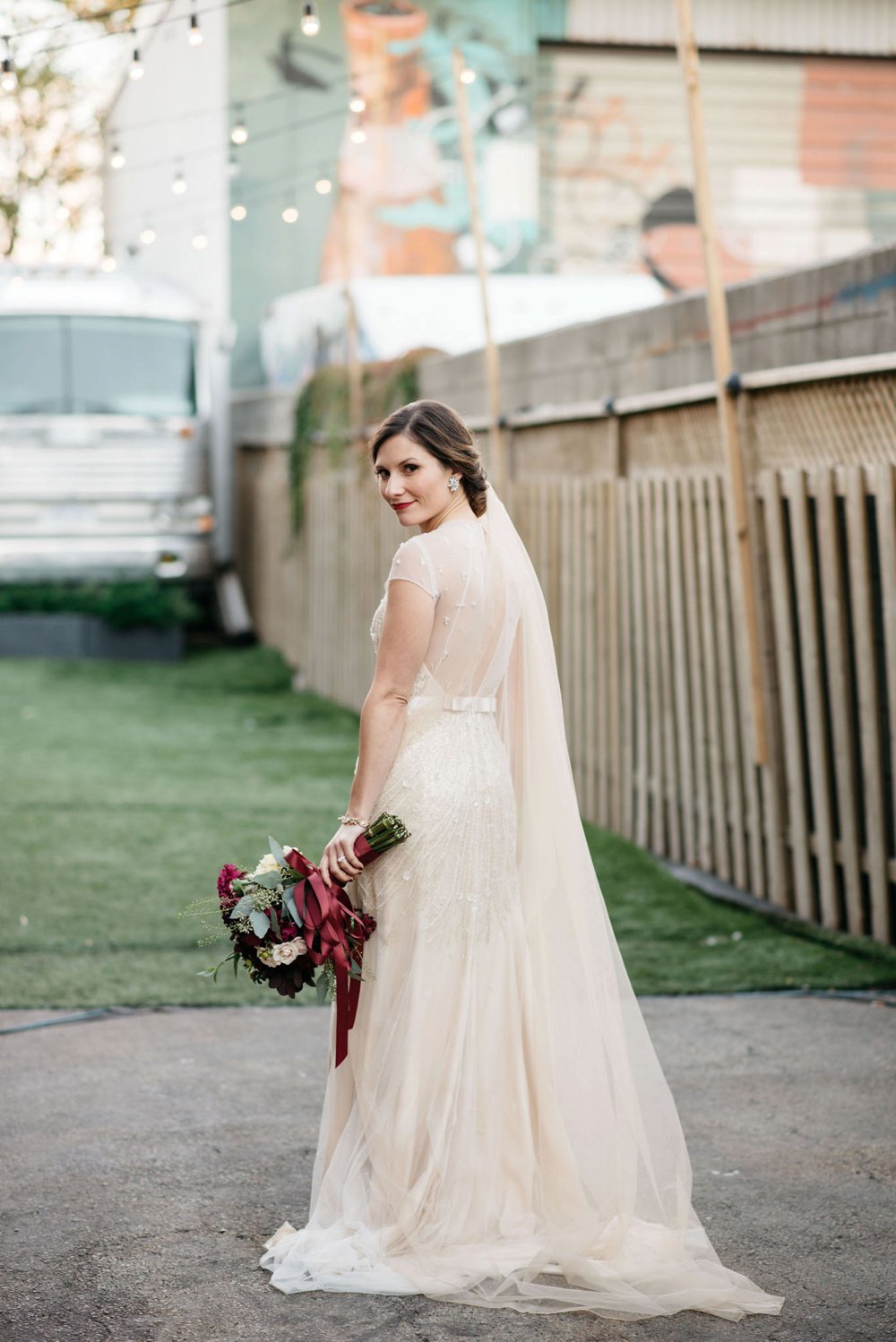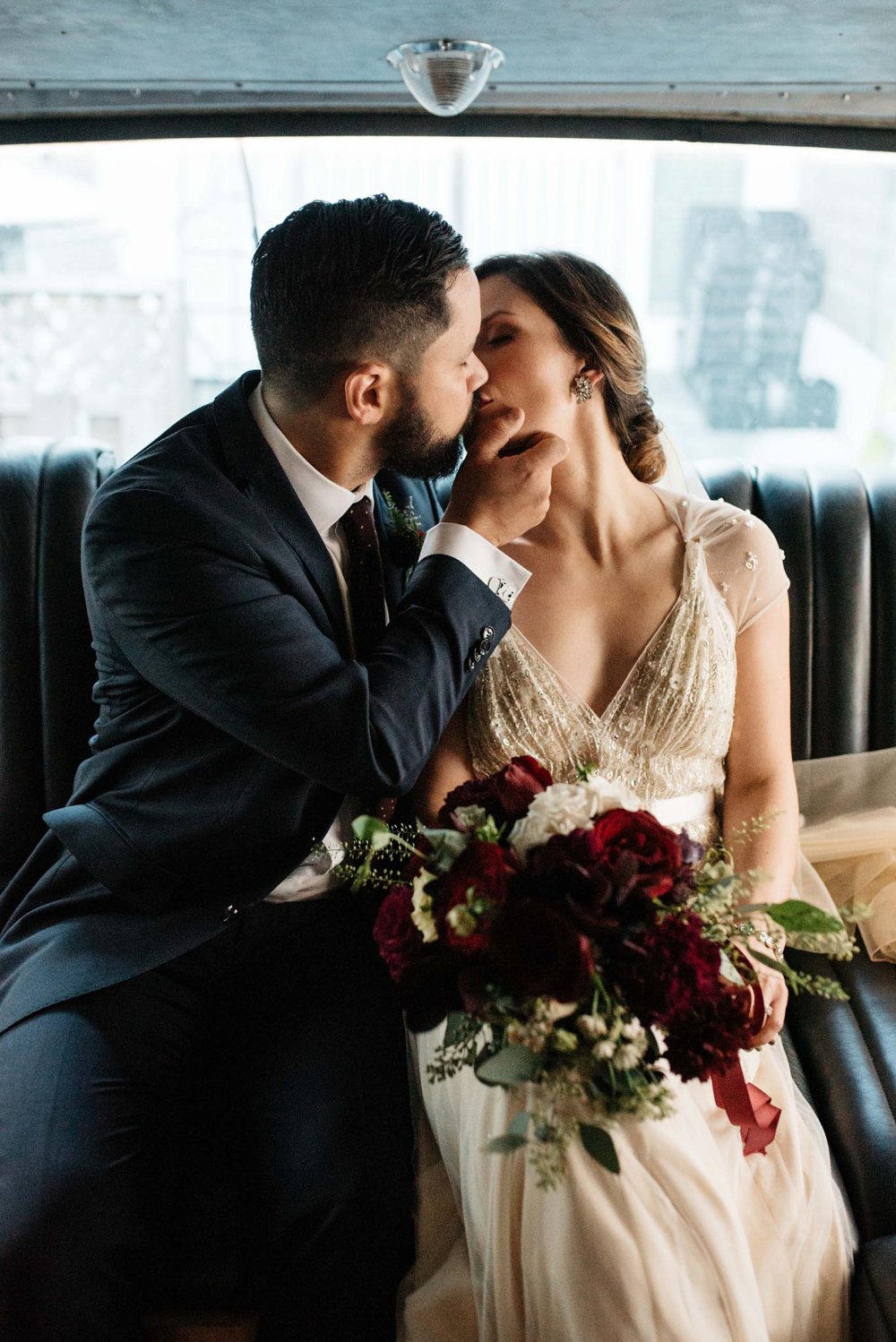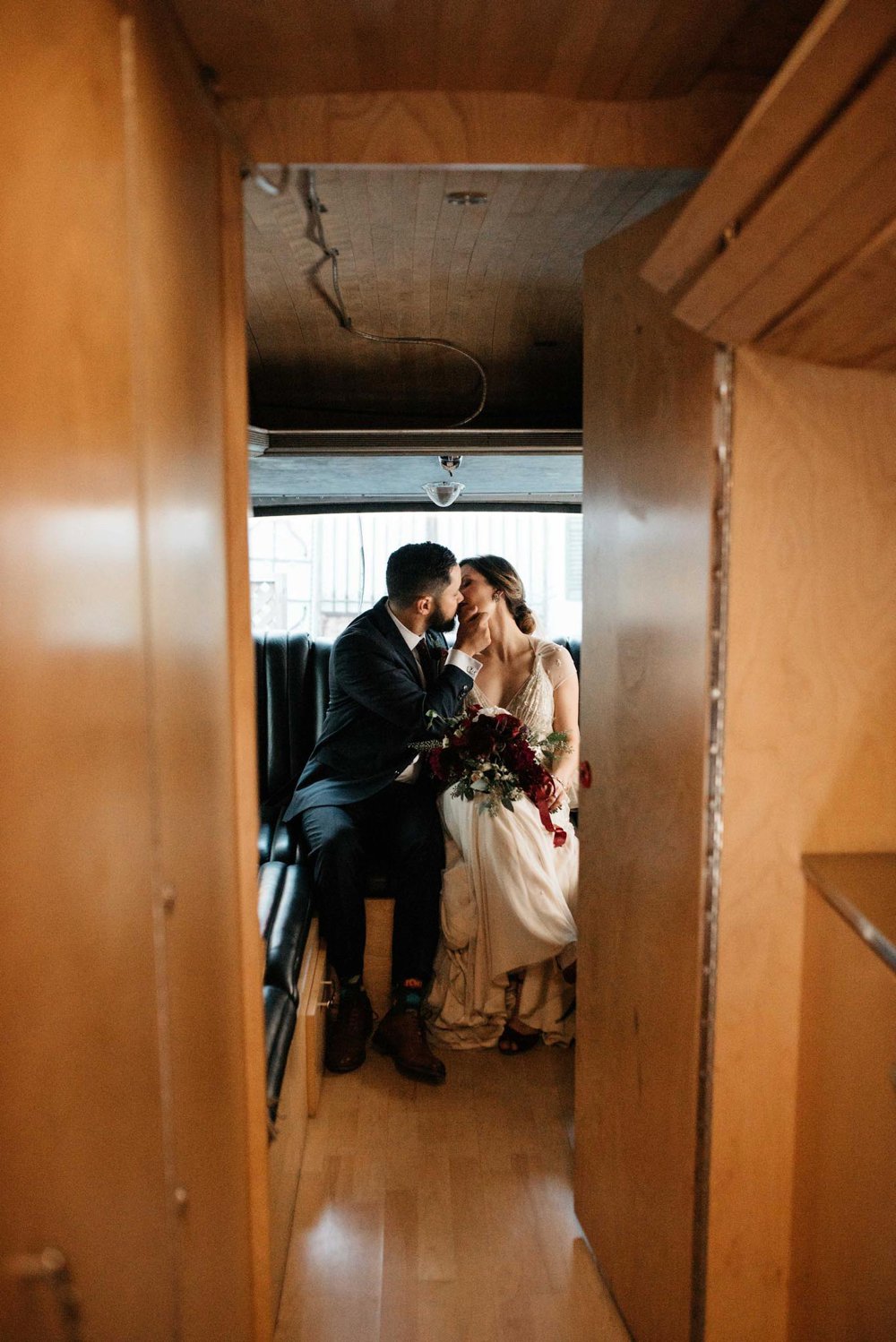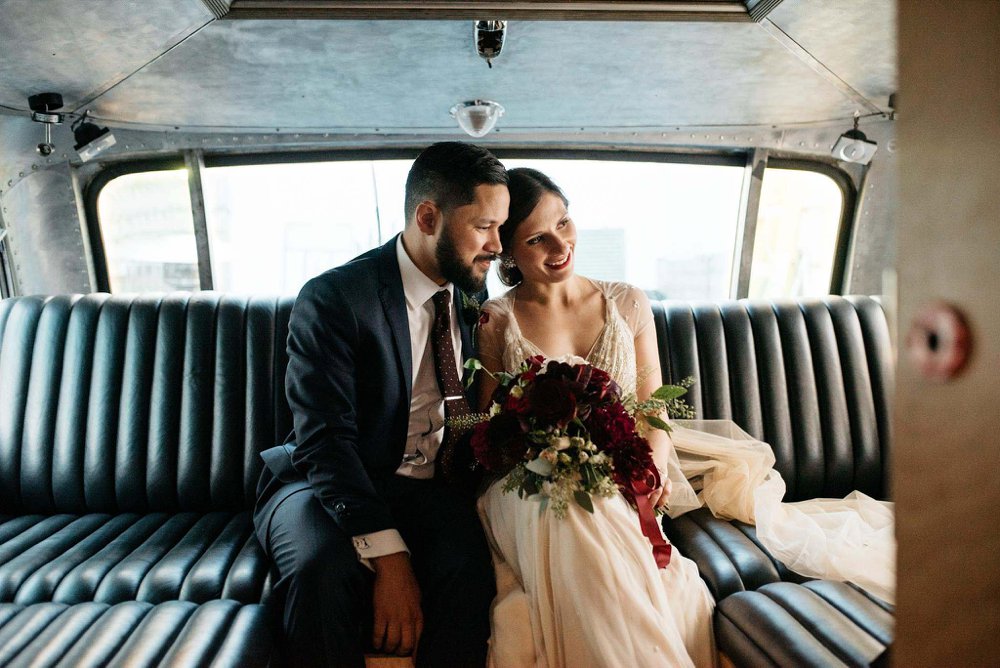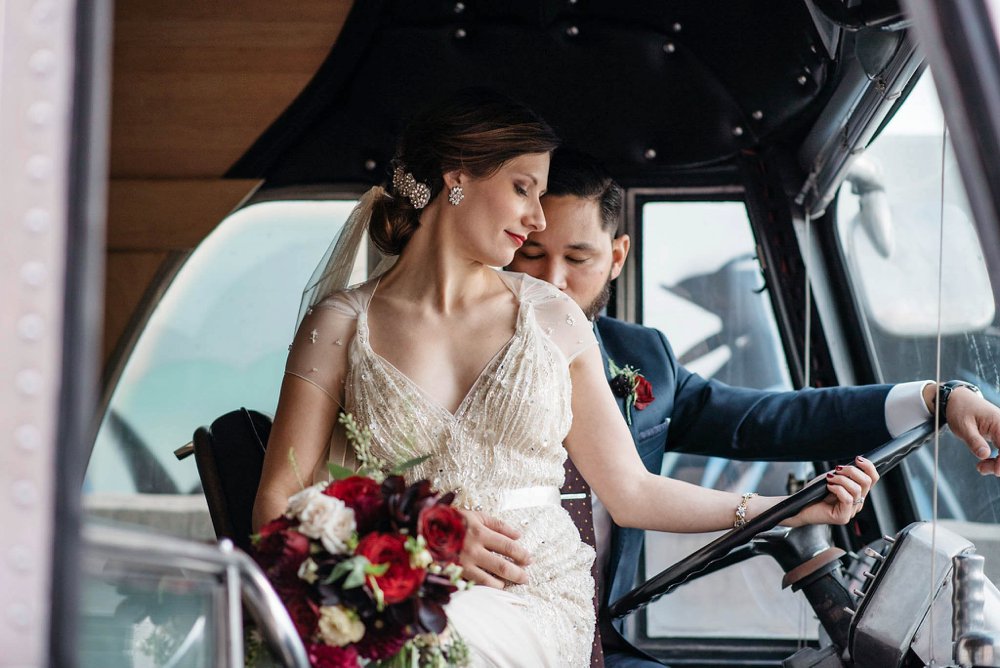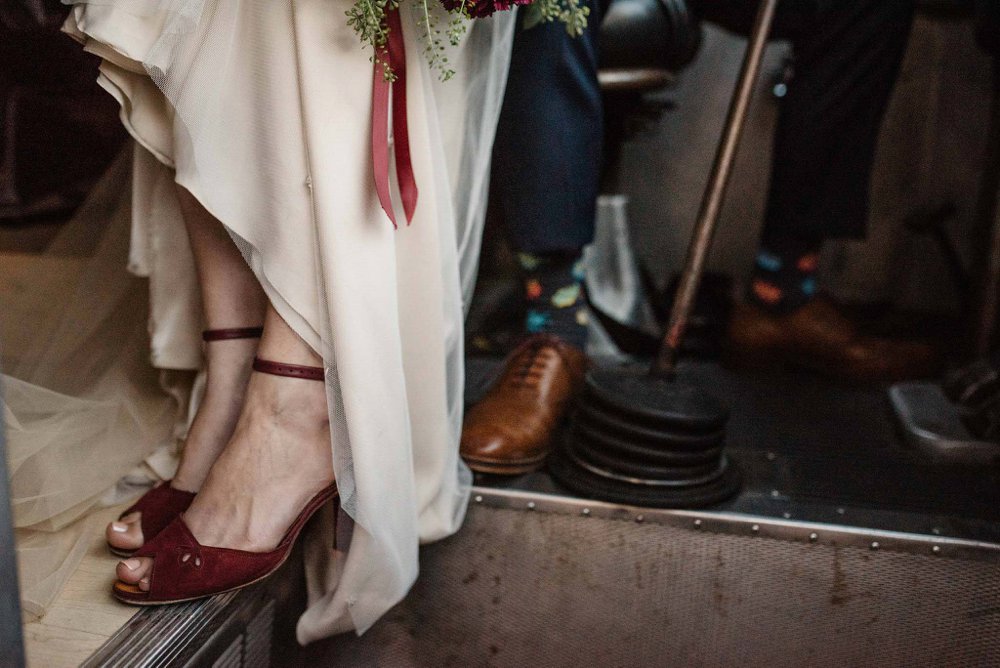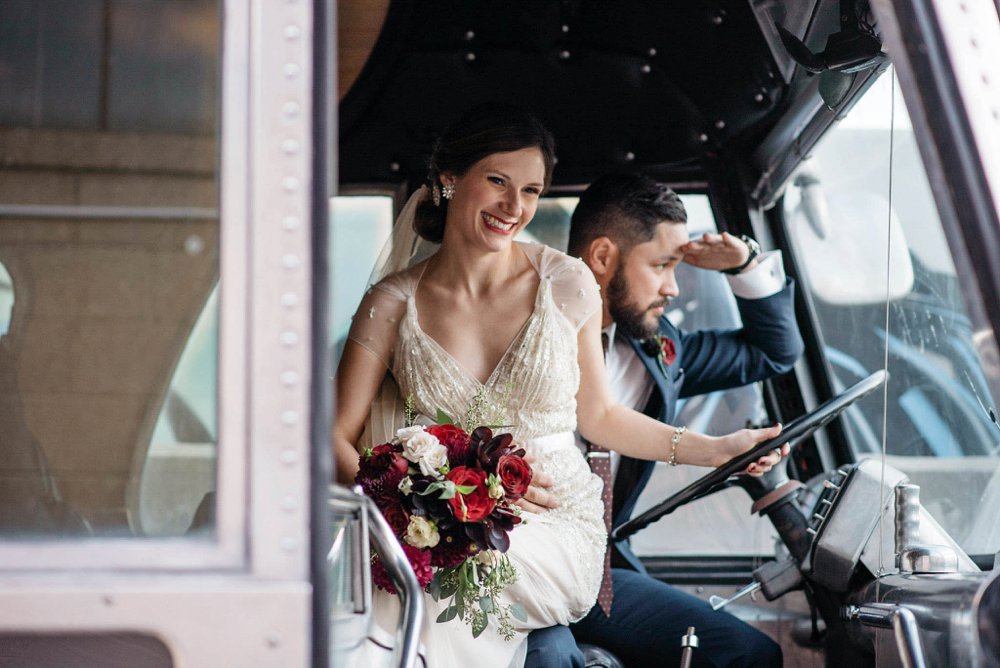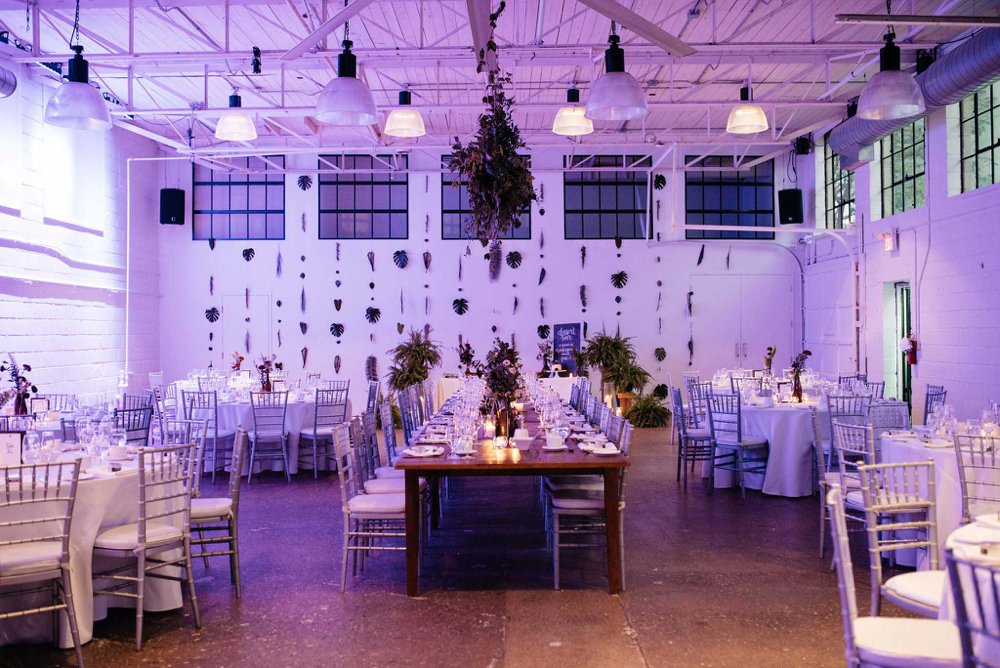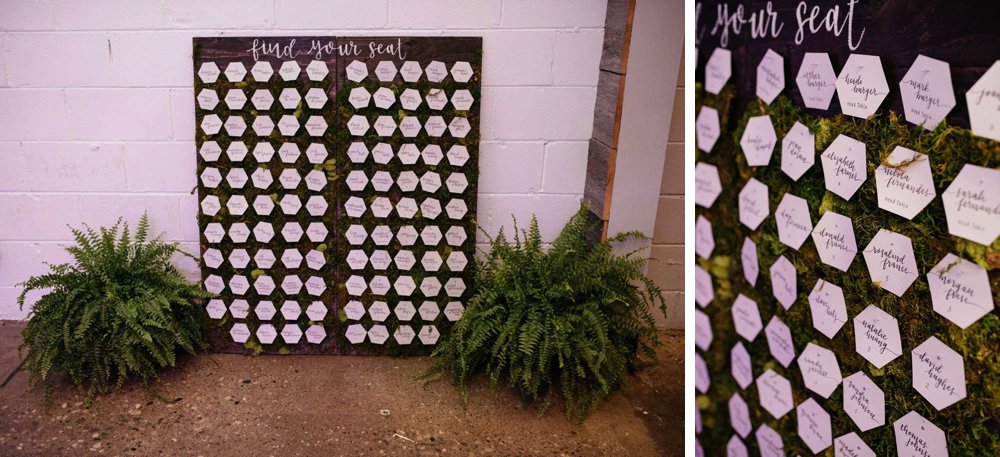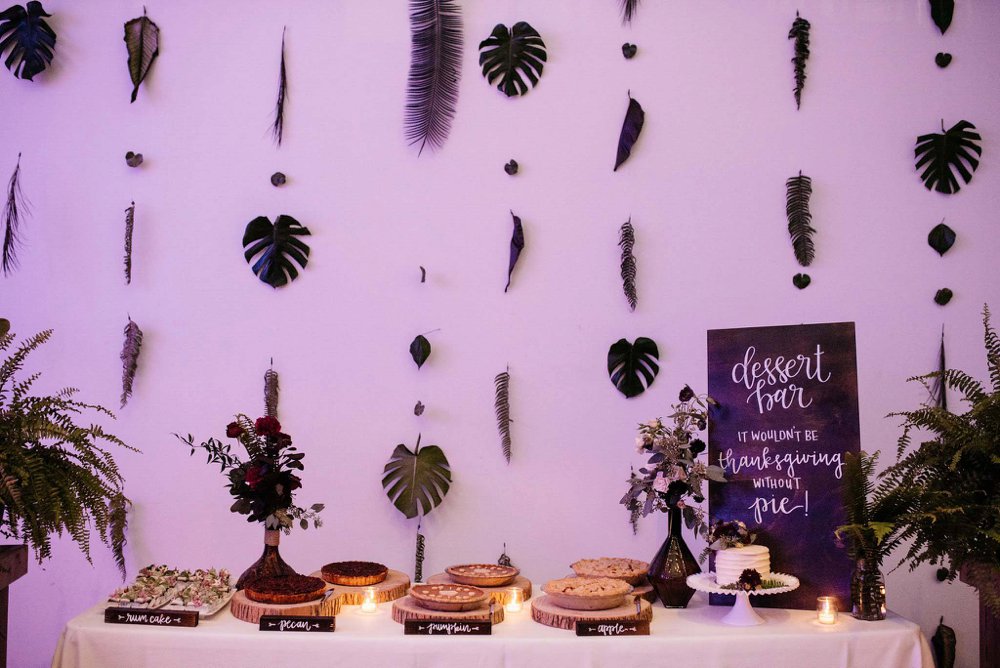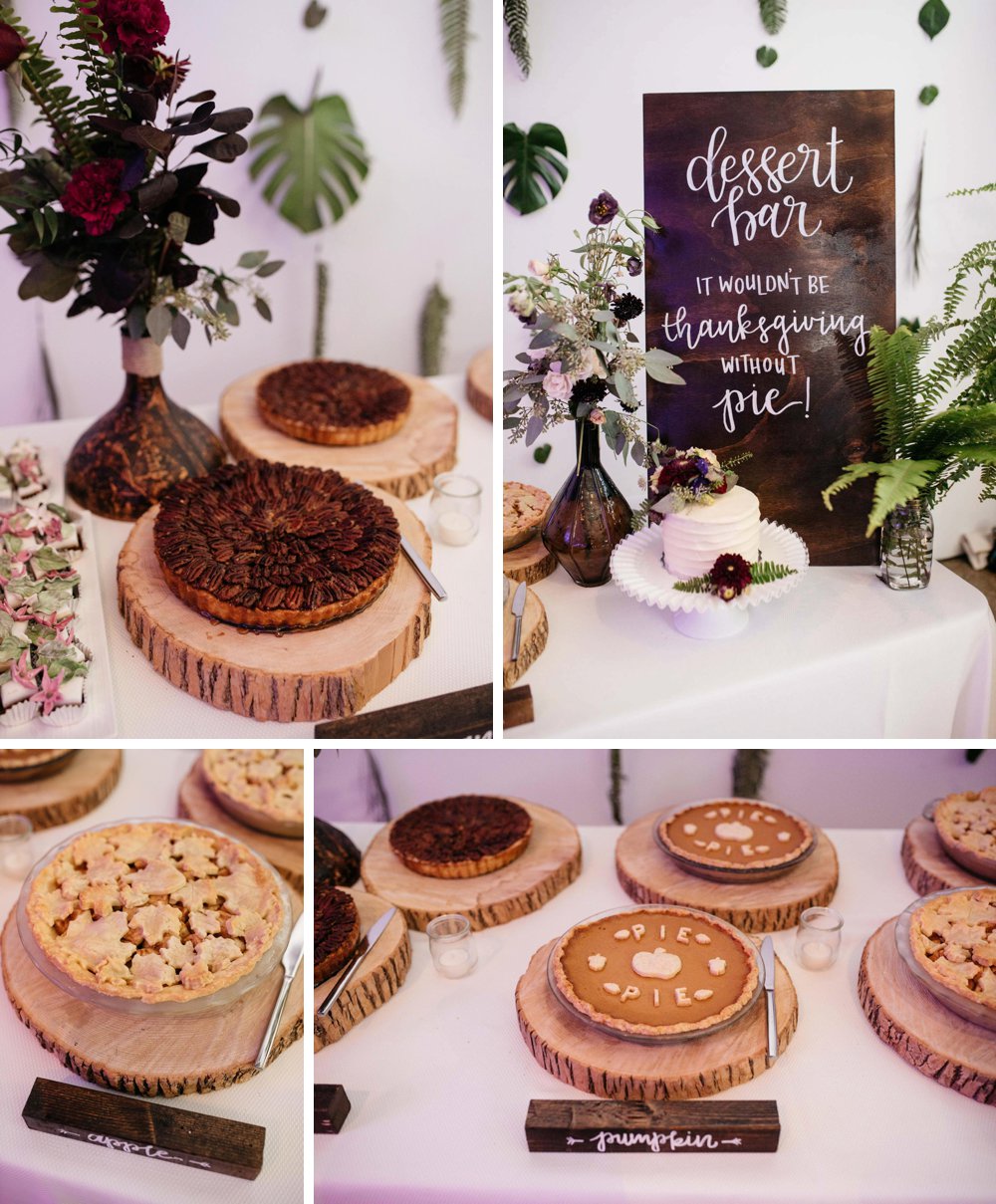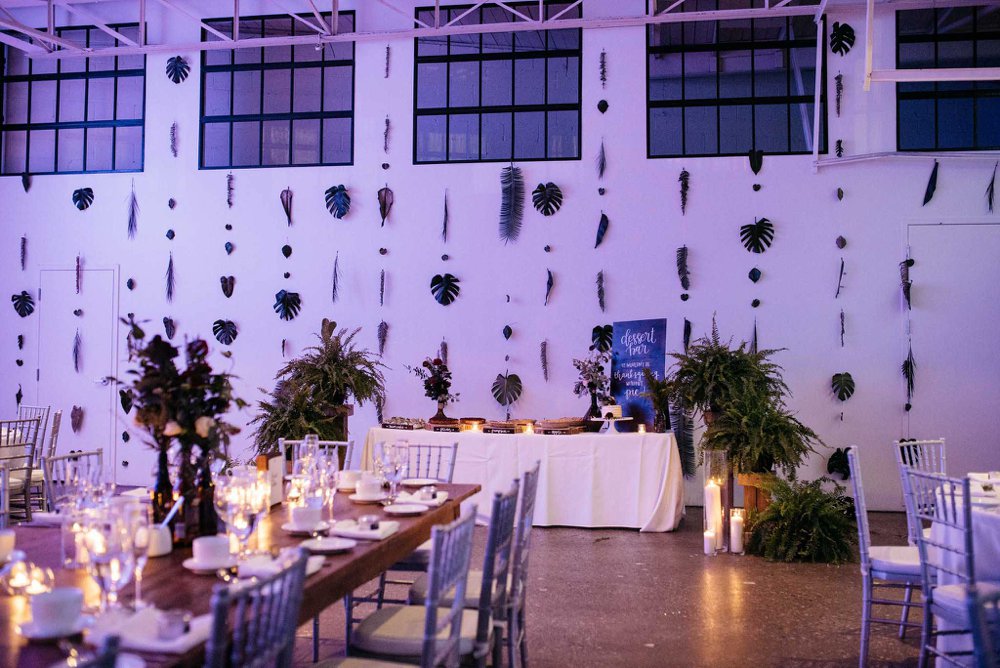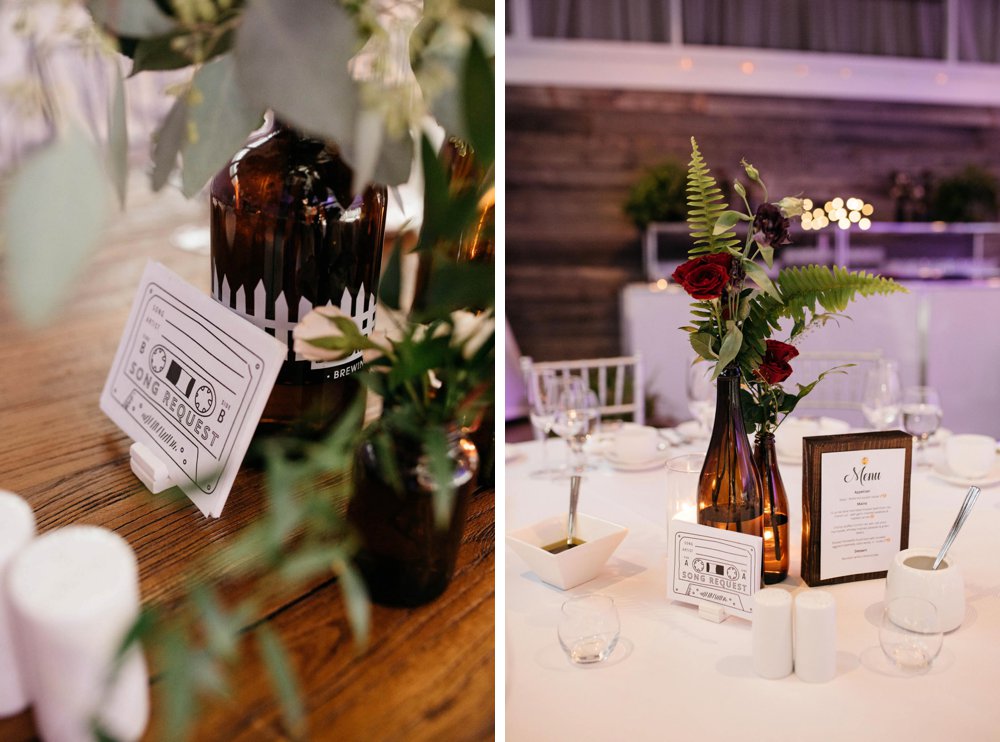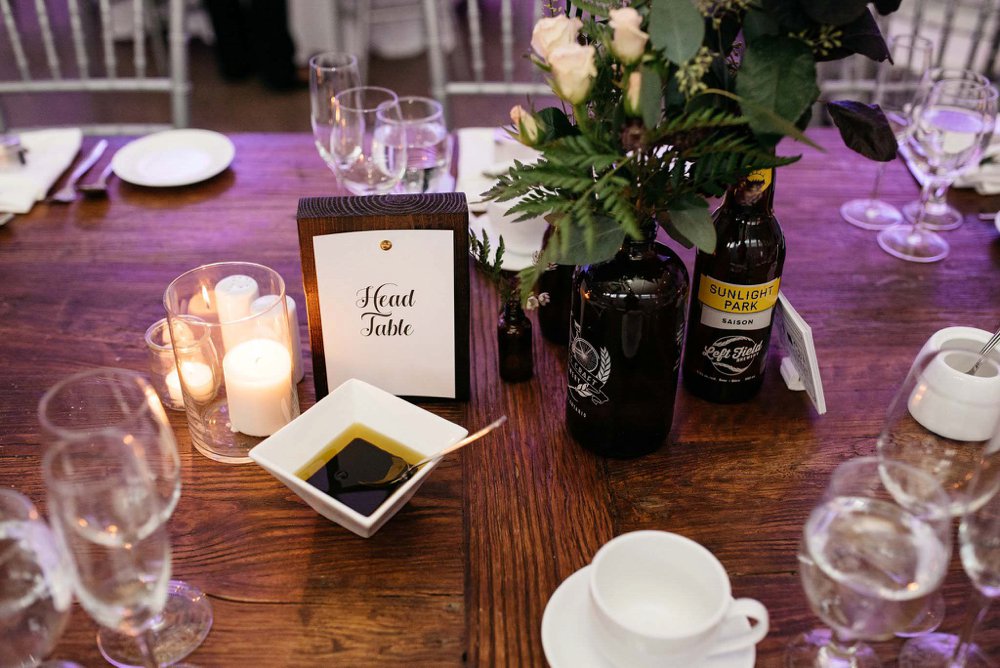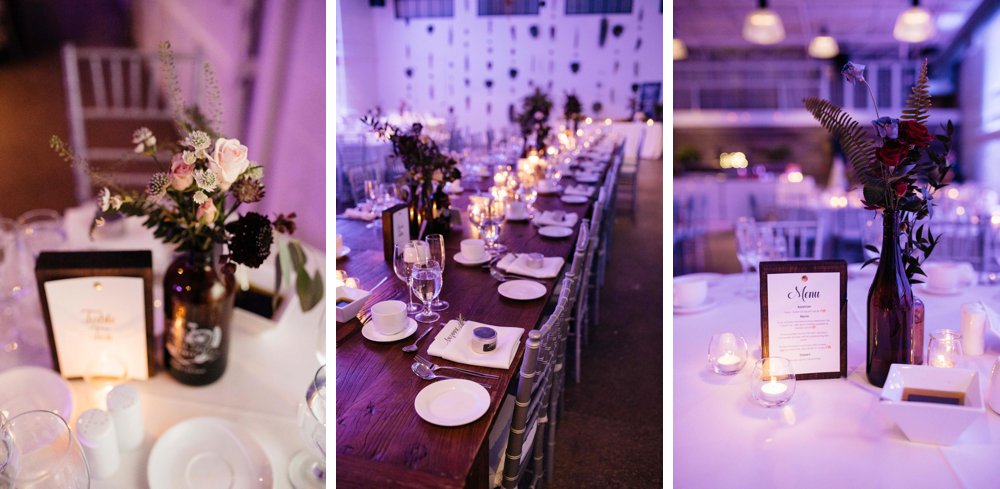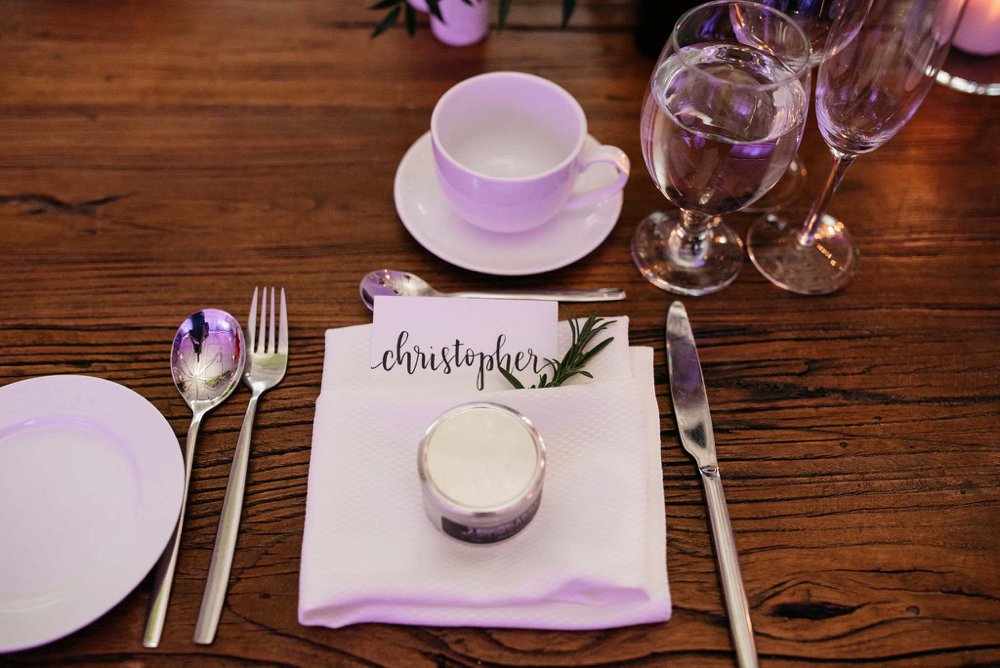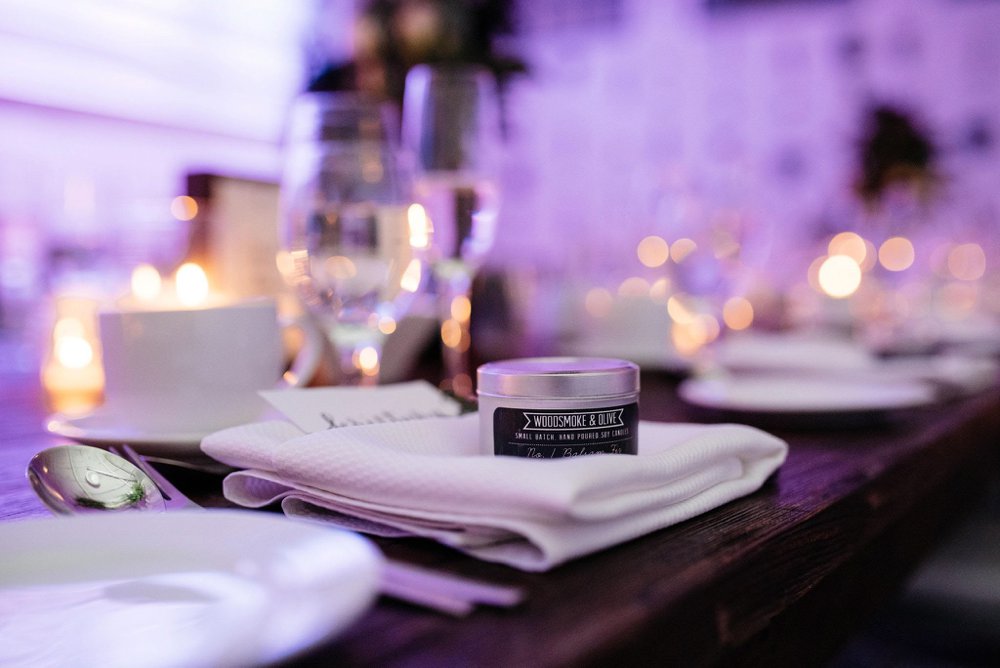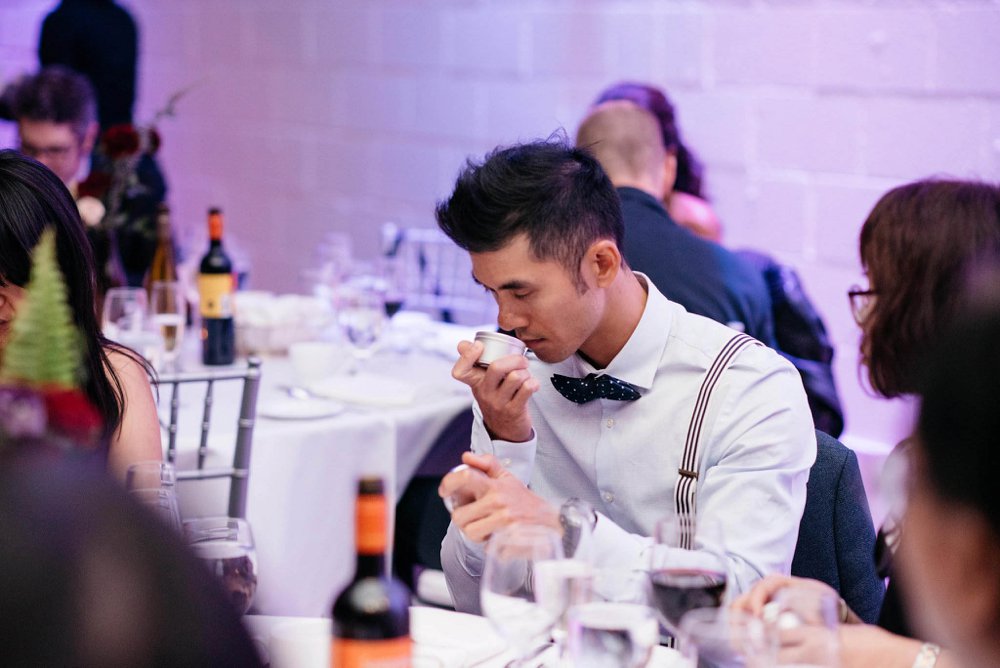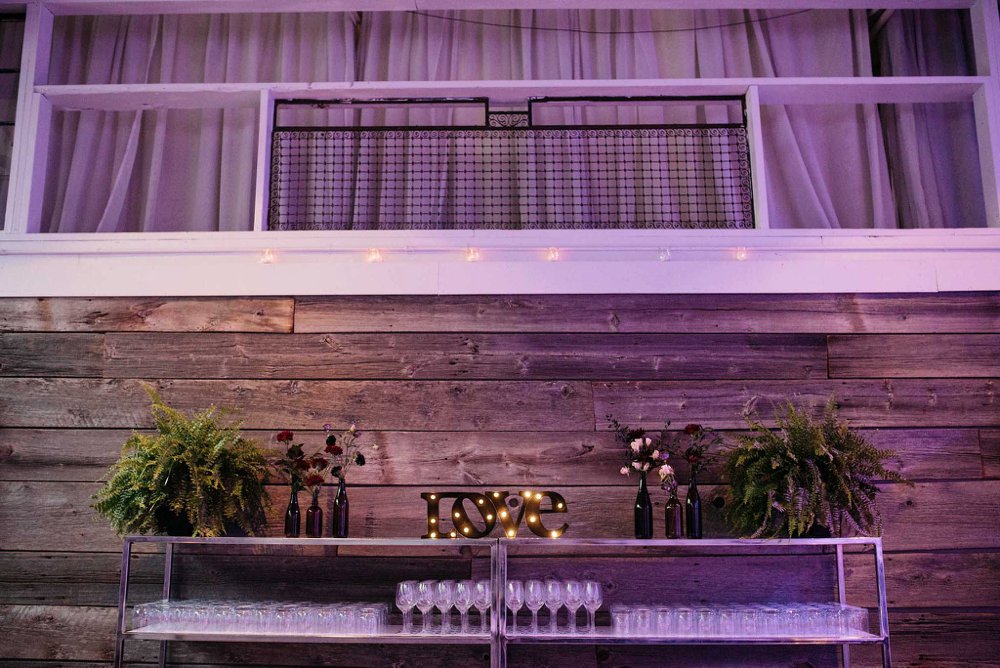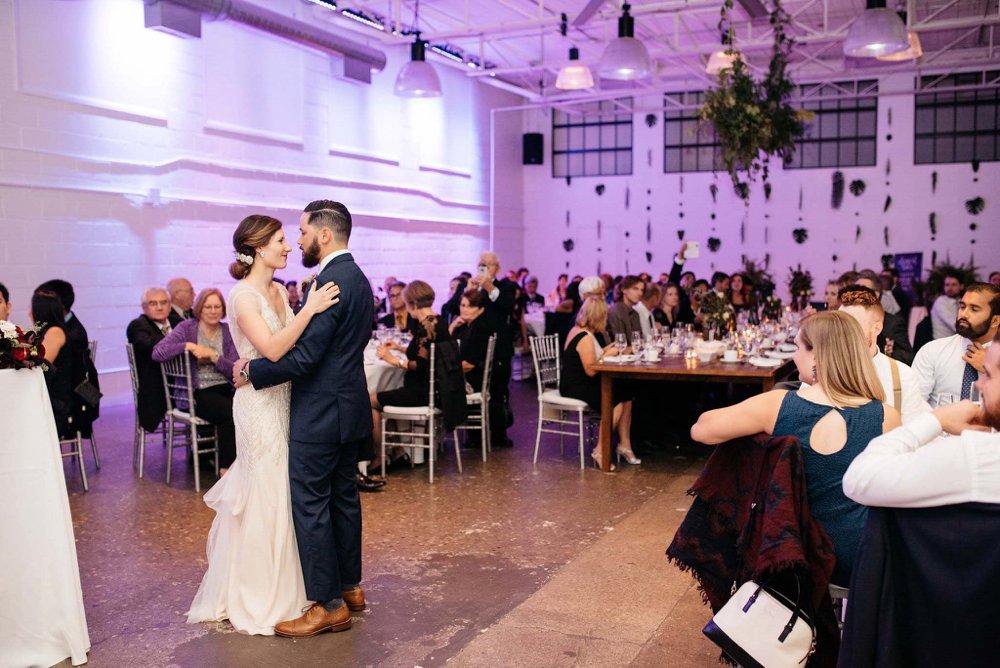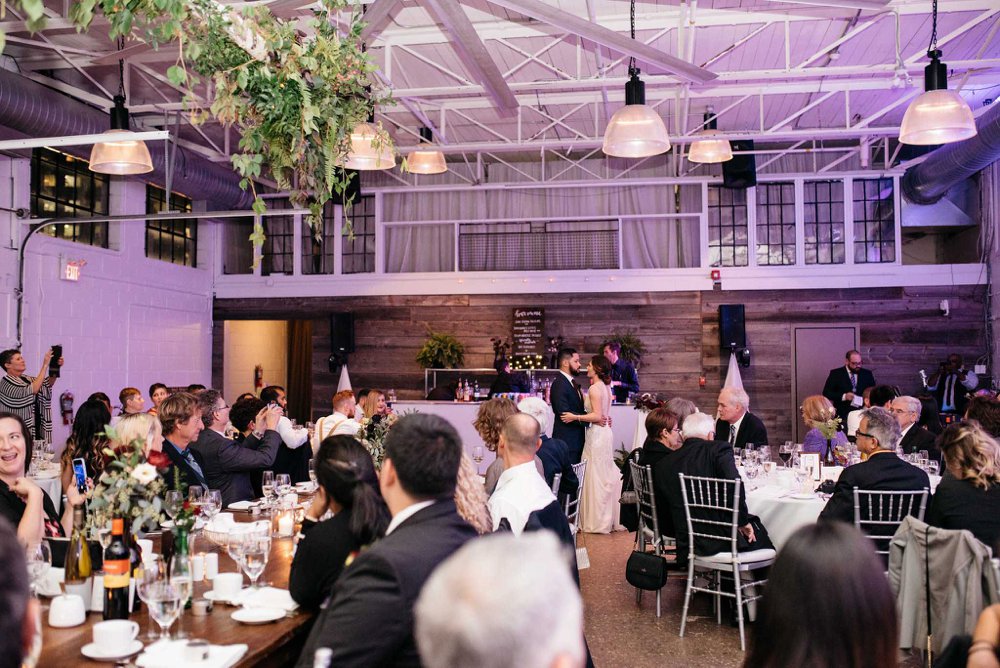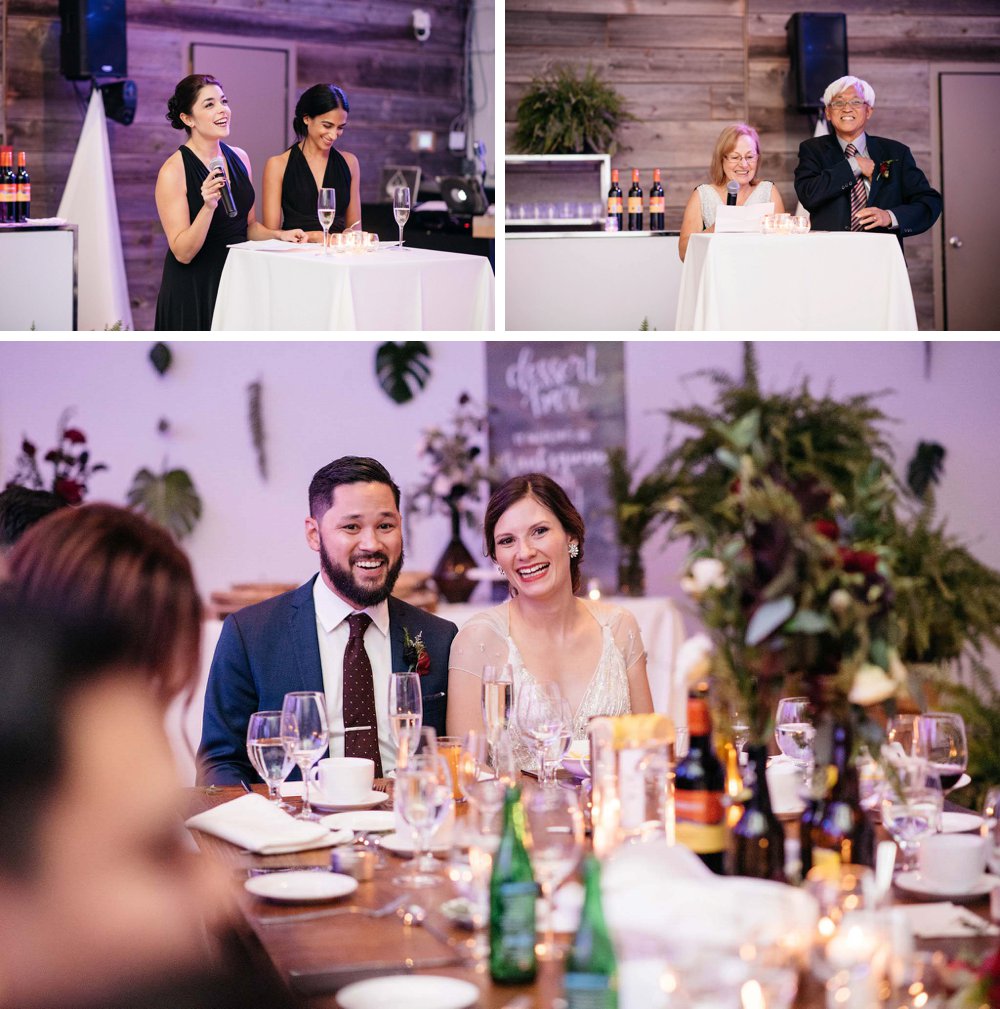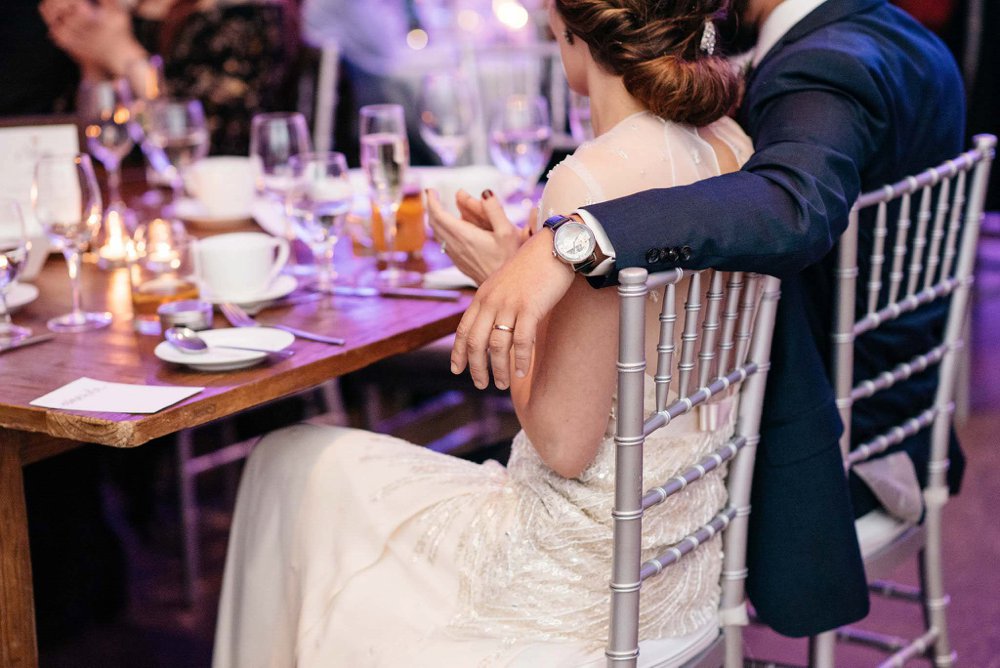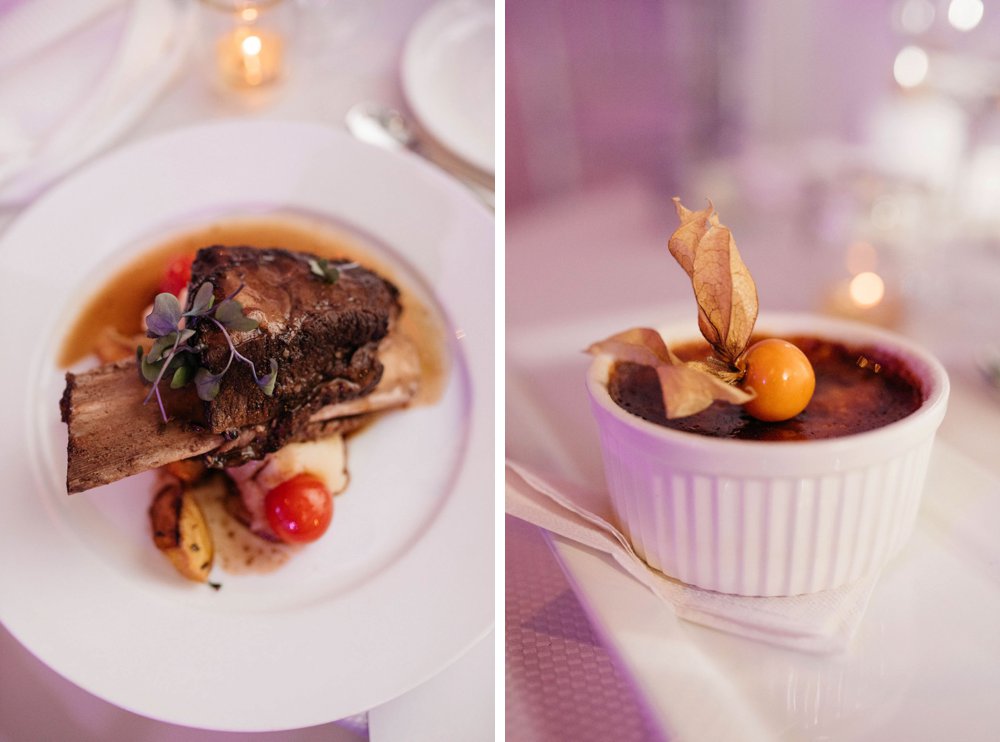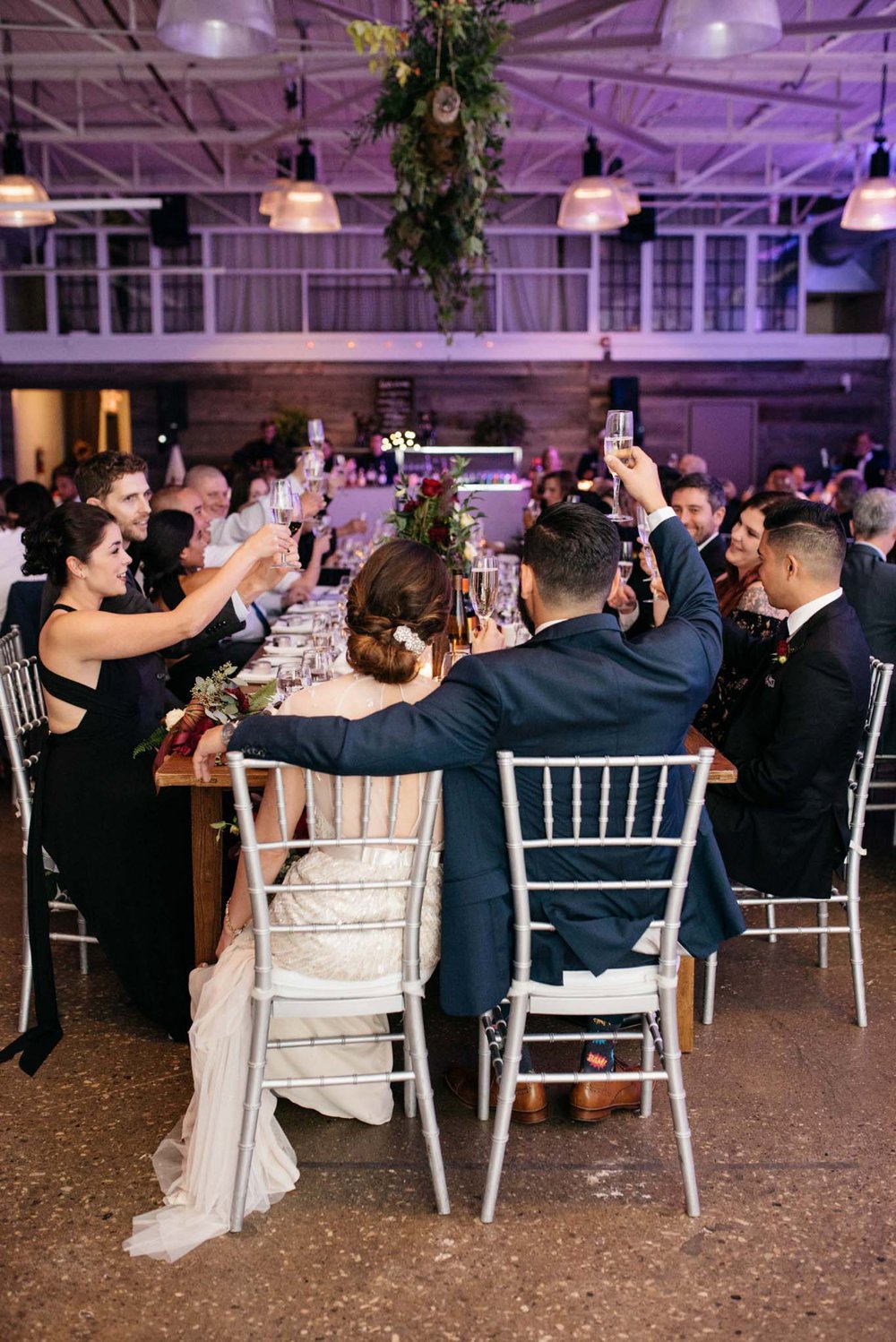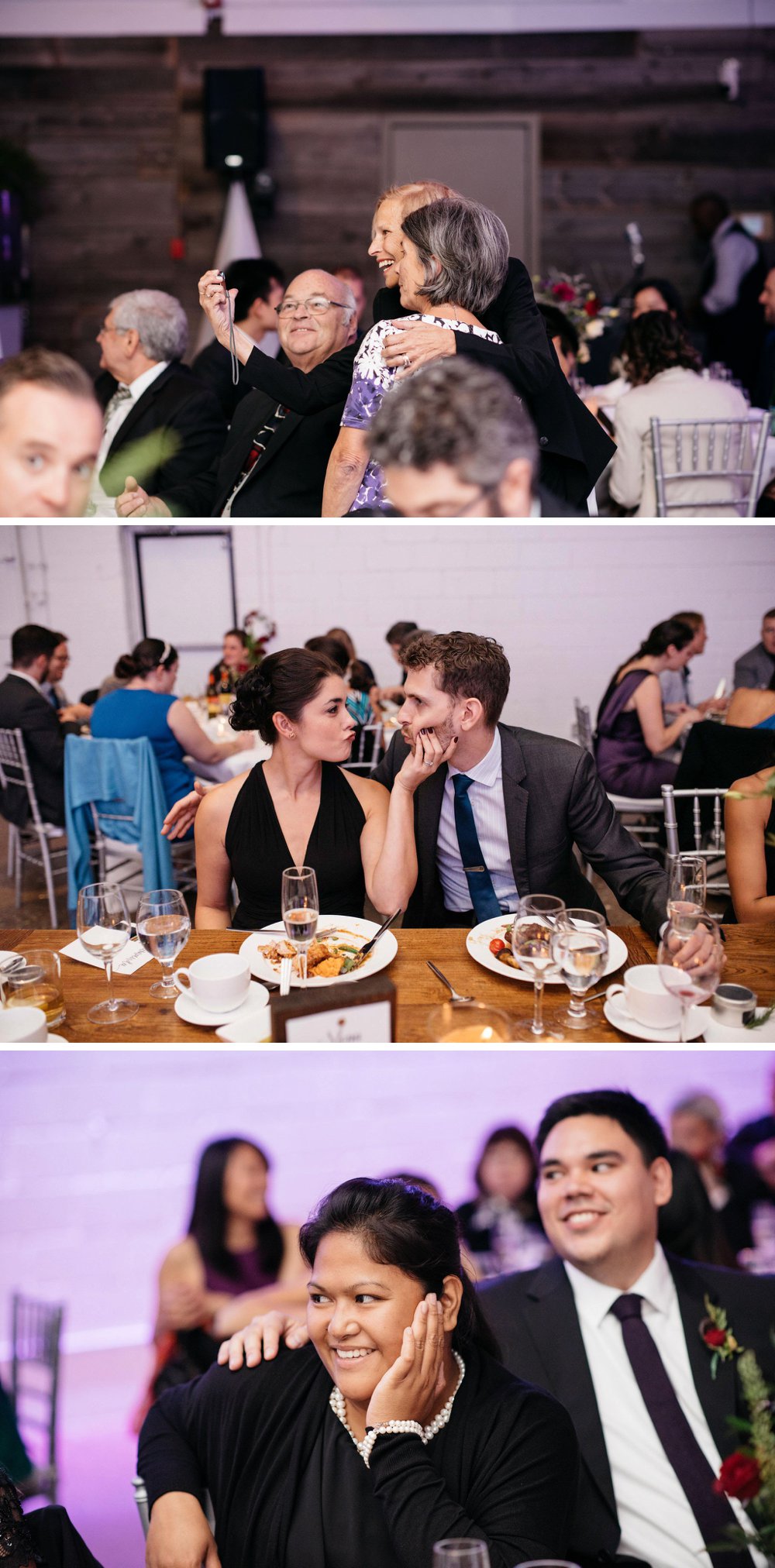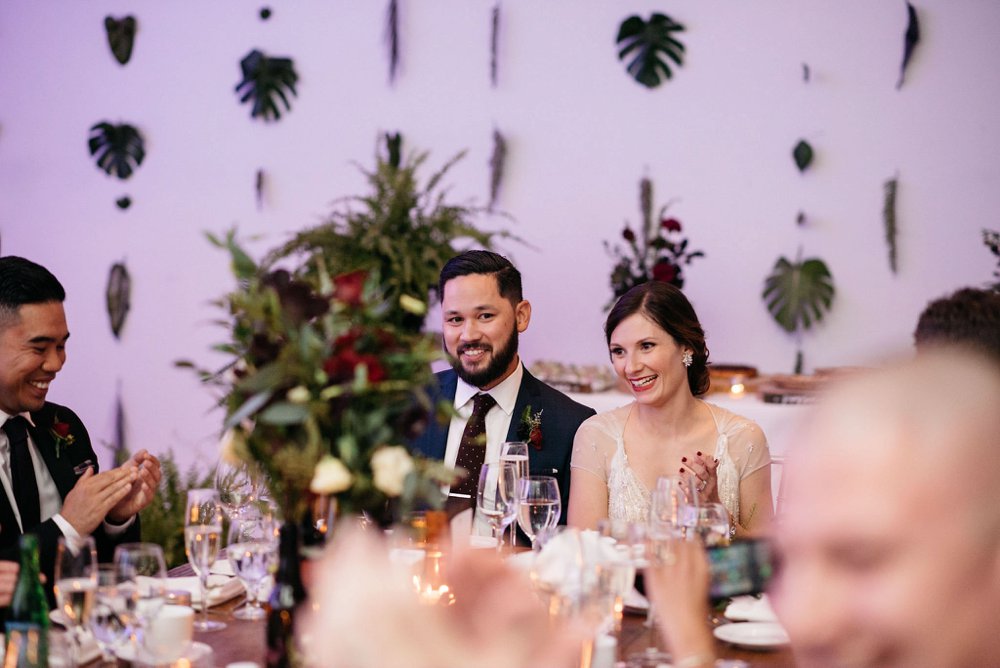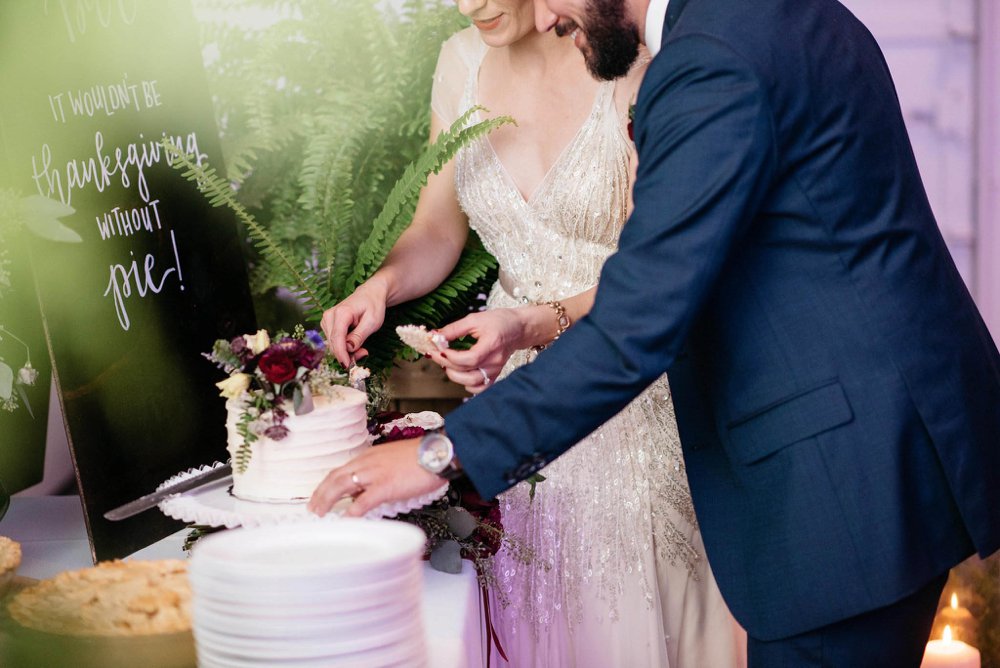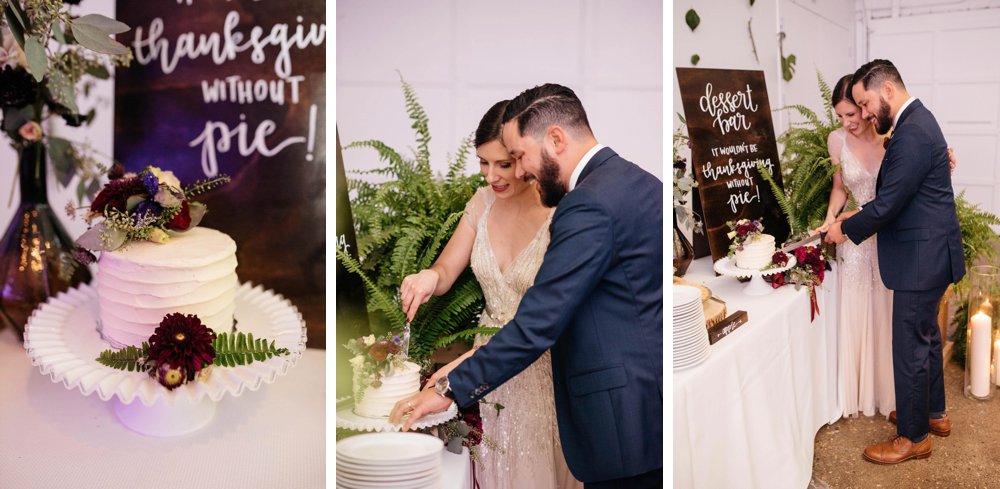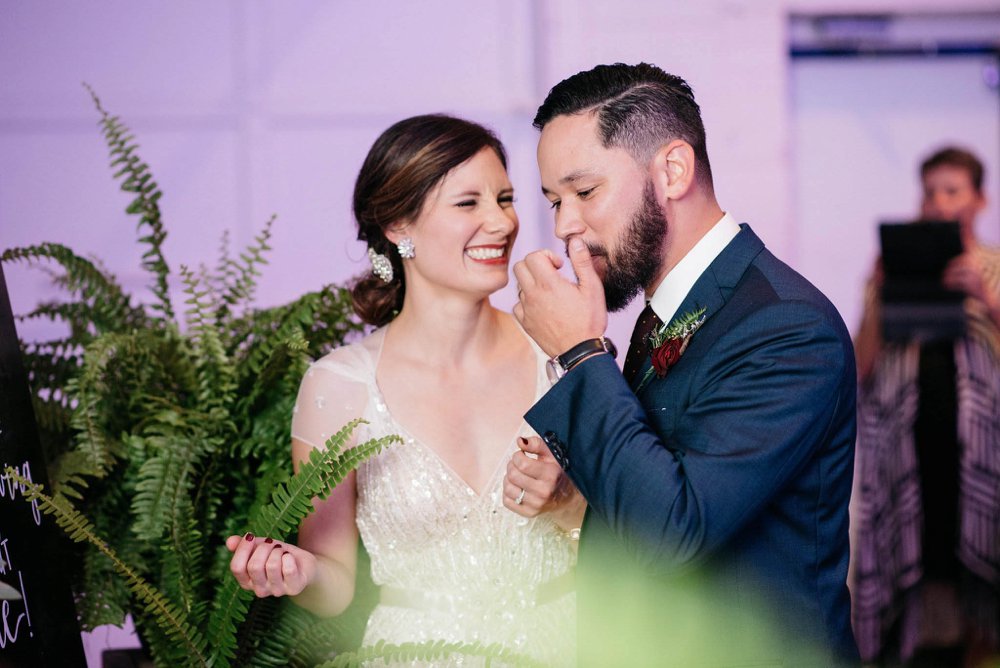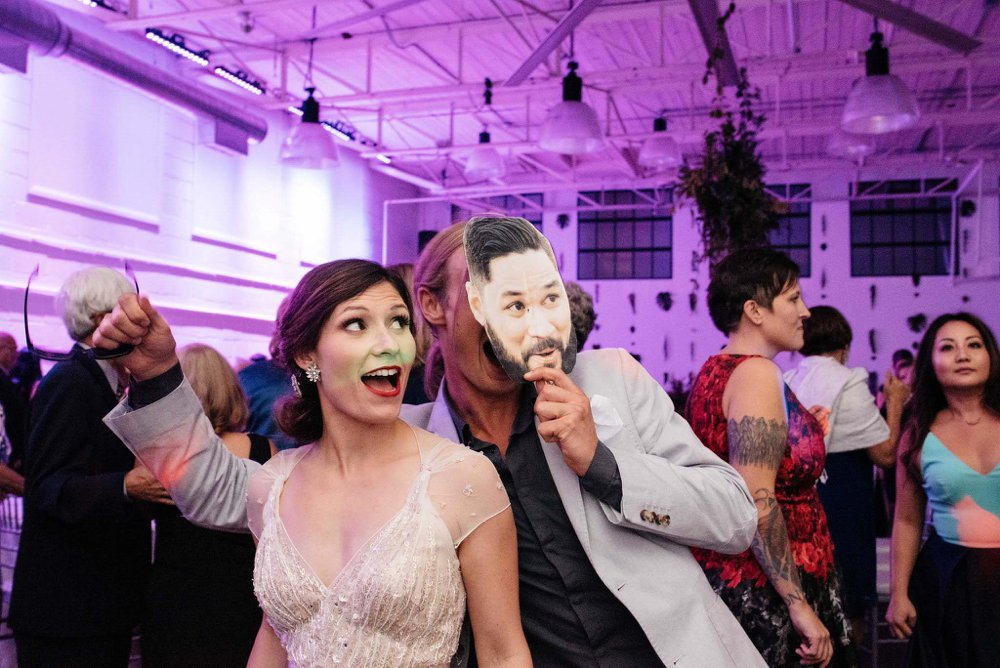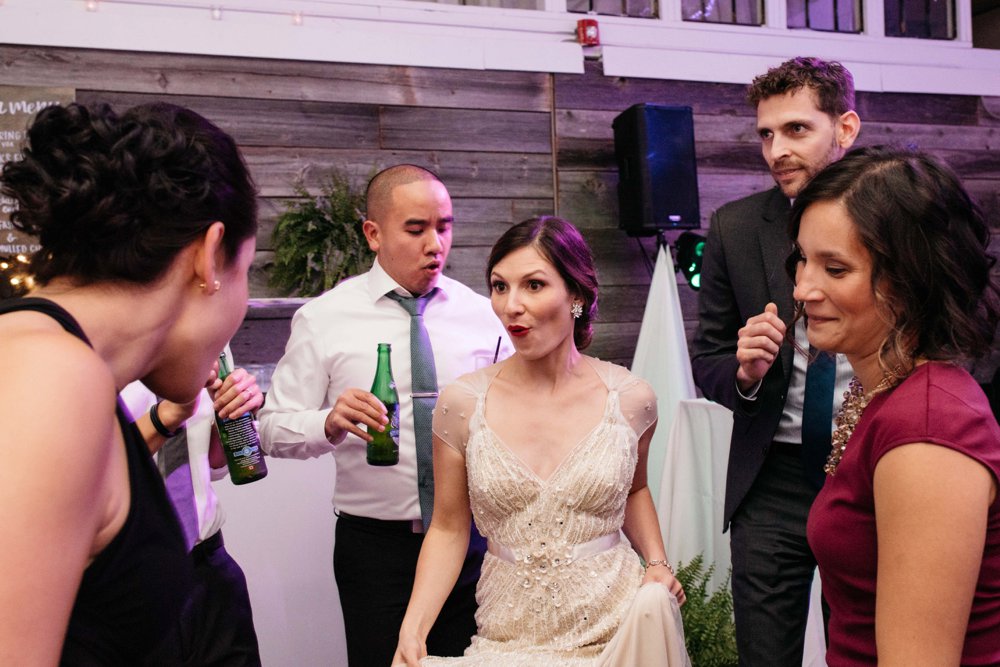 From Amanda & Markus!

** What is your wedding theme / style / colour palette? Why did you choose this?
We didn't have a set theme in mind I guess if we had to name it, it would be urban jungle. We loved the look of lots of fresh greenery but wanted a cool relaxed modern/city vibe that fit our style. Colour palette would be greenery (ferns, rosemary and moss) with berry colours – deep plum and maroon, and brown glass that fit with the fall season, with accents of grey, black and white to keep it modern and not too rustic/farmhouse feel.
** What 3 words best describe your wedding?
Style: Modern Urban Jungle ; Vibe: City Backyard Party.
** Favourite wedding moment(s)?
Amanda – There were so many amazing fun moments of the day it's hard to choose just one. But for me (as cheesy as this may sound) my favourite moments were any time I was with Markus, particularly during our ceremony just before our vows holding hands looking at each other. For no reason that I can explain, I was a nervous wreck the whole morning before the ceremony, tearing up really easily, except once I saw Markus for our first look. I got nervous again right before the ceremony waiting around and was shaking like a leaf before walking down the isle (partly nerves, partly from cold as it was very windy taking photos outside). As soon as I got to Markus and held his hands I felt so calm and all the nerves associated with "all eyes on you" just melted away.
Markus – One favourite moment was our first look, seeing Amanda for the first time that day before the ceremony. Other moments would be Amanda's brother's kind words during our ceremony that made me tear up, and conversely my dad's speech that made everyone in the room crack up.
** Venue: What made this venue the one for you?
We joke that we were lazy when it came to wedding planning as we didn't hunt around a lot or at all (including my dress) but I think we just knew what we wanted. This was the first venue we saw and we loved it's industrial vibe, it seemed very us. When we met with the planners there, they were so relaxed and laid back and open to whatever we wanted it was great. They let us bring in our fire pit from our backyard which ended up being amazing since it was such a cool fall night people got to take a breather from the epic dance party and make s'mores and get cozy by the fire. They also had a ping pong table available to us which everyone who wasn't too into dancing just loved, it was busy all night. Beyond that they were super helpful and the staff were on the ball with everything. I've heard a lot of people say they didn't get to try the food at their wedding but the head server there made sure we had passed hors d'oeuvres sent to us as well as our specialty cocktail. They were fantastic.
** Photographer: How did you know you had found the right photographer?
We found Anastasia through online wedding blogs. Her company name caught our attention as our dog's name is Olive, but her photography style is what really attracted us. We knew she was the right photographer after we met with her. Anastasia is just the most kind-hearted, down-to-earth and genuine person you will ever meet. I think in any sales related industry you can meet a lot of people that are fake nice. Anastasia is not one of those people. She is so dedicated to making you feel relaxed and comfortable and you can tell she truly loves what she does. We both are not comfortable having a lot of attention on us and being photographed, but during our engagement session with her all that went away. She really has a way of making you feel at ease and comfortable. We walked away feeling like we had just spent the day hanging out with an old friend. On our wedding day it was so great to have her calming presence around but she was also so professional. She was able to guide everyone through photos efficiently keeping us on time and was practically invisible during the ceremony & reception getting photos of everything like a photog-ninja!
** Any words of advice for couples planning their wedding?
We had a lot of DIY items at our wedding. It can definitely help to save money in some areas but it takes a lot of time so be prepared to do a lot of work in advance if you undertake DIY projects. We were so fortunate to have amazingly talented friends and family to help out. One of my MOHs Sarah does calligraphy and worked her calligraphy magic on everything – the envelope addressing, signs at our wedding, seating chart & place cards – she was so generous with her time. Another friend designed the invites and some signs we had outside our venue, and our mothers did all the bouquet's, corsages, flowers on the table and even nursed some ferns & rosemary plants for two months. We were truly blessed to have all this help. We did a lot of stuff ourselves too and with that, our first piece of advice is know when to let things go. As it got closer to our wedding day there were things we had planned on doing that we just had to decide that it wasn't a big enough impact on the day and to just let it go. Pinterest & wedding blogs are great inspiration but at some point you have to just stop looking at them or you just keep adding to your pile of DIY tasks. Another key piece of advice is to stick to things that will really be memorable. No one is going to notice or care what colour napkins you use but they will care about the food, or remember that hanging greenery that really makes a visual impact. A final piece of advice is that if you don't have a wedding planner (we didn't) have a day of coordinator or a friend who you trust to coordinate for you. We were INCREDIBLY lucky again to have a friend who does event planning & coordination who spent so much time helping to set everything up and execute our vision of our wedding day. It took a lot of stress out of the day having someone we could rely on to set everything up and make sure the day ran smoothly.
** Anything else you'd like to share?
Amanda: Everyone always talks about how their wedding day is the best day of their life. As we got closer to our wedding day and the stress started to build I really kept thinking maybe we should have eloped and saved us money and stress. However after going through it, I totally understand it now. I've never before been surrounded by so much love and support. The love and support our family & friends showed us by donating their time and talents which I will forever be grateful for, and just the happiness everyone showed us on that day was SO worth it. It was just magical. It was the most fun day and I'm still feeling all warm and fuzzy about it. And while I'm sure we will have many amazing days in our life together, this will be one that stands out that I will never forget.
Can't get enough of this couple? Revisit their engagement session.
Or maybe you wanna check out another city vibe wedding?
Here's another modern Toronto wedding for you to check out!
Or another session with a dog 🙂