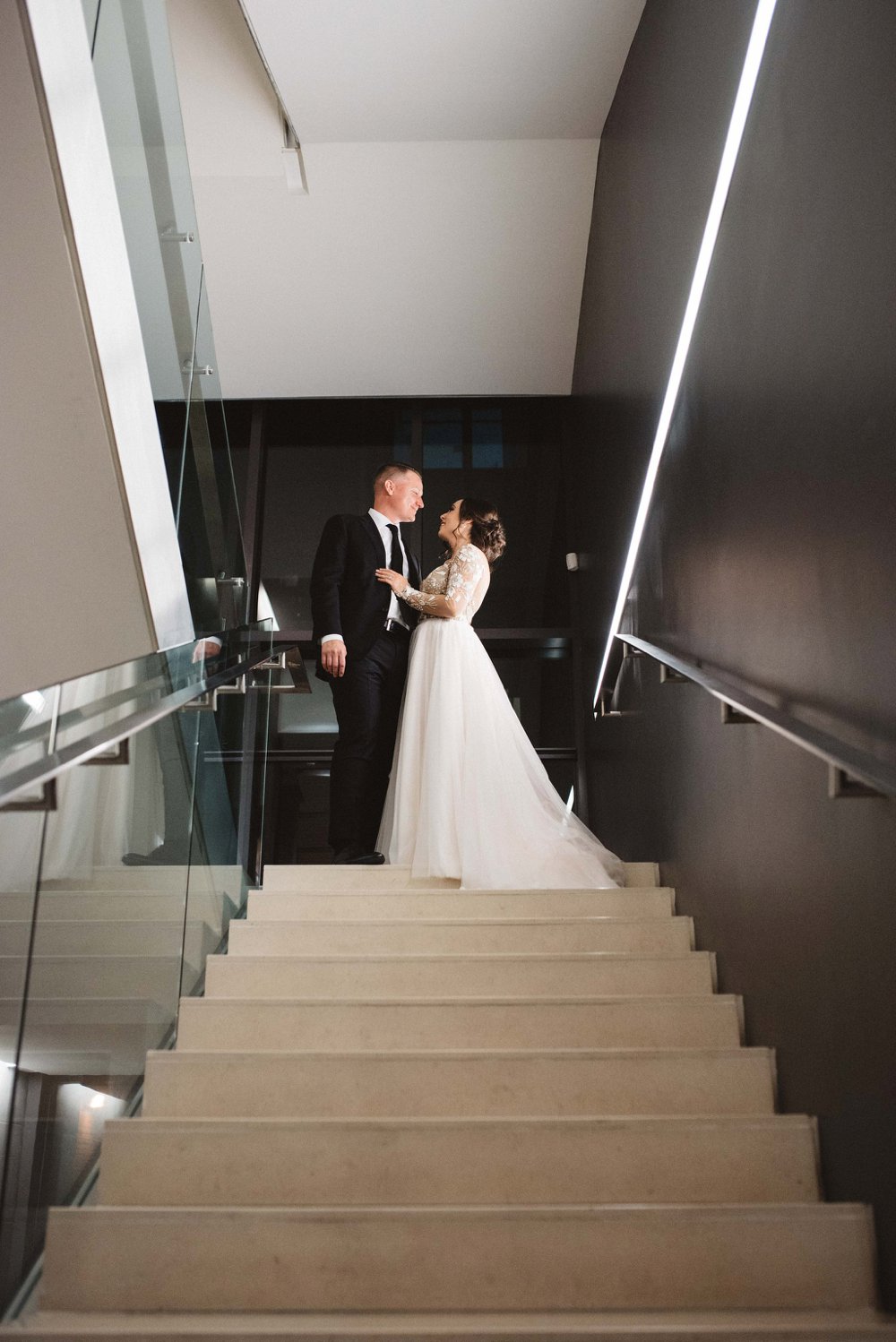 Sigh, Ali & Marijan – so much love.
These two are so obviously head over heels for each other, and their blended family with two adorable twin boys is so special.
I had such a great time getting to know these two and photographing their special day. It was especially touching for me because Ali was friends with my brother who has passed away. A number of his friends were at the wedding and it felt like he was there smiling on their day.
Their day was intimate and low key – no wedding party, no special dances, just a casual, stylish gathering of their nearest and dearest.
They had a downtown Toronto wedding – getting ready at the Shangri-La hotel then having their ceremony and reception at the Gardiner Museum. Such a fantastic spot for a wedding! Though, I may be a bit biased – My husband and I got married there as well! Funny story – we actually had the exact same number of guests. How crazy is that?
The space is perfect for a modern downtown Toronto wedding that is centrally located and fantastic for photos, both on-site and nearby. The light in the Gardiner Museum is amazing as there are floor-to-ceiling windows all around the space. And a cool thing about hosting a wedding there is the museum is open for guests to explore! There are also a number of outdoor patios too, and the design and lines of the space are super slick.  They decorated the space in a minimalist geometric style that worked perfectly with the clean lines of the venue.
Though the museum is awesome itself for photos, there is also University of Toronto's Victoria College courtyard right beside it – a lovely historic site with beautiful architecture with old world character. Neat to be able to get two very different looks so close together.
Here are a few words about the wedding from Ali & Marijan themselves:
What is your wedding theme / style / colour palette? Why did you choose this? Geometric, minimalist, modern, concrete, gold
Venue: What made this venue the one for you? Intimate, modern, and bright setting! Right in the heart of downtown Toronto.
Photographer: How did you know you had found the right photographer? So personable, friendly, and easy to work with. Anastasia came with high recommendations and made the process so easy.
VENDORS:  
Dress: Hayley Paige from Pearl Bridal House | Hair: Bridal Hair Collective | Makeup: Gee Beauty Studio | Shoes: Diane Von Furstenberg, Gucci | Earrings: Tiffany & Co. | Stationery: Kid Icarus, Emily Dawn Designs | Suit: Sydney's | Venue: Gardiner Museum | Catering: A La Carte Kitchen |  Flowers: Willem & Jools | Desserts: Bobbette & Belle | Furniture Rental: Contemporary Furniture Rental | Photography: Olive Photography
—
If you enjoyed this wedding you may like checking out this other modern Toronto wedding, also located downtown.
Or if you haven't had enough of this couple and their adorable twin boys, you can check out their engagement/family session at High Park!