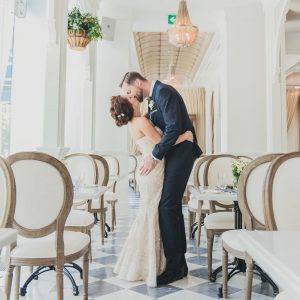 Jodi & Brad
From the moment I met Anastasia, I knew I was in good hands. It was a freezing cold winter day and I walked into the coffee shop only to meet one of the friendliest and sweetest people I've ever had the pleasure of meeting. Anastasia's warm and calm personality made us feel at ease on our wedding day and translated into absolutely stunning shots. We, along with our friends and family, could not be happier with the photos we received and have been blown away by the creativity and quality of the pictures. She has given us beautiful, lasting memories of our big day and we can't thank her enough!!!
Morgan & Nicolas
Anastasia was the best and easiest wedding decision I made (other than my husband of course…)! She made both my husband and I feel so comfortable, and that is a big ask, since neither of us are particularly happy to be in front of a camera. Both our engagement session and wedding photos felt so natural and Anastasia is just a wonderful person to spend time with! Everyone at our wedding raved about how lovely she was and I am still at a loss as to how she managed to get shots of every guest and every moment. She is magic behind the camera and I was completely overwhelmed when we got our wedding album from her. In her photos she manages to capture not just the people, but the whole feeling of the day. I know we will treasure these photos forever, how I will decide which ones to frame is another story! If you are thinking of booking her DO NOT hesitate, do it now, you will not regret it!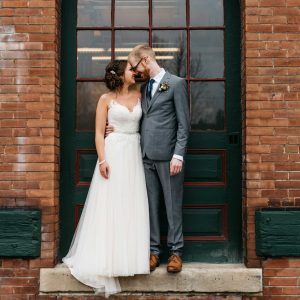 Melanie & Andrew
I want to go back to my wedding day just so that I can work with Anastasia from Olive Photography again. She made my husband and I feel completely comfortable in front of the camera and added so much joy to our wedding day. She responded to questions quickly and thoroughly, always offering fantastic advice and ideas. Every member of our wedding party also mentioned how great she was to work with. Along with her amazing and bubbly personality comes FANTASTIC photos. She captured every important moment, including photos of essentially every guest and tons of beautiful candid moments. Hiring Olive Photography was hands down the best decision we made when planning our wedding and I recommend you to do the same.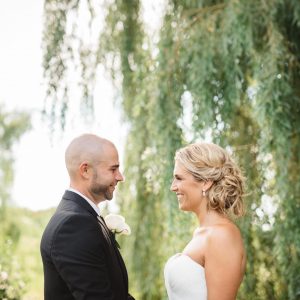 Melissa &Brandon
If you're looking for a photographer who is amazing and easy to work with look no further! I met Anastasia through work and I'm so glad that our paths crossed! From the moment my husband and I met to discuss our wedding with her, we knew that she was the photographer that we wanted to work with. She was open to our ideas, gave us suggestions, worked with us to find other vendors, and just gave off a positive, caring and friendly vibe that we hadn't experienced with some of the other photographers that we had met with. On our wedding day, Anastasia felt more like a friend then a hired photographer. She made everyone feel relaxed while taking our photos and I received several compliments from our wedding party about how comfortable and natural she made everyone/everything feel. Receiving our wedding photos was the icing on the cake! They were absolutely beautiful – perfect lighting and natural – not awkwardly posed. I cannot praise this woman enough – she is incredible at what she does!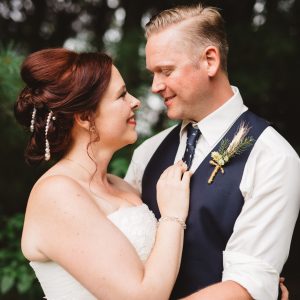 Alicia & Cliff
When we first met with Anastasia, we knew she was the perfect person to capture our special day! Her photos were light and airy, candid and joyous – and her personality matched perfectly! We ended our first meeting with a hug and sighed a huge breath of relief, we knew we made the right choice!
Our engagement shoot in Kensington Market was more than we could have asked for. She made us look like total babes, and chilled with us like we were old friends. It was a great date night and a great set of shots!
When our day came she was present, confident, flexible, kind and *everywhere* She captured the details of our decor beautifully and lots of fun moments even we missed, we were so grateful. Our family loved her quirky, fun personality and she put everyone (even those who hate having their photo taken) at ease. She had a great handle on the schedule (she even helped us create it) and was super easy to work with.
10/10 would recommend working with this incredible woman. It will be the best decision you make!
<3 Alicia & Cliff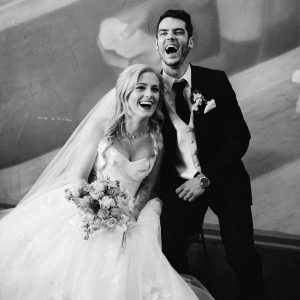 Margo & Jacob
One of the best decisions of our wedding was choosing Olive Photography as our photographer. She fit so naturally with our wedding party and there was never an awkward or staged-feeling moment, and we ended up with the most gorgeous photos ever. Anastasia's shots really capture the joyful, candid moments, and she doesn't miss a beat, it's like she manages to be everywhere at once.
She has a very intuitive, humanistic approach to her photography, paired with a creative eye that ended up with many beautiful magazine-worthy shots.  She was also very quick getting the edited shots back to us.
She really commits herself to her work, too. She is so accommodating and trust me, she will make you feel so good on your wedding day, like a movie star! Our family and friends came to us after to say how impressed they were by her, and that was even before they saw the photos.
110 % recommend Olive Photography. She really goes above and beyond what anyone would expect from a wedding photographer. I have only the highest praise for Anastasia.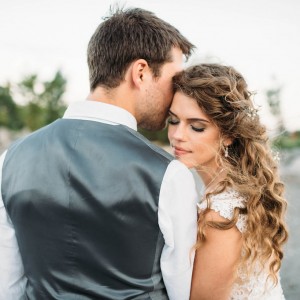 Kelsey & Nico
How can I even begin to express the gratitude my husband and I have towards Anastasia of Olive Photography? From the moment my husband and I met Anastasia there was no doubt that we wanted her to photograph our wedding day. Hiring Anastasia was – hands down – the best decision we made for our wedding day. Not only is Anastasia an exceptionally talented photographer, she exudes warmth, professionalism, and passion for her clients and her work. She has a contagiously positive attitude that instantly put my husband and I at ease. She's an artist through and through; the proof is evident in her work. My husband and I can't stop beaming over how wonderfully Anastasia documented our wedding day (and our engagement photo shoot!). Anastasia captured our story so perfectly and effortlessly. We highly recommend Anastasia of Olive Photography to anyone and everyone looking for a photographer – you won't be disappointed! 🙂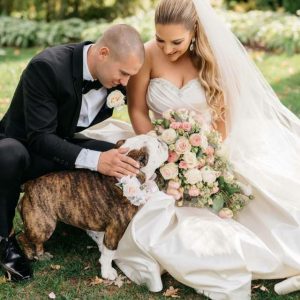 Hayley & Zack
Notice to any newly engaged couples, expecting parents, or anyone in need of a photographer: look no further! I recently got married this past October in Niagara-on-the-Lake to my best friend, and I can honestly say the day would have been so different had Anastasia and her colleague Gillian, not been there. Overall, I found planning the wedding to be so much fun…but the only stressful part: finding the right photographer! I was so overwhelmed by the variety of vendors in the GTA. I mean, it's wonderful to have so many talented people to choose from, but I just wanted a photographer that I knew was talented, professional and dependable. To me, the photos and the video are some of the most important aspects of a wedding. Anastasia was all I was looking for and more. From the moment I met her at the Toronto Bridal show, to her welcoming my husband and I into her home for our consultation, to her delivering our wedding album, she has been nothing short of wonderful. We feel truly blessed to have had her play such a huge role in capturing one of the best days of our lives, and she did so with such poise, thoughtfulness and patience. The photos we received still bring us to tears (happy tears), as they perfectly captured the emotions we experienced on our special day. Anastasia, I know I have thanked you one thousand times, but now it's one thousand and one times – thank you for bringing us so much joy. I love and respect what you do so much. I would highly recommend you to anyone for any occasion! xx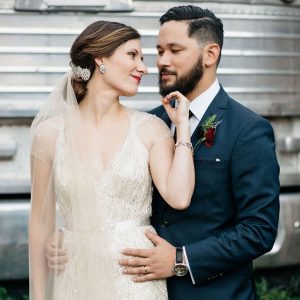 Amanda & Markus
We found Anastasia through online wedding blogs. Her company name caught our attention as our dog's name is Olive, but her photography style is what really attracted us. We knew she was the right photographer after we met with her. Anastasia is just the most kind-hearted, down-to-earth and genuine person you will ever meet. I think in any sales related industry you can meet a lot of people that are fake nice. Anastasia is not one of those people. She is so dedicated to making you feel relaxed and comfortable and you can tell she truly loves what she does. We walked away feeling like we had just spent the day hanging out with an old friend. She was so quick to get photos too us afterwards and they were amazing! On our wedding day it was so great to have her calming presence around but she was also so professional. She was able to guide everyone through photos efficiently keeping us on time and was practically invisible during the ceremony & reception getting photos of everything like a photog-ninja! We highly recommend Anastasia/Olive Photography for photos of any life events!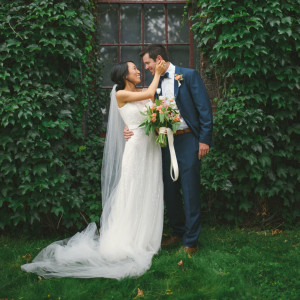 Olivia & Rob
Anastasia captured our wedding day beautifully. She photographs in a way that brings everything to life- she exudes so much warmth, light, and joy, all of which seem to flow through each image 🙂 It was amazing to be able to relive some moments while seeing others for the first time! A truly invaluable gift. Anastasia was incredible to work with – she gave us direction, made being photographed all day easy and fun, kept us on time, and even helped me put my veil on! Thank you for working so hard to capture all the big moments and little details- so grateful to have these memories for a lifetime.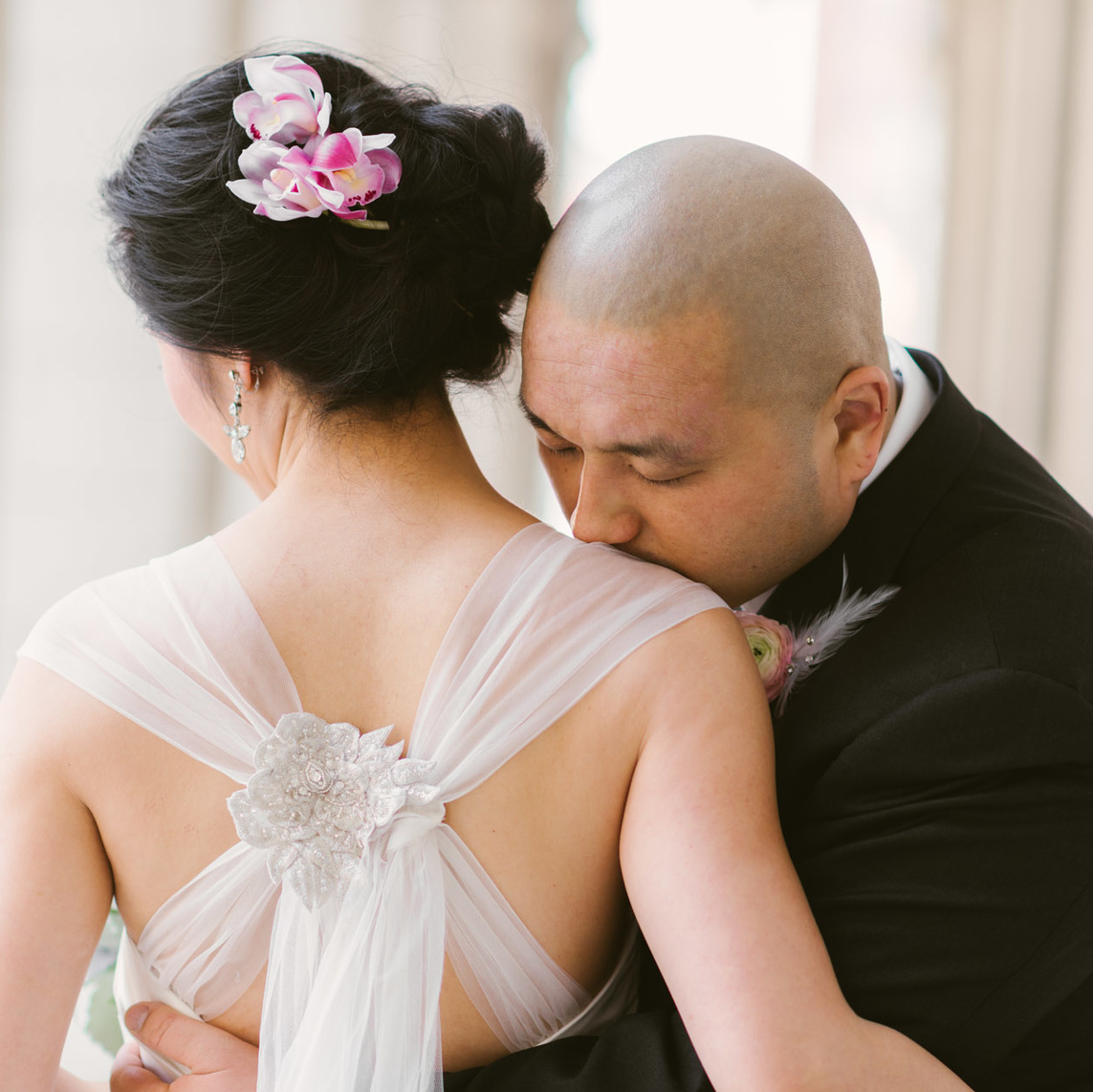 Ike & Susan
I truly stand by a 5-star rating across the board. Anastasia of Olive Photography was absolutely amazing to work with. She had an innate ability to encourage everyone to be their best in front of the camera, even with someone as camera shy as me. While other photographers simply directs, she motivates her subjects to the perfect picture every time. She was even able to get my dad to smile, a notorious "no smiley face" guy!
Part of why she's amazing was the infectious enthusiasm she exuded during shoots and even review meetings. We couldn't help share in her excitement when inspiration struck her or she was able find a picture that tied into our personal interests.
As a professional, few can match her standards. She replied promptly, sent out kind follow-ups when we ourselves forgot to respond, always took our calls when we had questions, among many other things. All of the above qualities truly make Anastasia a consummate professional I whole-heartedly recommend.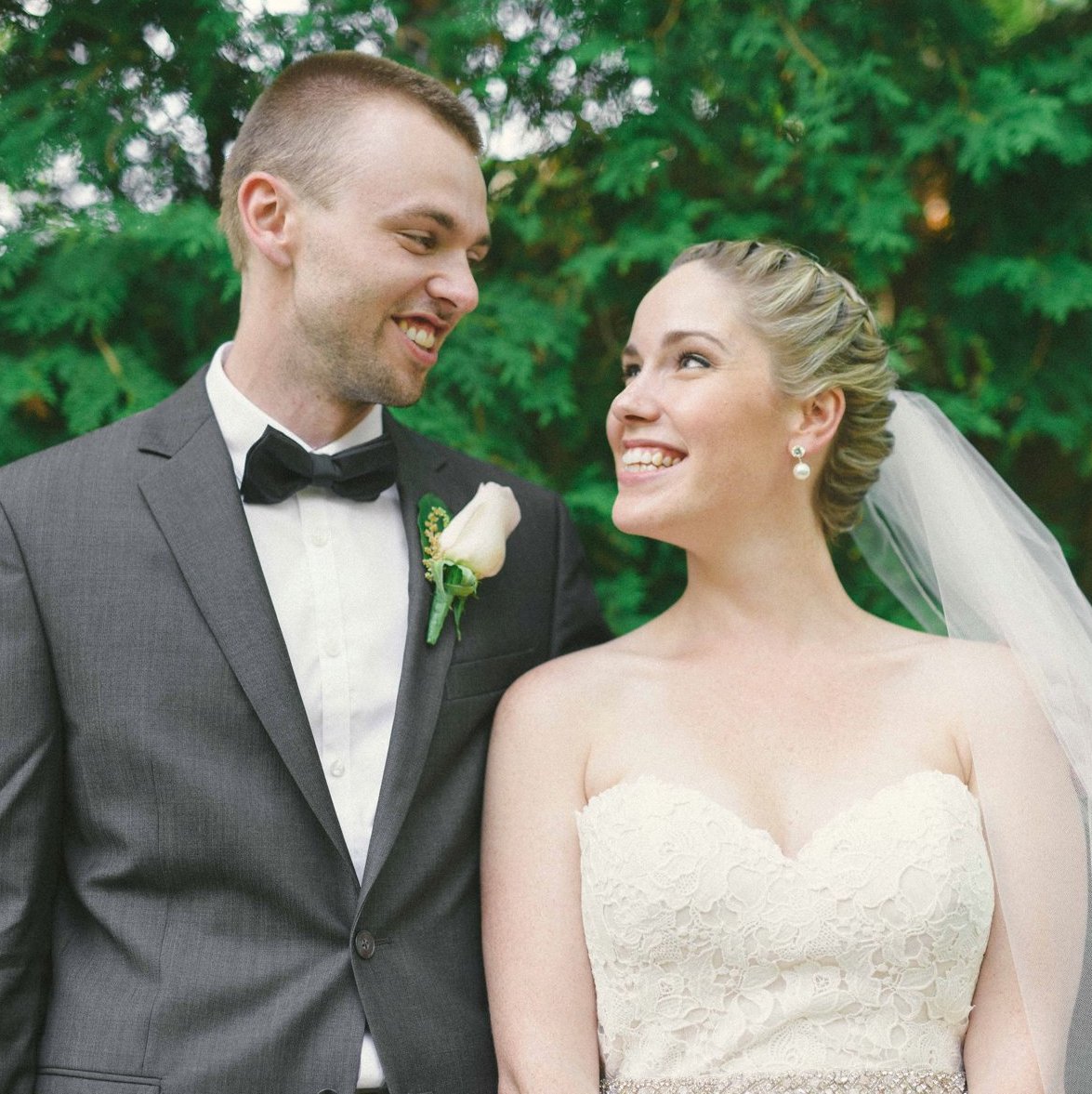 Meghan & Matt
I cannot begin to put into words how much I loved working with Anastasia and how amazingly talented she is as a photographer and artist. Her pictures captured the story of our wedding day perfectly. Every emotion and precious moment was caught allowing us to relive that day over and over every time my husband and I look at them. My family and friends have been raving about the pictures as well, we are just so blown away by their beauty and warmth. Anastasia is truly wonderful and her pictures are so full of love and life. Her passion for what she does shines through not only on her pictures but in her enthusiastic personality throughout the day keeping everyone feeling relaxed and having a great time. I cannot thank her enough for the amazing gift she has given us!!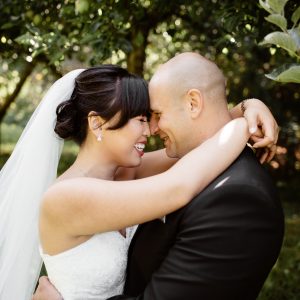 Lexi & Dan
Seriously book her while you can. Have you seen her portfolio? Words can't describe how amazingly talented Anastasia is. From the first point of contact up to the wedding day to even after when receiving our photos has been so stress free. She responds quickly, is patient and professional. When I received my sneak peak shots of my wedding day I was freaking out over every photo. When I received the rest of my photos I freaked out all over again. She is genuinely a lovely human being and crazy talented photographer that exceeded our expectations. Thank you so much for shooting our wedding! I can't recommend her enough.