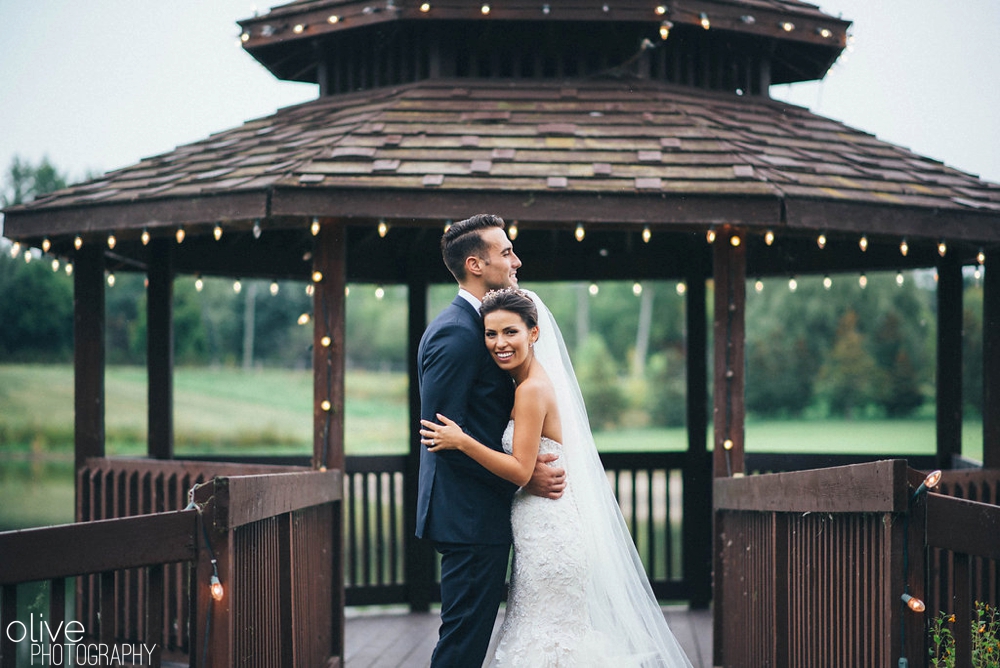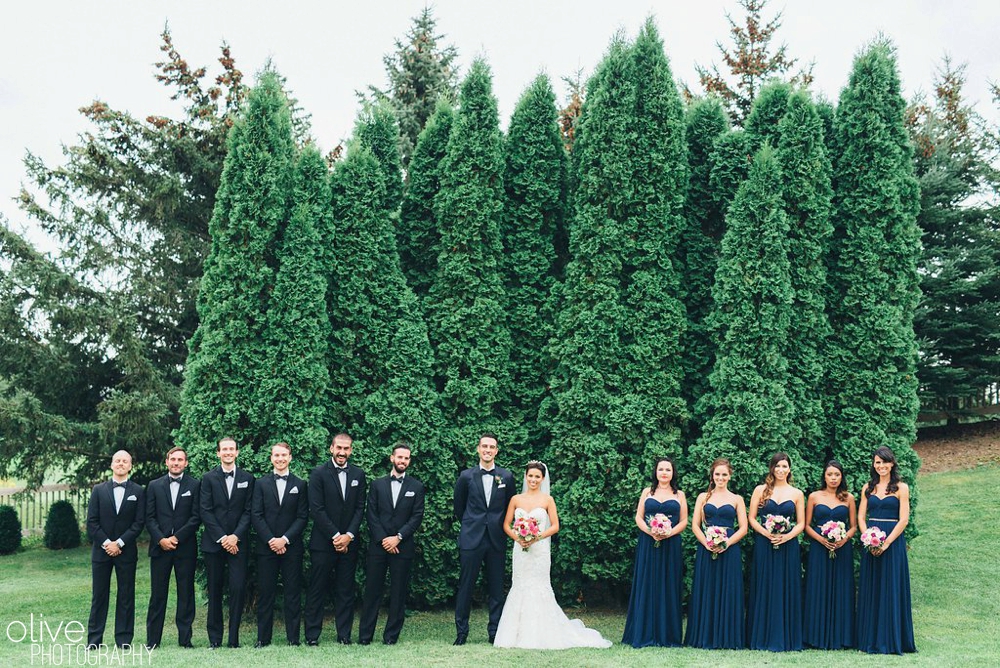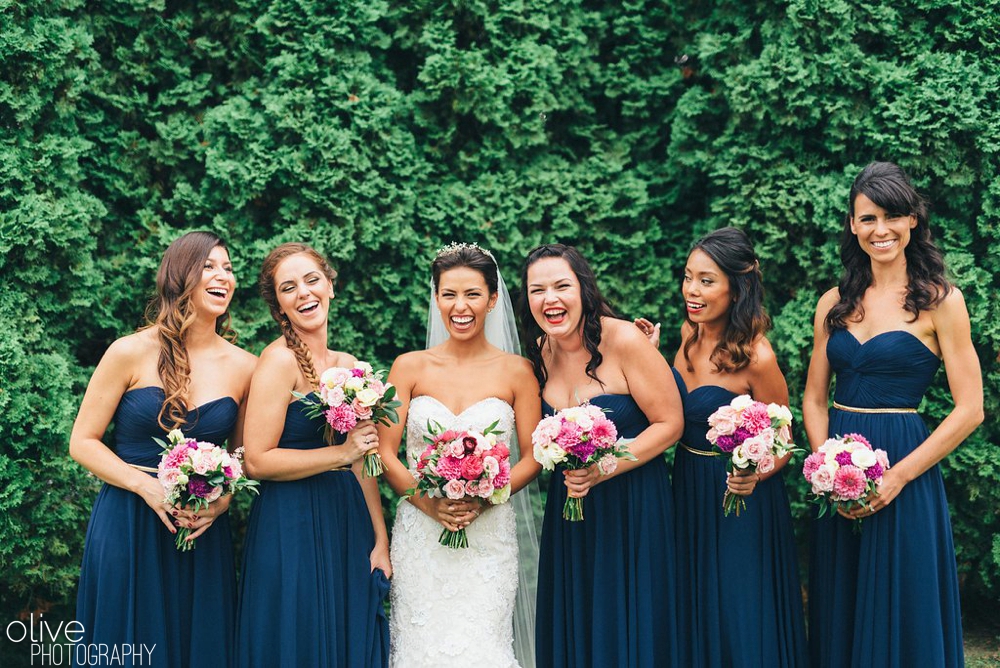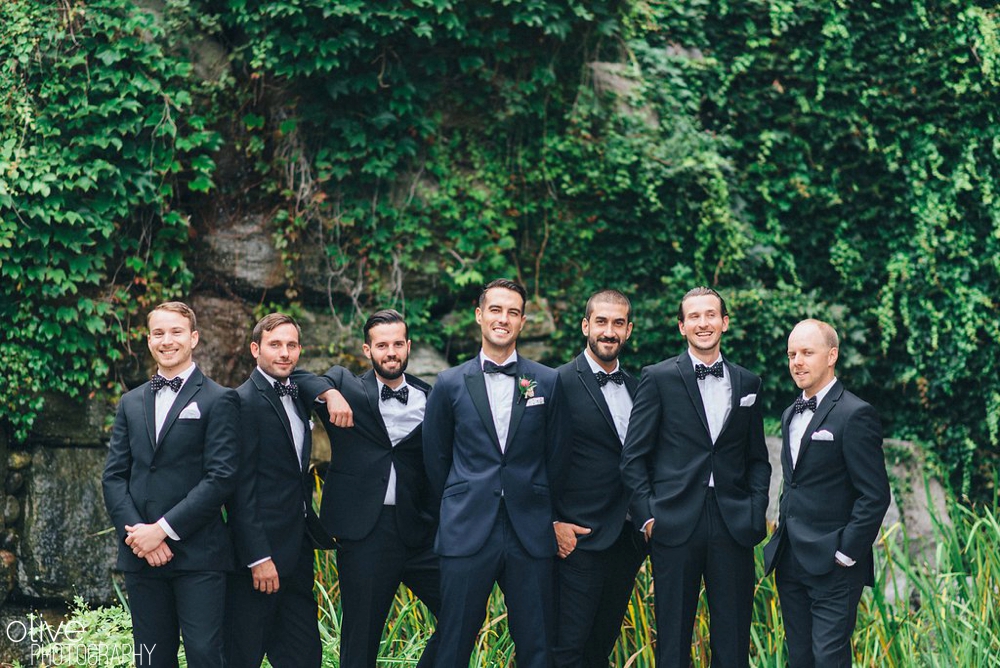 Chloë & Andrew had their wedding at The Manor in Kettleby Ontario at the very edge of Summer – when the leaves were still green but the temperatures had cooled. Though it rained that day, the cloud cover acted like a big, natural softbox which was *amazing* for their photos.
They had a modern colour scheme was subtly echoed everywhere – from their invitation suite to their table linens to the polkadots on his pocket square, and gold belts for the bridesmaids (cool!)… they certainly have a keen eye for attention to detail.
What was even more unique than their bold choice to use black as her main colour was the incredibly vibrant and exciting pops of fuchsia they infused in the day's florals. This, combined with the fun popcorn favours, celebratory wands and sparkling gold details helped ensure the atmosphere felt light and effortless. It was the perfect balance of classic with modern touches, giving this wedding a timeless feel.
They themselves also looked incredible – From her ethereal looong, flowing veil and delicate gold tiara, to his tailored navy suit and patent leather shoes with blue stitching to coordinate – their wedding getups were on point!
Sidenote: It was so sweet that Chloë used one of her childhood hangers for her wedding dress <3
I won't say too much more since you can see how beautiful their big day was through the photos — but at the bottom of the post is more about their wedding from the couple themselves!
—
Ah, so much fun!
Now, here are some words from the newlyweds themselves! 
—
What was the style/vibe of your wedding, and why did you choose to make it that way? 
We wanted our wedding to be a big celebration, lots of laughs and lots of dancing! We are not very traditional and neither are our families so we decided to have our ceremony and reception at our amazing venue, The Manor. We used black, white and gold in our invitations and incorporated polka dots and stripes to emphasize the black/white theme. We didn't want the hall itself to look too drab so we used bright fuchsia flowers to add some dimension to the tables. We felt it was a great reflection of us as it was a very sophisticated party but a fun loving day!
What was your favourite wedding moment?

Bride – it was literally the best day of my life so to pick one moment is very difficult! My top fave memory of the day was when Andrew and I had our first look before the ceremony. It was such a sweet and special moment for the two of us and really helped to ease any nerves that either of us may have had. Plus he looked so handsome in his tux! Another special moment for me was when I saw our reception hall for the first time.  Wedding planning is stressful enough but trust me when I say it's not easy sticking to your gut and choosing black linens in a sea of ivory and blush weddings! after months of picking all these little details at some point you start second guess all your decisions. It was such a relief to see how perfect everything looked!
Groom – my favourite moment was watching Chloë walk down the aisle with her father. She looked so beautiful and so happy. Being surrounded by all of the most important people in our lives meant the world to me.
Any advice for engaged couples planning their wedding? 
Wedding planning can get really emotional for so many different reasons. Chloë was super organized and had spreadsheets for everything! She was determined to be the most organized so that during the day she could let our vendors take care of everything. It really was a stress free day for her.
Bride – I had so many spreadsheets for everything,  which I use a lot at work so why wouldn't I use them for our wedding?! If you're not the spreadsheet type maybe ask someone in your bridal party who is savvy at excel to help you out. Everything from organizing our guestlist to keeping track of gifts and thank you cards and then our day of timeline these really helped me relax and enjoy the day. My parents poked fun at me when I handed out a wedding guide (it was only 3 pages!) And mentioned that something wasn't included in my flow charts. I didn't make any flow charts but you get the point!
Photographer: Olive Photography
Twitter + Instagram: @OlivePhotoTO
Dress designer: Mori Lee
Twitter + Instagram: @morileebridal
Suit: Tiger of Sweden
Twitter + Instagram: @tigerofswedento
Bride & Groom's Shoes: Ted Baker
Instagram + Twitter: @ted_baker
Hair: Bridal Hair Collective
Instagram: @bridalhaircollective
Flowers: Pink Twig
Instagram + Twitter: @pinktwigfloral
Popcorn Favours: Beau-Coup Favours
Twitter: @beaucoupfavors
Instagram: @beau_coup/
Invitations: Wedding Paper Divas
Twitter + Instagram: @weddingpaperdivas
Venue: The Manor Kettleby by Peter and Paul's
Instagram + Twitter: @bypeterandpauls
Wedding planner/Decor : Event Decor and More – Tish Mihelic
Photobooth  – Photobombbooth
Instagram + Twitter: photobombbooth