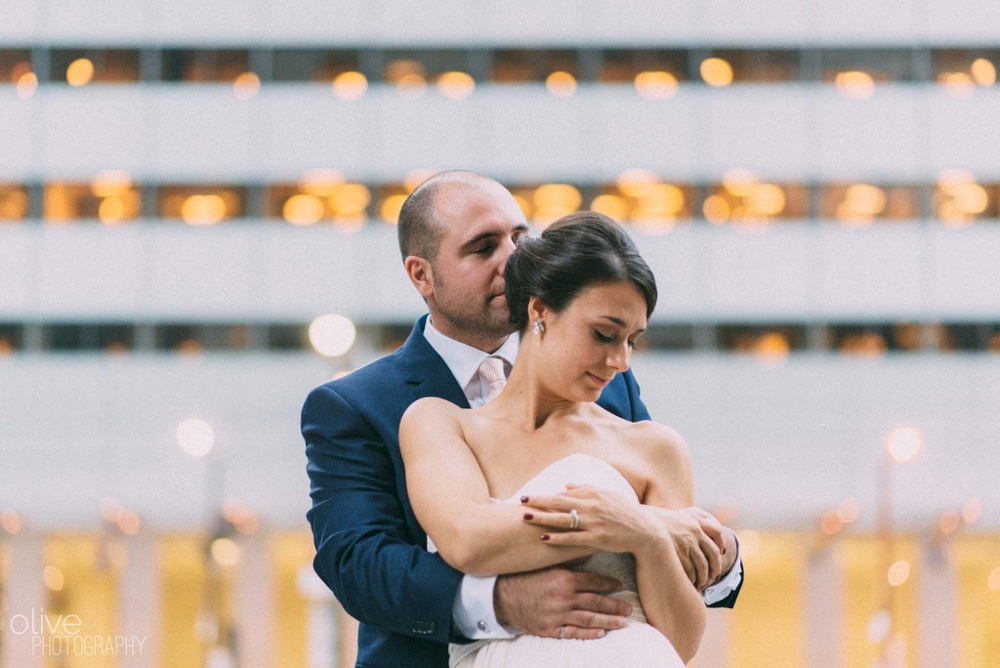 Canoe Restaurant Wedding
They got married atop the city.
Canoe Restaurant sits on the 54th floor of Toronto's TD Bank Tower, above the city's tallest skyscrapers, with a sunset view that is out of this world.
We circled the neighbourhood and found romance amidst the bustling streets and office buildings, pausing to document photography their portraits in some of the city's unique and interesting backdrops. Some of this included graffiti, church parks and even some metal cow sculptures – we embraced where we were and really relished how different their wedding photos would look.
Their wedding ceremony took place in a room adjacent to the main dining room with a unique layout – they stood in the middle with their loved ones seated in rows on both ends of the space. This way everyone could be closer – and the idea of being surrounded by loved ones during such a momentous time is lovely.
Their ring bearer stole my heart – a doe-eyed sweetheart in a mini-man suit and flower crown. Yes, he wore a flower crown, and it was adorable!
This wedding also included some special personal touches including custom illustrated invitations with them and their pug Frank (who also joined us that day!), 'party animal' figurine place cards, a cake topper that Catherine's grandparents used for their wedding, and candles Alex lit just before dinner to honour his parents who are with us in spirit.
Here are some highlights from their special day.
Words from the newlyweds themselves and more info about their wedding are at the bottom of the post.
And now, here are some words from the newlyweds themselves:
* What was the style/vibe of your wedding, and why did you choose to make it that way?
We wanted our wedding to feel urban, and reflect how much we love living in Toronto. The end feeling that we wanted to create was a fun dinner party for our guests.
 * What did you love most about your venue?
Everything! The space is beautiful on its own, so we didn't have to do much to decorate.  The view is spectacular. We loved having the ceremony, cocktail hour and reception all in one place. And we loved that our venue is a restaurant, so the focus was on the delicious food.
* What was your favourite wedding moment (bride & groom)
We had a lot of favourite moments during the day, but a few stand out:
Catherine: I loved seeing Alex for the first time. I also love how Alex surprised me towards the end of the night by including a touching and hilarious anecdote in our thank you speech to wrap up a joke that we've shared since our first date.
Alex: I'll never forget watching Catherine walk down the aisle at our ceremony.
* Any advice for engaged couples planning their wedding?
Enjoy every moment because the whole process is fun, exciting, and goes by quickly. Make sure that you have a least one person you can rely on to troubleshoot and keep things moving on the day of your wedding, and make a really good detailed itinerary.
* Any final thoughts about the big day/experience of getting married that you'd like to share?
We relied a lot on help from our amazing friends and family. It was a true labour of love to turn our ideas into a beautiful day.
Vendors:
– Photographer: Olive Photography www.olivephotography.ca
– Bouquets: Coriander Girl
– Hair: Bridezilla Beauty
– Makeup: Beauty by Sabrina
– Stationery: Chicks n Hens
– Dress designer: Truvelle (from Sash and Bustle)
– Suit: Tom's Place
– Cakes: Desmond & Beatrice
– Favours: matchbooks from weddingfavours.com
– Venue: Canoe Restaurant
– Balloons: You Send Me
– Veil and earrings: Hushed Commotion
– Frank's bow tie: Dog and Bow
Can't get enough of these two and their cutie patootie pug? Revisit their High Park engagement session here!