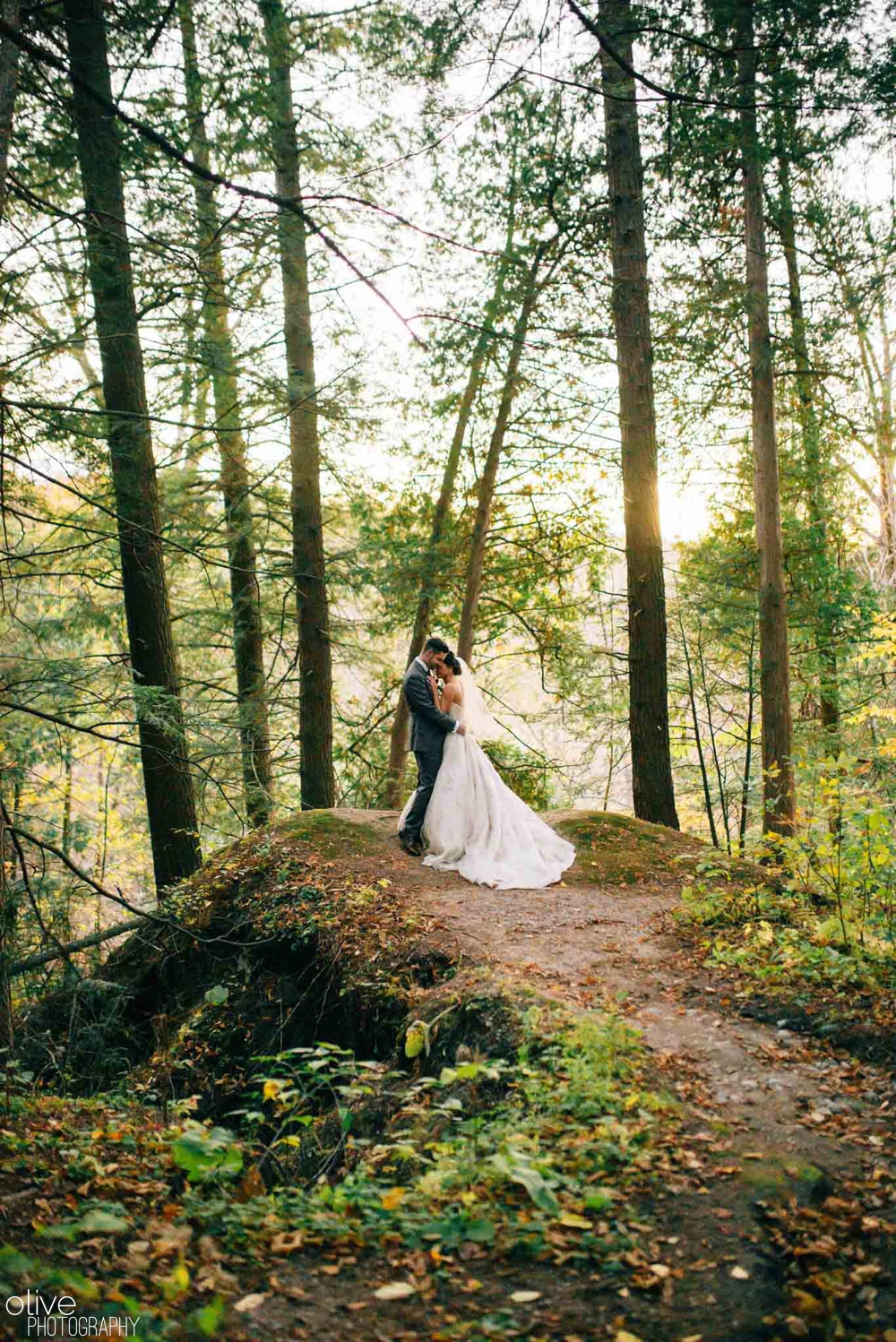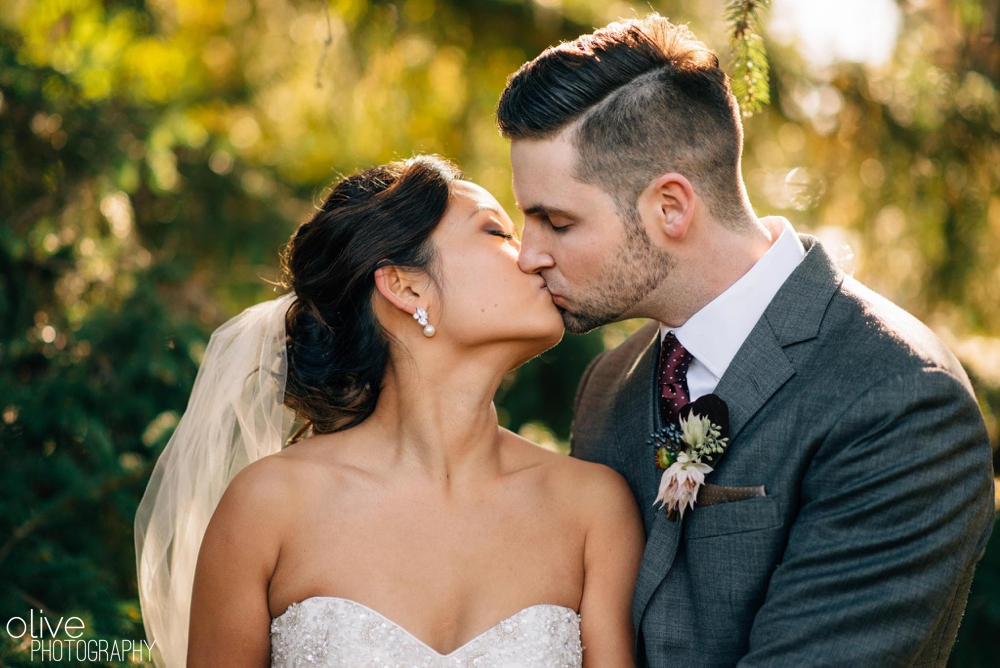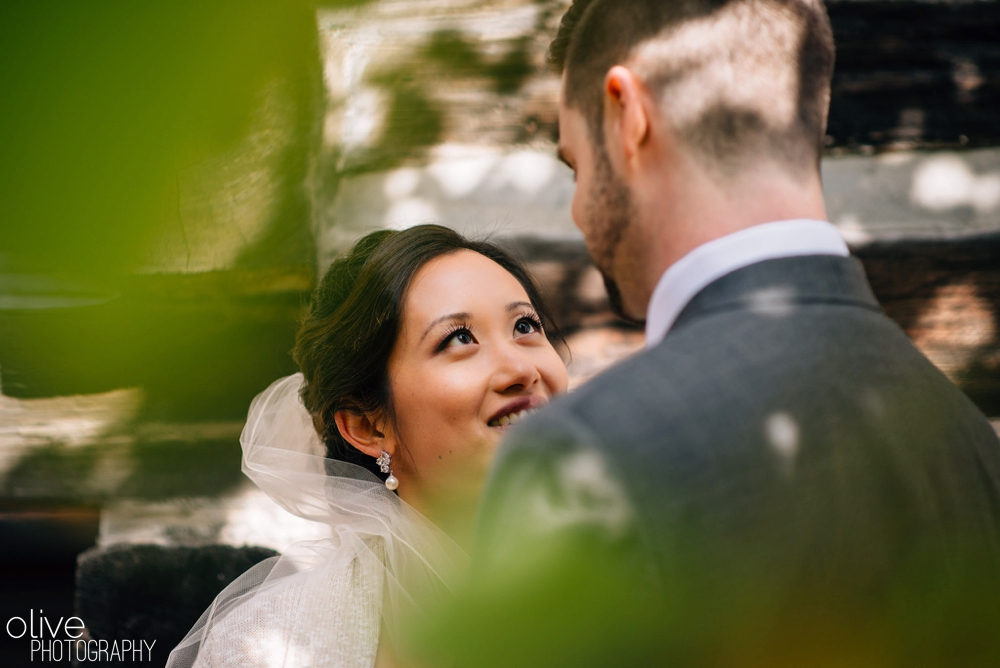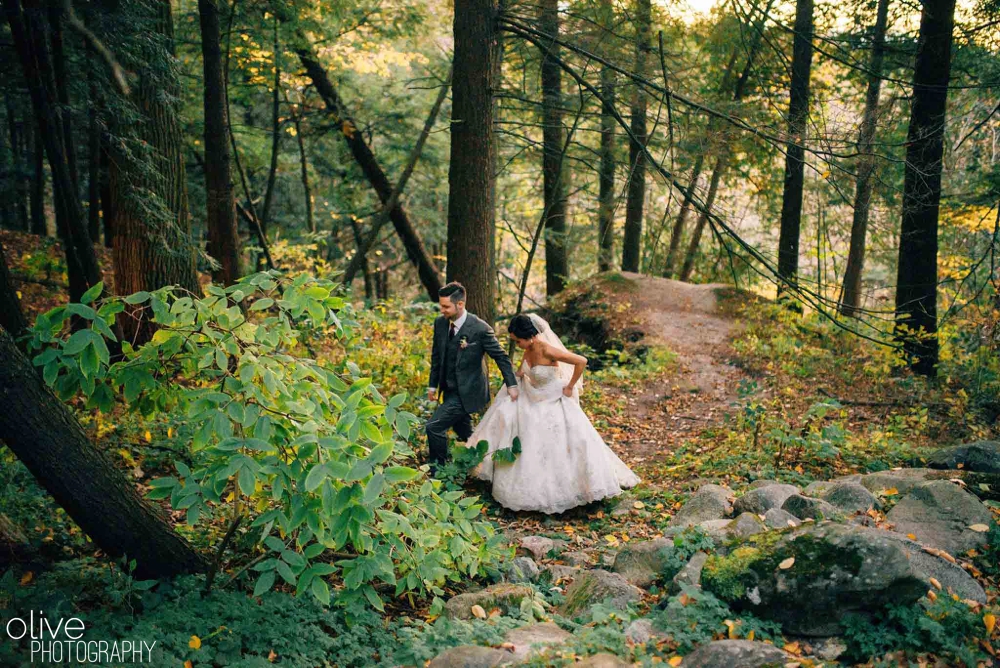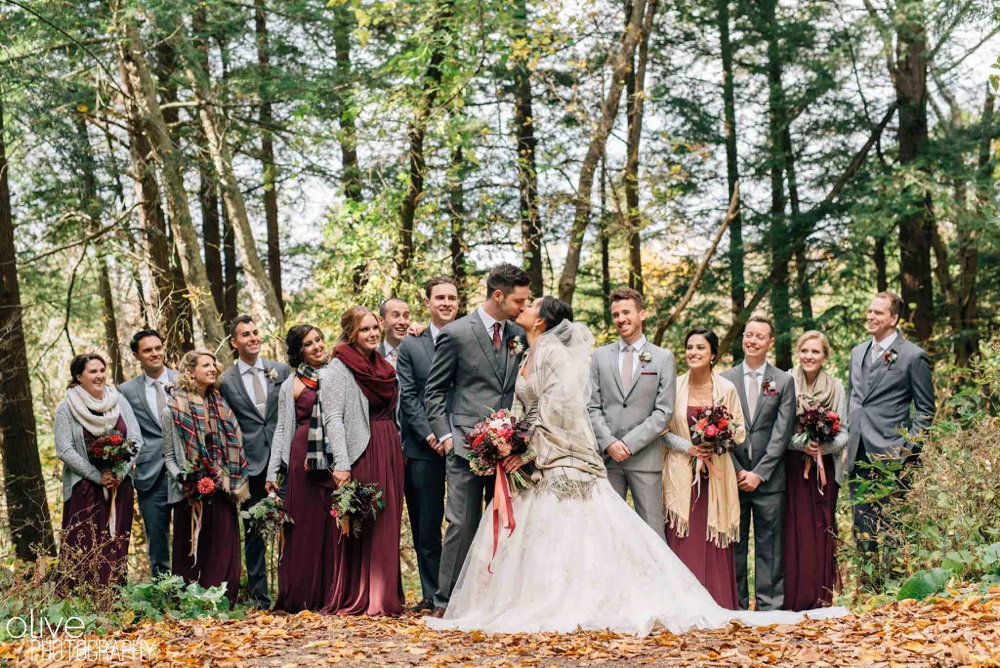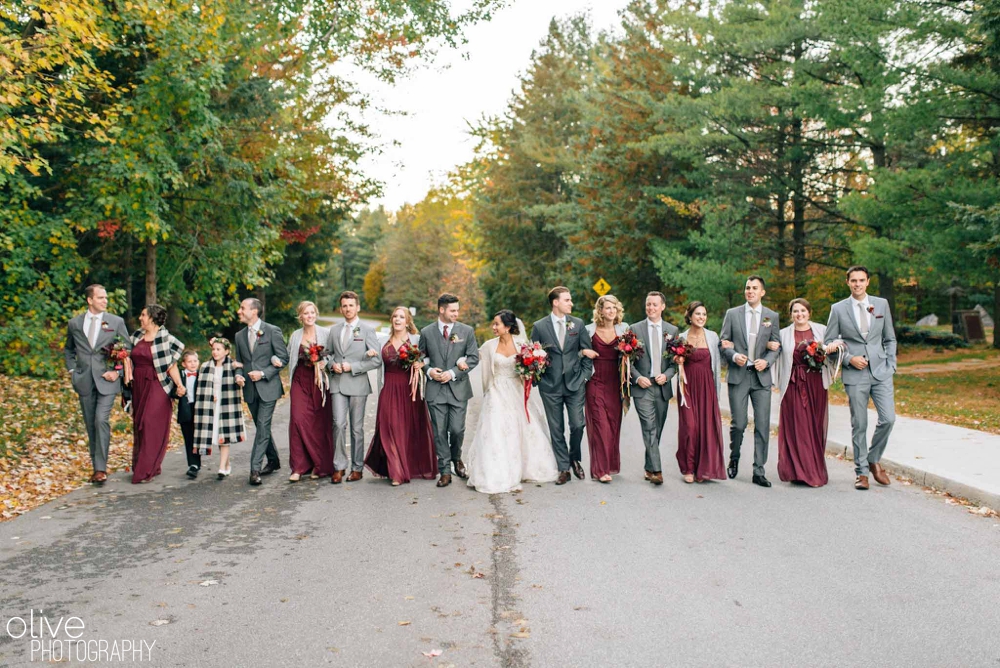 McMichael Art Gallery Wedding

High school sweethearts Isabella and Lukas had the most beautiful wedding at the McMichael Art Collection. Not only is it an incredibly unique place to get married (how neat is it that they got married in an actual gallery?), but the surrounding forested area was just magical.
The gallery is surrounded by such lovely trails, and some very unique sites – 6 of the 10 Group of 7 artists are actually buried there, and Tom Thomson's actual shack where he painted his famous work was transported there! We had to take some photos by that very cool piece of history.
The bond these two share is already so beautiful on its own, but their wedding day was made even more spectacular by the seasonal details they so thoughtfully planned: crimson pomegranates, apples and florals, pinecone place card holders (love that!), scarves and blankets for all the wedding party and guests to keep toasty, sweet calligraphed quotes and signs as well as so many other whimsical and wonderful touches.
Here are some snapshots from their big day – with words from the newlyweds themselves and vendor details at the end!
And now, here are some words from the happy newlyweds!!

— What was the style/vibe of your wedding, and why did you choose to make it that way?
Lukas laughs when I talk about the theme…"woodland glam" (almost as hard as he laughed when I told him that our Christmas decor would be "woodland christmas"). We wanted to showcase our love of the outdoors and of art. We had visited the Mcmichael together many times in elementary and high school, we thought it would only be right to go back there! We hoped that all the touches and details would be meaningful to us as a couple, while also honouring our families and different cultures.
We also wanted to capture moments from our long history together as a couple. Our music came from our high school mixtapes for each other and decor incorporated the many photos from our 9 year relationship.
— What made you choose to have your wedding in the season you did?
We both loved the colours and all the coziness that comes with fall. A lot of happy things happen in fall, from birthdays to Isabella's parent's wedding anniversary. We also love the Mcmichael best at that time of year!
— What was your favourite wedding moment?
Lukas' favourite moment: Watching Isabella walk down the aisle with her dad, looking so beautiful and elegant was simply breathtaking. And in classic Bella style, she tripped on the front of her wedding gown. In a cute little huff of frustration and embarrassment she hiked up her dress and marched down the rest of the aisle. Our guests all let out a laugh but if you looked towards me you would see a smile from ear to ear. It was a perfect display of the clumsy yet perfect bride I would marry minutes later. An unplanned and completely accidentlal moment reminded me of why I fell in love with her.
Isabella's favourite moment: There are many moments that I will always remember. But my standout moment happened the second we walked out of the ceremony space. The gravity of the ceremony finally hit me and a kiss from my groom brought me to tears. Lukas will attest to the fact that I emote as much as rocks do. But at this moment my heart was full. We had the back of the gallery space to ourselves as the wedding party and parents made it down. Seeing our most beloved friends and family cheering and crying was so special. We got to hug each person and revel in the moment. Not only did I feel so much love for Lukas, but I felt the love from our family and friends.
— Any advice for engaged couples planning their wedding?
Weddings are filled with so much emotion and meaning. Knowing that though, it will never be drama free no matter how hard you try! Despite it all though, those special moments that come from the day make it completely worth it.
Keep your sanity by doing everything very early! Complete tasks when you feel it is "too early"…because no matter what it isn't.
Finally we learned the wedding is about more than the couple. Something we commented on repeatedly throughout the day was how lucky we were to have our family and friends in our lives.  We hope that your day will be filled with the most love your friends and family could possibly give.
Vendors
Photography
Olive Photography
@OlivePhotoTO (Instagram & Twitter)
www.facebook.com/
OlivePhotographyTO
Wedding Coordinator
Behind the I Do
www.behindtheido.com
@behindtheido (Instagram & Twitter)
Cake: none

Favours: London Children's Health Foundation Donation
Venue
McMichael Canadian Art Collection
@mcacgallery
Caterer
Presidential Gourmet
@pres_gourmet (Instagram & Twitter)
DJ
Ryan Caroll of Dialed in DJs
… Can't get enough of Isabella & Lukas? Revisit their engagement session here 🙂