Such good humour – even after red wine spilled on her dress!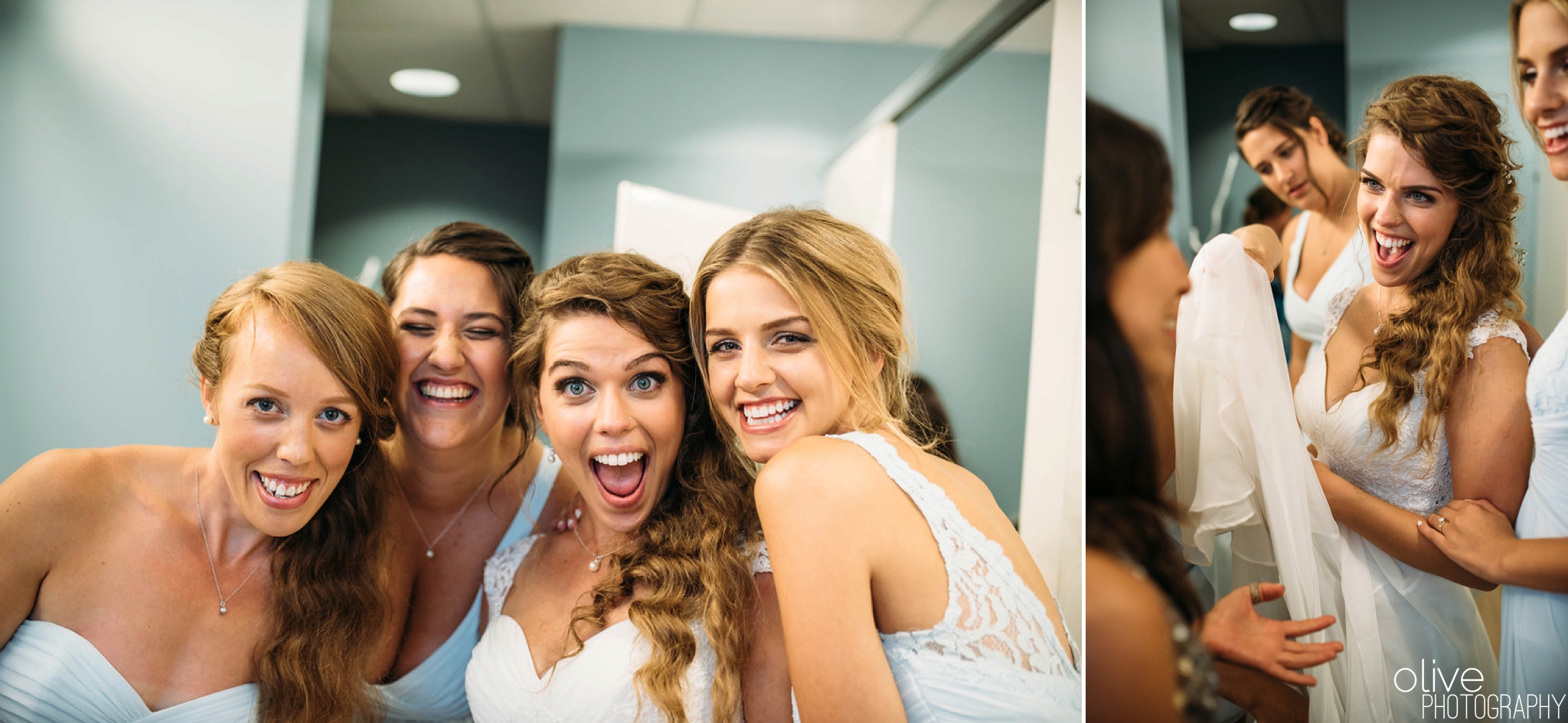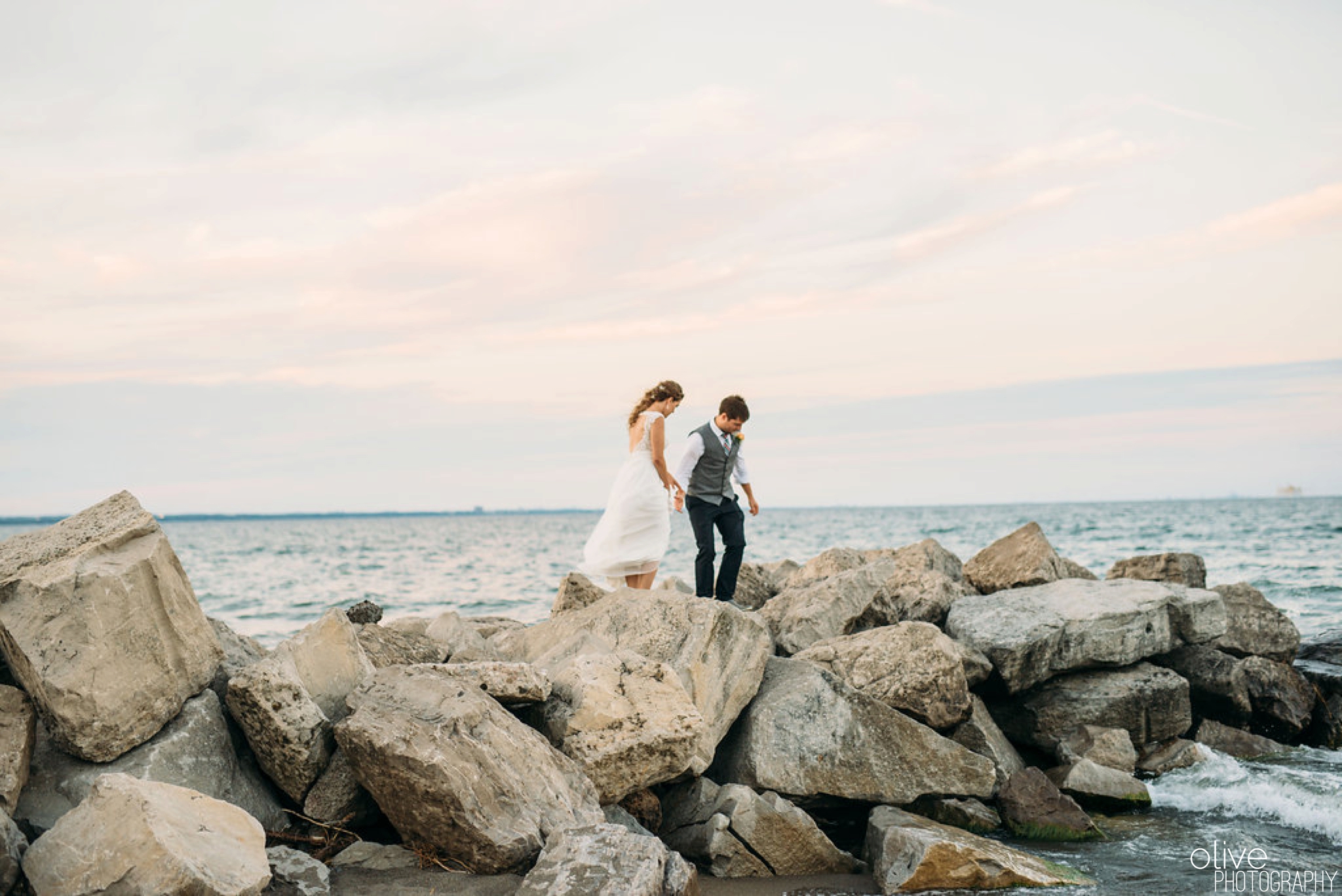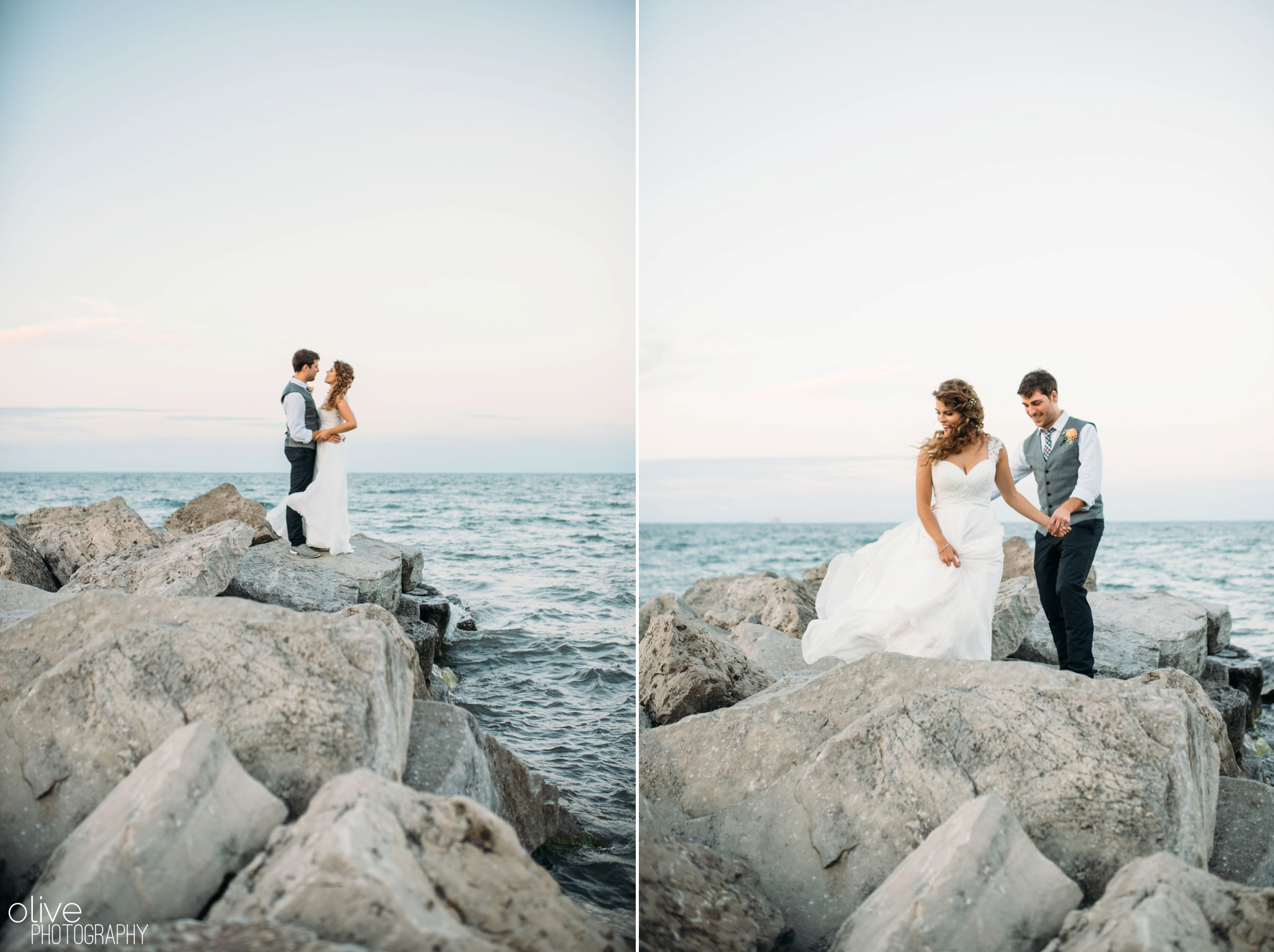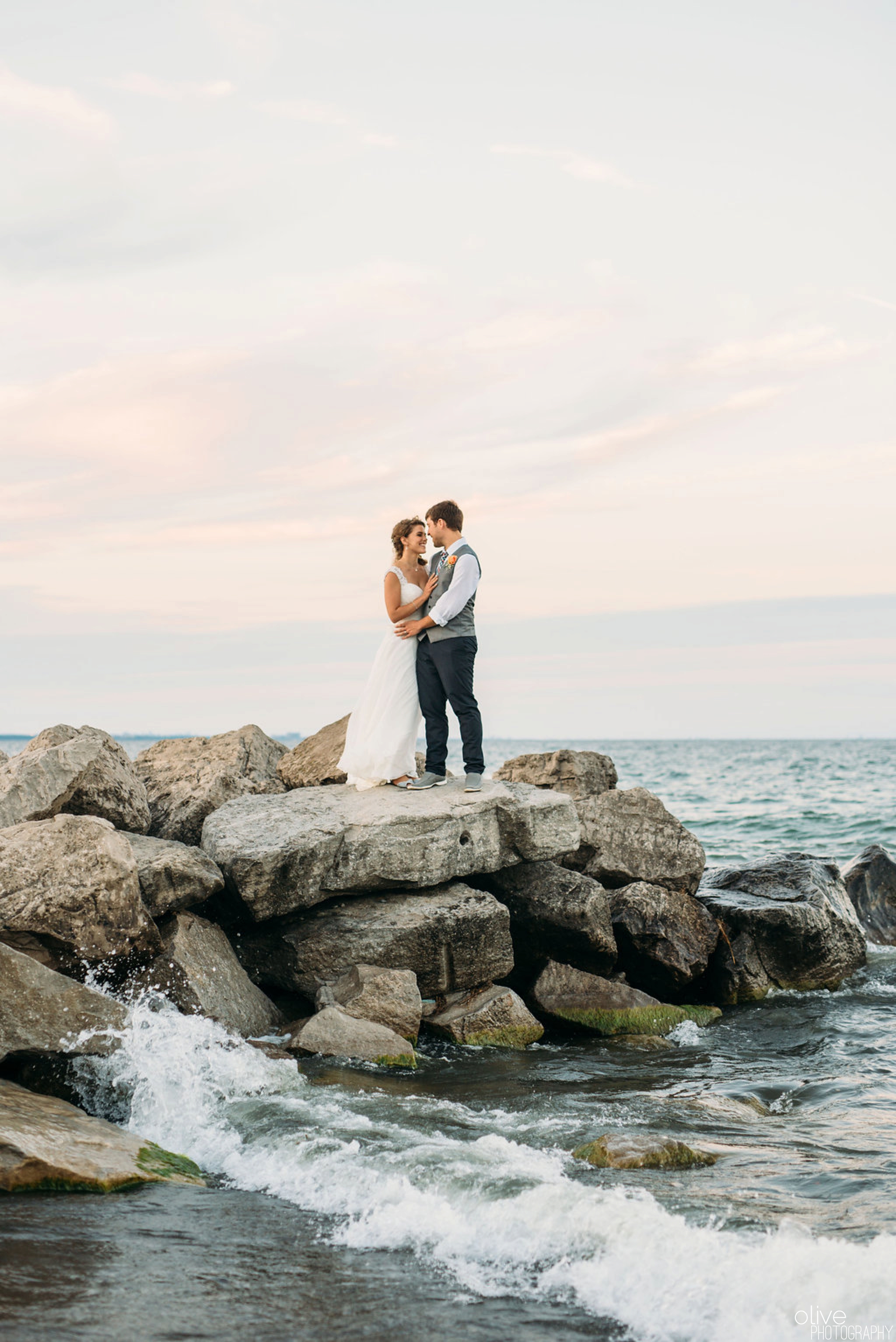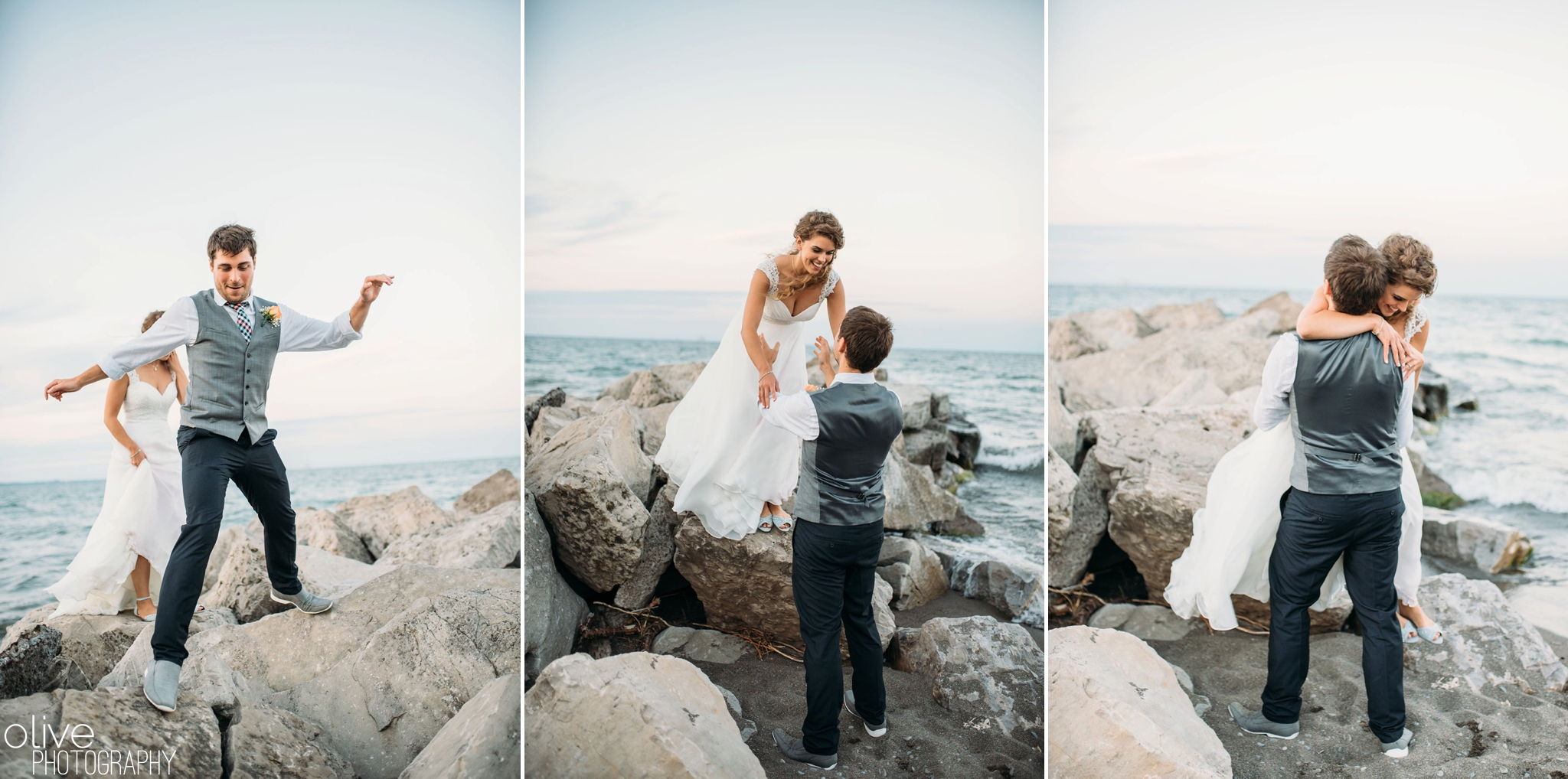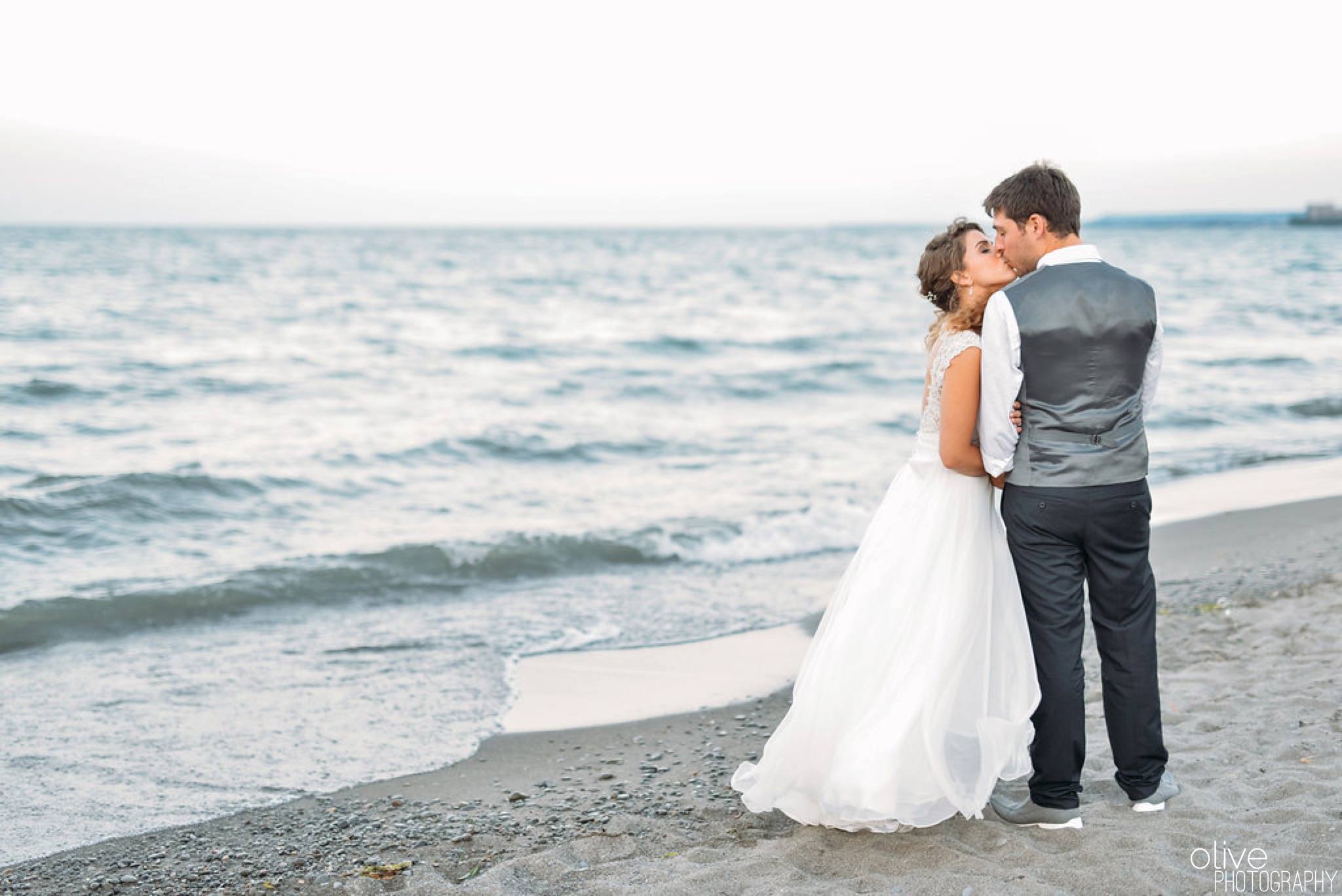 Kelsey and Nico fill my heart right up.
They are two of the sweetest, kindest people you will ever meet.
I feel very lucky that they invited me to witness and document the resounding love they share.
They planned an incredibly charming Hamilton Lakeview wedding. The blues of the water were echoed in the bridesmaids dresses, bride's shoes, reception room colour and touches, and their twinkly blue eyes.
They are so easy-going, and their wedding had a very relaxed vibe – right down to climbing on the wave-splashed rocks at sunset!
The historic site where they held their ceremony and where they took wedding party photos was also so unique and beautiful – like a castle.
High school sweethearts Kelsey and Nico emanate such beauty and love in the most sincere and lovely way. It was beyond a joy to be a part of their special day.
— Here are some words from the newlyweds themselves! —

** What was the style/vibe of your wedding, and why did you choose to make it that way?
We wanted our wedding to reflect who we are as a couple – casual, relaxed, and fun (at least we think so)! We opted for more comfortable attire and simple DIY decorations to make it more personable and in order to stay within our budget. At its simplest, we wanted to celebrate our wedding with our friends and family, with lots of dancing and laughter – and we got exactly that!
** What was your favourite wedding moment:
Kelsey: That's a tough one! I relished every moment of the day (yes, even the red wine spilling on my dress!). But if I had to choose one, I'd say this: We wanted our wedding day to be as organized as possible to limit the amount of stress that we'd feel on such an important day in our lives. We budgeted extra time for our "first look" before the ceremony which meant we were able to relax and enjoy each other's company before the busyness of the day. I also loved taking photos by the water on the rocks after dinner – it was such a beautiful evening and a special moment together as husband and wife!
Nico: While it was an unforgettable day overall, some truly stand-out moments were the ones where Kelsey and I got to be alone together. There's something special about having a minute or two to yourselves on a day where everyone's attention is on you! Standing out on the rocks with just my wife as the sun set would have to be my favourite moment.
** Any advice for engaged couples planning their wedding? 
Don't sweat the small stuff – as cliché as it sounds, things may go wrong but you have to stay positive and never forget what the planning is all about – celebrating your love and commitment together in the presence of the people who mean the most to you. What else really matters, right?
Be as organized as you can to avoid some of the minor stressors that may arise (logistics of the day) but don't let that get in the way of having the best day ever! Budget your time well so that you have room to breathe and enjoy each other's company!
Details:
– Dress designer: Mori Lee (bought at Sophie's Gown Shoppe in London, ON)
– Bridesmaids dresses: David's Bridal
– Groom attire: Express (shirt, vest, and tie), R.W.& Co. (pants), Call It Spring (shoes)
– Flowers: Burlington Flowers
– Centrepieces: DIY (candle holders and books from Michael's Craft Store)
– Cake: The Lakeview
– Favours: Donation to CMHA (Canadian Mental Health Association)
– Ceremony Venue: Dundurn National Historic Site – Hamilton, ON
– Reception Venue: The Lakeview by Carmen's – Hamilton, ON
– Hair & Makeup: Dolce Divas
– Photographer: Olive Photography
P.S. Can't get enough of this amazingly adorable couple? Check out their engagement session done on Toronto's Ward's Island.
This wedding was featured on Style Me Pretty! See the feature here!